As a land of mountains, Nepal attracts thousands of tourists from all around the world every year. This is given the fact that 10 of the world's tallest mountains are located in Nepal. Among these mountains, Mount Everest, the tallest mountain of the world is the major factor attracting mountaineers to Nepal.
In this blog, we will introduce you to Mera Peak (6476m) in Nepal, along with a complete guide to Mera Peak Climbing in Nepal. Mera Peak climbing is preferred by trekkers all around the world as it offers an excellent mountaineering adventure with spectacular views. The Mera peak climbing trekking route takes you through remote and isolated Hinku valley that is enclosed between giant mountains around South East of the Everest region on the far corners. This trekking in the Mid-Eastern Himalaya around the Everest region is considered to be one of the least technical and straightforward trekking destinations in Nepal.
You Can Also Check Out:
Mera Peak Climbing Guide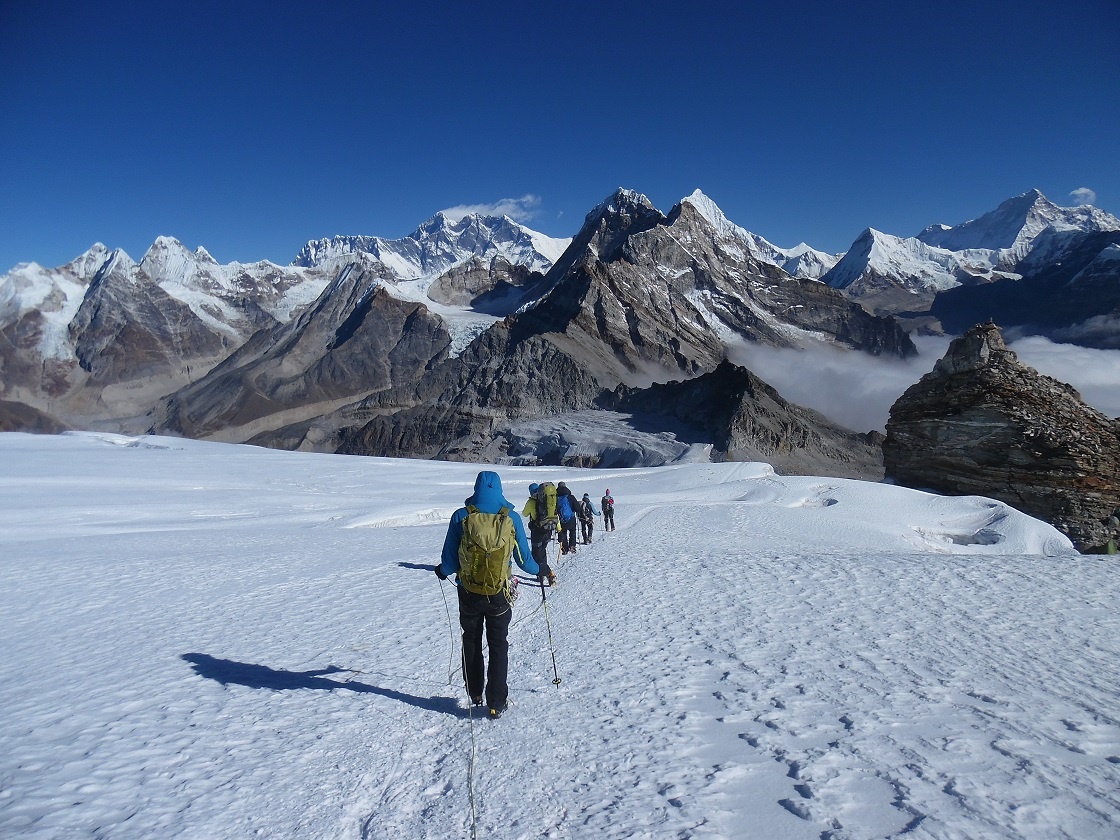 The Mera peak in Nepal is located in the Solukhumbu district of the Sagarmatha Zone. Mera peak climbing includes 3 major summits, i.e., Mera North 6,476m, Mera central 6,461m, and Mera south 6,065m. Among these summits, the Mera Central is considered to be the bit easy one and thus, is preferred by trekkers with less or medium experience. Similarly, Mera North is comparatively more complicated and challenging and so is preferred by only a few climbers who dare to challenge this route. On reaching the top of the peak, you'll be treated with 5 peaks above 8,000m. These peaks include Mt. Everest (highest peak of the world), Lhotse, Cho Oyu, Kanchenjunga, and Makalu while numerous others below 8,000 m are spotted throughout with snow caps.
Your journey to climbing Mera Peal Nepal starts with a short flight from Kathmandu to Lukla. Lukla airport is one of the most dangerous airports in the world. To summarize, the route to climbing Mera Peak Nepal leads towards the hidden Hinku Valley that will take you to the Mera Peak base camp.
Now, let's get started with the Mera Peak climbing guide:
Information on Climbing Mera Peak Nepal
Total Duration: 16-20 days
Distance: Around 126 km
Difficulty: Challenging
Permits: TIMS/Peak Climbing
Are you interested in Mera Peak climbing in Nepal? If yes, this Mera Peak climbing guide will be very useful for you. We at Himalayan Trekking Trails located in Kathmandu, Nepal have developed this Mera Peak climbing guide based on our years of experience. Till today, we have successfully conducted more than 100 Mera Peak climbing packages.
So, getting started, there are three routes you can take to the Mera Peak. Each of these routes is as beautiful as another, so you can choose any route based on your preference. If you don't have much experience in trekking in Nepal, you can go for the easiest route that provides enough time for acclimatization along with a beautiful experience.
Mera Peak Trekking Route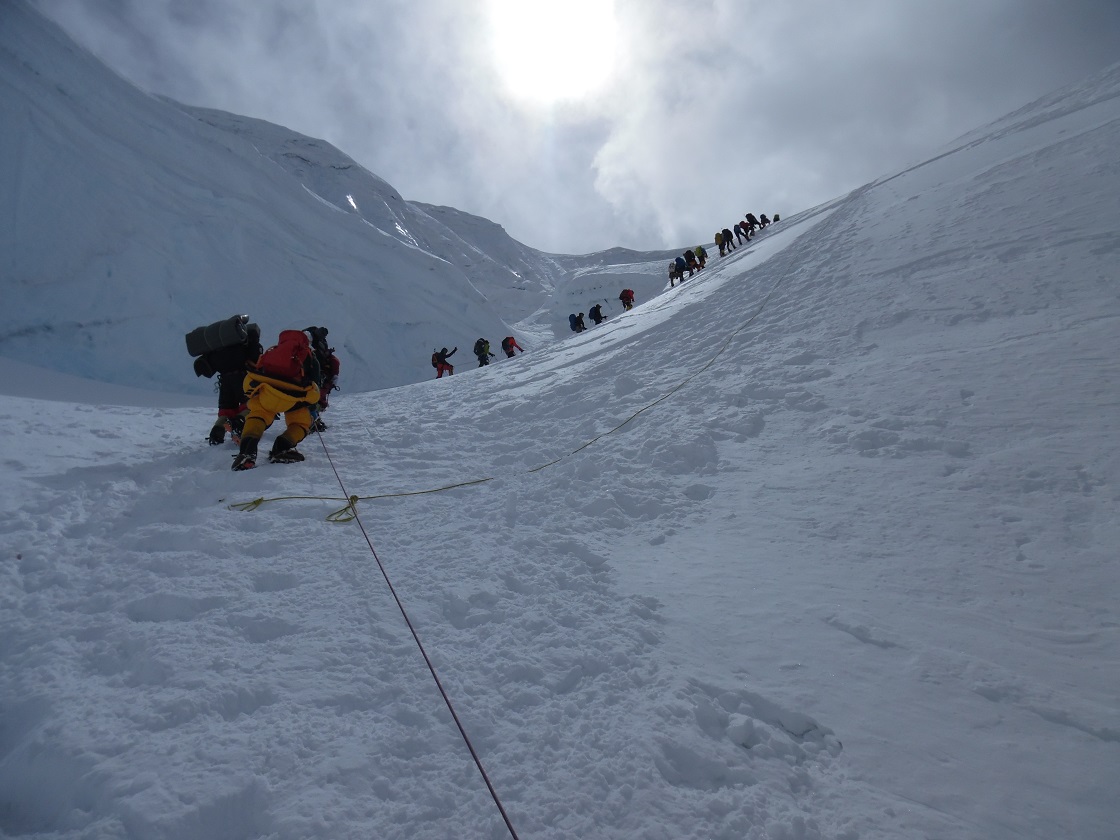 The Mera Peak trekking route, as mentioned earlier, starts with a flight from Kathmandu to Lukla. After landing at the Lukla airport, the trek will lead towards Chutanga. This is one of the most remote and isolated areas in this trekking route. We will be staying overnight at Chutanga. On the next day of the Mera Peak climbing trek, we will head towards Thuli-Kharka passing by Zatra La Pass (4,610m).
Then, the trek will move towards Tangnag through Mousam-Kharka. The trails take you Hinku Drangka northwards. This trekking route will move towards wide-open pasture land leaving the forests. The next day will be provided for acclimatization. The route then leads you to Khare, where you will also spend a day for acclimatization.
Now, finally, the trek will move towards Mera Base Camp from Khare. On this day, you'll take an overnight stay at High Camp and climb the summit of Mera Peak on the next day. To climb the Mera Peak, you will wake up early in the morning (around 2 am to 3 am) & ascend to the top of Mera Peak, which will take you around 4 to 6 hours. Reaching the top is worthwhile & once in a lifetime experience.
After successfully summiting the top of Mera Peak trek, we will take the same route to return to Lukla airport.
Mera Peak Difficulty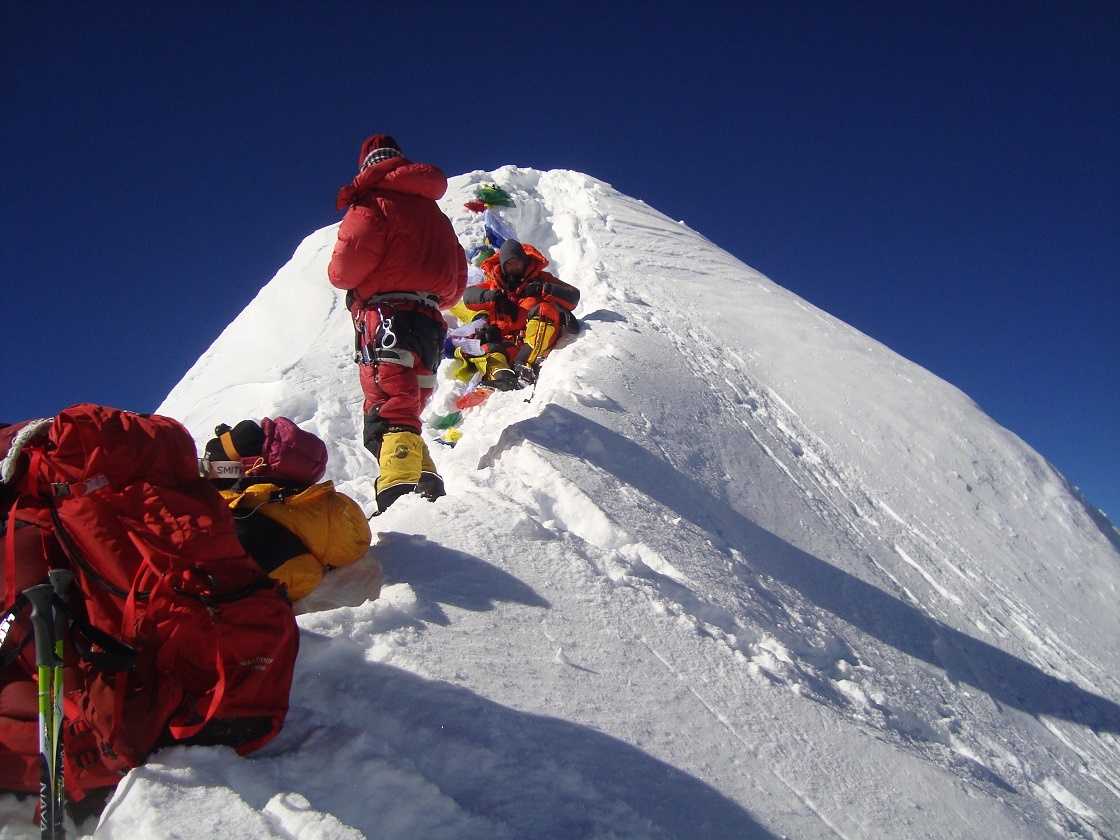 After being familiar with the trekking route for climbing Mera Peak Nepal, now you must be wondering on how hard is Mera Peak climbing. Mera Peak climbing is not a very difficult expedition in Nepal. The Mera Peak trekking route is often taken by the mountaineers who wish to prepare themselves for a more difficult and challenging mountaineering expedition.
The Mera Peak difficulty is categorized as PS (Physically Strenuous) grade in terms of climbing difficulty. Since the trekking route takes you to higher altitudes, you may face altitude sickness as the trek moves up. Also, the snowy surrounding in the trekking route makes your trek bit more challenging. Almost 90% of the route involves trek, only the remaining 10% requires climbing.
In order to make your trek easier, you need to walk slow, maintain your pace and take enough rest infrequent intervals. This will not only make your trek easier but will also allow your body to get acclimatized with the changing altitudes. This will then reduce the risk of altitude sickness. Also, if you've proper peak climbing skills, appropriate gears, and a physically fit body, you'll definitely conquer this peak successfully.
Mera Peak Weather
The Mera Peak climbing takes you to geographical variations and thus exposes you to weather changes. The weather condition in the Mera Peak trekking route is quite unpredictable as it is a high altitude mountain trip. This increases the Mera Peak difficulty. Once you'll be treated with a sunny day and the next moment you'll encounter rain, thunderstorms or blizzards. The Mera Peak weather challenges you especially when you are at high altitudes. So, in order to ensure your safety during the trek, make sure that you pack all the necessary and appropriate trekking gear.
Best Time For Mera Peak Climbing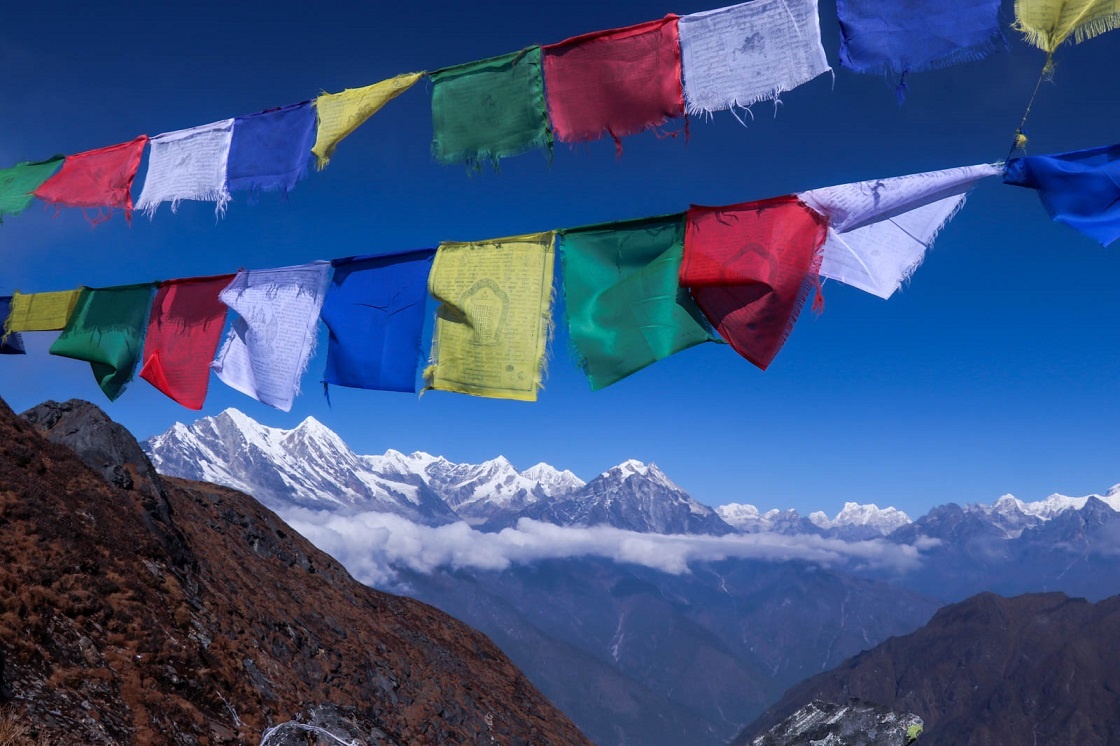 The best time for Mera Peak Climbing is during Spring (March, April & May) & Autumn (September, October & November). This time of the year presents you with delightful weather as the temperature is relatively stable & the surroundings are super clear. With this, you can enjoy the mesmerizing mountain views & landscapes.
Spring season lets you enjoy the nature with full blossoms of rhododendron forests & green vegetation along the trek. Late April & May are much preferred for Mera Peak climbing. Thus, these are the best time to trekking in Nepal for Mera Peak climbing.
Mera Peak Climbing Cost
The cost of trekking in Nepal is relatively low compared to trekking/expedition cost in other countries. Here, we will provide you details regarding Mera peak climbing cost. Just like any other expeditions, the Mera Peak climbing cost also depends on various factors as listed below:
There are three routes you can choose for Mera Peak Climbing. Thus, the Mera Peak climbing cost also depends on the route you choose. The trek duration, permits, and transportation modes are different for all three routes.
The duration of the entire trek highly influences your cost. The shortest duration for this trek is about 15-16 days. This is recommended for professional climbers. But, if you don't have much climbing experience, you should go for the 19 days trek.
On your Mera Peak Climbing trekking route, you'll need to obtain various types of permits at different points. The first one is the Local Area Permit that needs to be purchased at Lukla on Arrival. This permit will cost you USD 20.
Then comes the permit for Sagarmatha National Park entry. The Entry is free for the locals. Nationals from SAARC countries need to pay USD 15, while other nationals are required to pay $30 to obtain an entry permit for the Sagarmatha National Park.
Another entry permit you need to obtain is the Makalu Barun National Park Entry Permit. Just as the Sagarmatha National Park entry permit, locals are provided with free permits, while nationals from SAARC countries need to pay USD 15, while other nationals are required to pay $30 to obtain an entry permit for the Sagarmatha National Park.
The fee for the expedition also varies according to the seasons.
For Foreign Nationals:
March-May: $250
Sep-Nov.: $125
Dec.-Feb.: $70
June-Aug.: $70
---
For Nepali Nationals:
March-May: Nrs. 4000
Sep-Nov.: Nrs. 2000
Dec.-Feb.: Nrs. 1000
June-Aug.: Nrs. 1000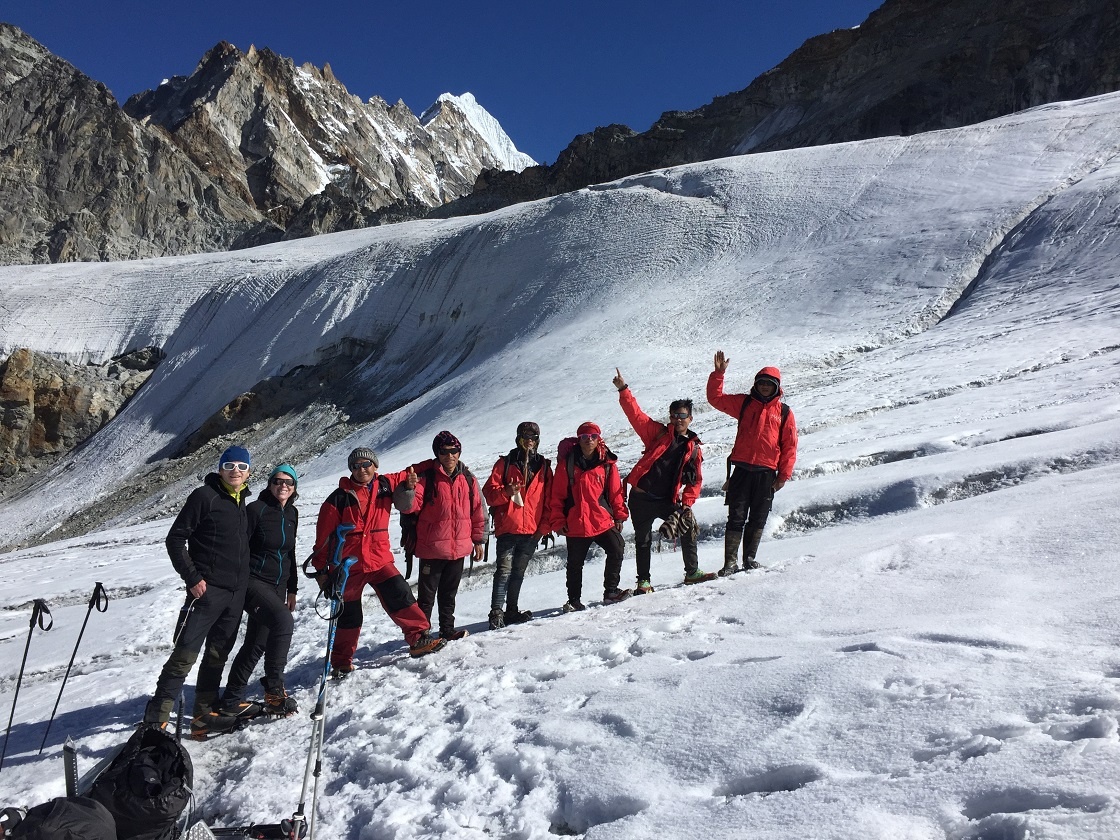 Your Mera Peak climbing cost also largely depends on the type of accommodation you choose. The cost of your accommodation in Kathmandu from $15- $250 per night. From Lukla to Khare, your accommodation choices will be limited to tea houses. The cost of rooms in these tea houses range from $2-$6 per night. If you want a luxury trek Mera Peak climbing, the accommodation cost will be slightly higher. You get your own room with the same basic facilities- a bed, clean mattress, sheet, and blanket. The basic idea is that you don't have to use shared rooms. For camping, you can choose to rent or buy your own tent. A good, durable and suitable for the trekking tent can cost around $120-$200. The price of the tents depends on factors like brand, quality, durability and the number of people it fits (size). 
You can choose from a variety of meal options in Kathmandu.  Here, the cost for a basic meal can range from $2 to $30. On the way from Lukla to Khare, you'll come across mostly tea houses, restaurants, and cafes with some basic menu. These menus generally include dal-bhat-tarkari (steamed rice, lentils, and seasonal vegetables), roti (flatbread), noodles, fried rice, momos (stuffed dumplings), and so on. The prices for these can range $2-$6 per plate. Now, the options for meals and drink from Khare to Mera Base Camp and back will be limited to the things that have been bought and carried on the back of the porters. 
If you want to travel directly from Kathmandu to Lukla, you need to take a flight from Kathmandu. The flight cost for Lukla depends heavily on seat availability, season and early booking. The flight cost generally ranges from USD 147 to USD 177. However, if you want to save on this transportation cost, you can also choose to take a bus from and to Kathmandu- Jiri. From Jiri, you can trek to Lukla. Transportation cost from Kathmandu-Jiri is about Nrs. 500-700 ($5-7) per person. 
If you take field staff along with you during your Mera Peak climbing trek, your journey will be much easier. Let's have a look at the approximate cost for the required staffs:     
1. Guide
Having a professional guide with you during the trek will ensure safety in the trekking routes, especially when you have to trek through the unmarked trails. A guide for your Mera Peak climb will costs you around $25 per day. But, if you want an experienced climbing guide, it will cost you around $325 for each peak. But, if you are okay with an assistant guide, it will cost you around $18-$22 per day.     
2. Porter
Having a porter with you will lessen your burden to carry all your stuff. The porters will carry all your trekking equipment and supplies that you do not require on a particular day. Each porter will carry a maximum of 25 kgs in weight. The cost for a porter is $15 per day.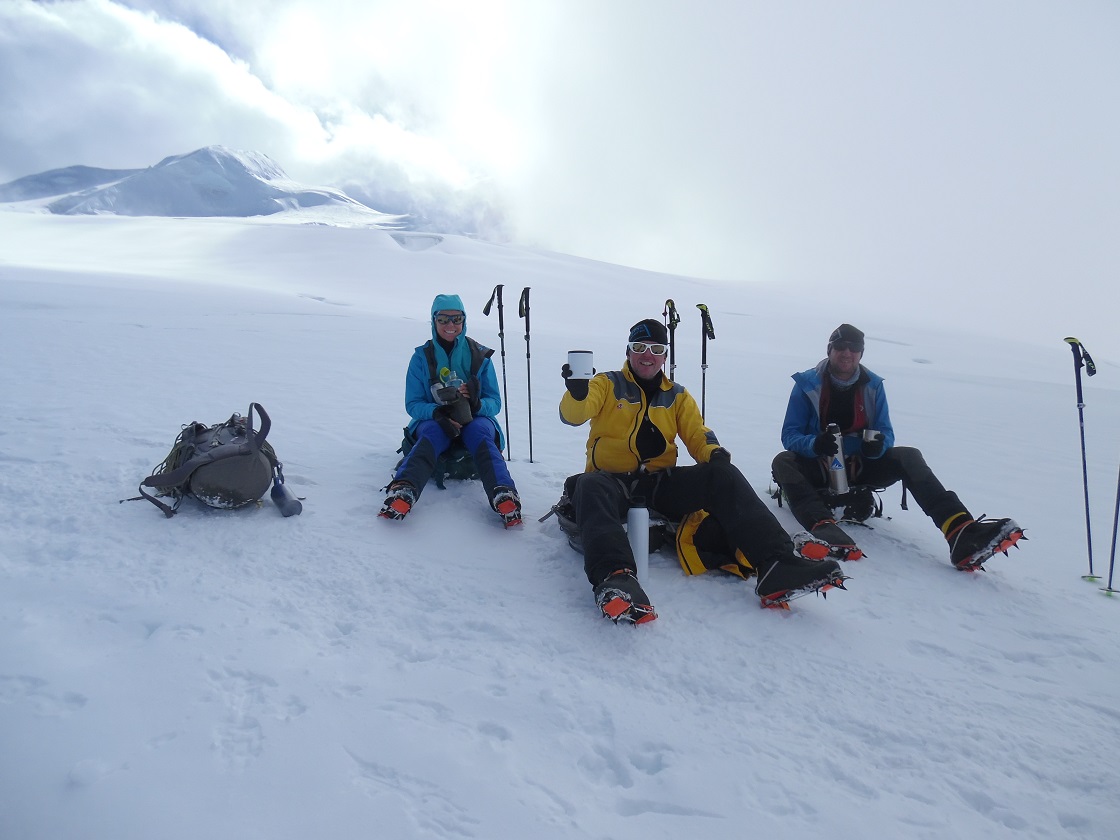 The cost of climbing gears or equipment depends on your personal choice or requirements. You can either rent the equipment or purchase them. Mera peak climbing requires the following climbing gears/equipment:
Climbing harness
5 meters or more of 6mm climber's accessory cord
Figure 8 or Abseil belay device
1 large mitten sized ascender (large Petzl) and arm length leash
2 locking carabiners, 1 large and 1 small
4 regular carabiners
Ice ax with a leash
Crampons – must fit your boots perfectly. Steel crampons with anti-balling (anti-bot) plates are the most recommended
Adjustable trekking poles
Helmet
Ski goggles
Glacier sunglasses with side shields
Oximeter
If you choose to rent these items, the cost will be around $1- $10 per item per day. However, it is very important to check the authenticity and quality of the equipment before you purchase or rent them. You can easily purchase or rent them from Kathmandu and Lukla.
Other expenses for the Mera Peak climbing cost include the cost for tips, basic mountaineering training, charging electronic gadgets, etc. Tips include paying some sort of gratitude to the field staff and at the tea houses, restaurants, and cafes, in terms of extra money. Basic mountaineering training is generally recommended for individuals who do not have prior mountaineering experience. This includes both theoretical and practical training to the mountaineers. In this training, you'll learn to use crampons, fixed ropes, and ice axes. This training usually lasts for a month to 40 days. The costs for these are as follows: The training cost for locals is around NPR 10,000-15,000.
While nationals from SAARC countries need to pay USD 185, while other nationals are required to pay $3000 to obtain an entry permit for the Sagarmatha National Park. Similarly, other miscellaneous expenses can be like charging fees for electronic gadgets. The charge for this gadget is available at the tea houses on the way and depends on the type of gadget you are charging. The cost can range from USD 2- USD 6 per hour. These factors must have provided you with a complete guide to Mera Peak climbing. Following this Mera Peak climbing guide, you'll have a well-planned and amazing trekking experience.
Himalayan Trails Trekking is a travel and trekking agency in Kathmandu which you plan, design and enjoys the travel experience you have been dreaming of. Whether you are into high adventure and physical challenges or prefer to take your time to explore subtle elements of landscape and culture, this region is a treasure trove! We can take you trekking, mountain biking, on a cycle tour, touring on a classic motorbike, paragliding, rafting, canoeing, on a wildlife safari and bird watching, learning about art, religion, food, and culture. Whatever your style and preferred pace, it's all here to design your own combination of experiences! We have a team of experienced and professional travel junkies. We love to travel and this is our favorite part of the planet! As travelers ourselves we understand how important it is to have a professional and experienced operator who delivers the travel experience you want.  We have designed and operated tours here for many years already and continue to do so because we find it tremendously rewarding to share our passion for the Himalayas!