Information

Tour Plan

Trip Maps

Gallery

Reviews

Similar Tours

Fitness
What's included
Price includes
Arrival airport pick up and Departure transfers on both domestic and international flights.

Accommodation 2-3 stars Hotel in Kathmandu on a twin share bed with B/B plan.

According to CHOICE of menu 3 times meal B/F, Lunch & Dinner with 2cups of tea or coffee in breakfast and every meals a cup of while the trekking.

Responsible trekking policy of two Trekkers: One porter.

Accommodations at clean and comfortable local Tea House – lodge during the trek.

English speaking guided half day city tour with world heritage sites.

All domestic flight, Airport taxes, private transportations starting & ending points of trek.

English Speaking Experience local Mountain Guides – by Himalayan Trails trained and Nepal government licensed holder as well as First Aid Eco trained.

Along the trek basic complete First Aid Kit.

Assistants Guide and other support staff if indeed.

Trekking Map

Insurance of all staffs Guide, Assistants, Cook, porters and Accommodations, food and reasonable salary during the trek All necessary officials pepper work.

TIMS and Gaurishanker Conservation entry fees

Warm clothing and required trekking gear for porters

Travel and Rescue arrangements

All the Government Taxes

Welcome and Farewell dinner as per itinerary
Price does not include
Nepal entry Visa fees (US$ 40 per person for 30 days)

International Airfare

Your Travel Insurance

Lunch, Dinner & Drinks in the cities.

Any kind of drinks & personal expenses on trek.

Hot shower, Electricity Bills during trek

Personal gear & clothing

Medical evacuation encase of Emergency

Tips and Items of a personal nature like postage and laundry

Expenses deserve due to Natural or man made hazards like landslide, strikes, political unrest etc. will be charge extra as per actual and anything not specify on the cost
Overview
Dhaulagiri Circuit Trek-Off the beaten track, the Dhaulagiri region is not new territory for adventure trekkers. Trekking off the beaten track is not only possible but can be immensely rewarding. Though you do need a sense of adventure and an increased ability to deal with the unexpected. Geographically, the Dhaulagiri region is a land of dramatic contrasts. Dhaulagiri Circuit Trek – off the beaten track, From the near low tropical Pokhara valley, steep slopes climb up to white snow-capped Himalayan giants. Amongst the 14th above 8,000m peaks, Dhaulagiri is the seventh highest peak in the world. Above the fine–trekked Muktinath pilgrimage trail up to the Kali Gandaki valley. Also the measureless rock and ice massif screen the hidden land of Dolpo its northwest and in the North Upper Mustang. Similarly, both areas are behind the shadow of the central Himalayan Range and restricted area.
Dhaulagiri Circuit Trek – off the beaten track. However, following the rivers upstream, pine, oak forests, and other deciduous trees and juniper abound. Mountain sides of rhododendron combustion with color in the spring and other flowers are plenty off on the trail. Even on High Mountain passes above the tree line, mini alpine flowers can be found dotting the desolate ground. Dhaulagiri Circuit Trek – off the beaten track is one of the best adventure treks in Nepal. It's a suite for only experience and adventurous lover travelers.
Highlights:
Dhaulagiri Circuit Trek – off the beaten track. One of the challenging treks, which will reward you with the opportunity to camp on a glacier. The roughness of the topography is more than made up for by the spectacular scenery and wilderness. Hence, the rewards also come when you rejoin in the Jomsom, Kaligandaki valley trail, here you may have apple brandy, cider in Marpha and one of the beautiful village in Annapurna region. Spectacular views of massif Dhaulagiri and Annapurna range.
Day 01

Day 02

Day 03

Day 04

Day 05

Day 06

Day 07

Day 08

Day 09

Day 10

Day 11

Day 12

Day 13

Day 14

Day 15

Day 16

Day 17

Day 18

Day 19
Day 01
KTM Arrival pick up from Airport and welcoming by garland and transfer to Hotel
On your arrival day in Kathmandu, You will be received by the representative staff from Himalayan Trails Trekking & Climbing P Ltd with proper greeting. You will be taken to the hotel where you have your time to settle in and freshen up.
Overnight at Hotel – (BB)
Day 02
Half day city Tour/ trek briefing and preparation and welcome dinner
The very next morning, after breakfast you will leave for a half day sightseeing tour around Kathmandu valley. Some of these landmarks are considered World Heritage Sites including the historic Durbar Square, the sacred Hindu temple of Pashupatinath, the famous 'Monkey Temple' (Swayambhunath) and Buddhist shrine (Bouddhanath) which is one of the largest stupas in the world. In the afternoon, you will visit our office there will be short trip briefing and introduction with your trekking guide. After short briefing you can hang out to the necessary places you might need to go before trekking like, Money changer, ATM, Market ETC. In the evening, there will be a welcome dinner hosted by Himalayan Trails Trekking & Climbing. For dinner, you will be served excellent cuisine.
Overnight at Hotel – (BDB)
Day 03
Kathmandu – Pokhara Fly (30min) trek to Darbag via Beni or 7 hrs drive to Pokhara (960m, 06 hrs) and over night at Hotel.
After having your breakfast, we will drive you to the Domestic Airport we take an early morning 30 minutes Pokhara flight and enjoy amazing views of the Himalayas from the right side of our plane. After reaching beautiful pokhara we start our Dhaulagiri Circuit Trek towards Darbang via Beni. This takes about six hours.
Overnight in Tent – (BLD)
Day 04
Darbang – Shibang (1,780m) 6hrs
After breakfast, Cross a suspension bridge over the Myagdi Khola the main valley that we follow towards Dhaulagiri. The trail follows the west side of the river, before crossing back over and climbing steeply to reach Dharapani. The trail contours through cultivated and populated hillsides to reach Sibang.
Overnight in Tent – (BLD)
Day 05
Shibang – Muri Gaun (1,720m) 6hrs
From Shibang we pass through a forest and continue past mattim up an incline to the snout of ridge where Dhaulagiri Himal is visible. Descend to the Gatti Khola, and then skirt around the ridge to Phalai Gaon (1810) is on a mountainside partially penetrated by the tributary Dhara khola. To go to Muri, follow the stone-welled path a short way beyond Phalai goun, enter the terraced fields to the right and cross the Dhara khola via a suspension bridge. If it is the dry season, descend the valley next to the school, walk to the opposite bank, and climb the steep hill for a short cut. The main path ascends the mountainside from the suspension bridge, passes below the village of Dhara and goes through a hamlet to an up and down mountain path to join with the shortcut described above. Though this is the long way the path is better. Follow the mountain path and skit around the ridge, emerging once again to the right bank of the Myagdi khola. The mountain path continues, winding uphill, and when you skirt around a ridge, a vista of Dhaulagiri 1 (8167m) and Gurja himal (7193m) opens up. Reach the large village of Muri where the houses of the magar clan closely together, came on the school ground.
Overnight in Tent – (BLD)
Day 06
Muri - Bagar (2,080m) 7hrs
After having breakfast we walk descend a gentle slope, and cross a rocky stream. Descend a path amid terraced fields to Dhora Khola. Cross the river and climb to the right up the mountainside to Ghorban dhara. The view from this pass is fine, for the first time you can see Ghustung south (6465m). Follow the right bank path past Naura where you begin to ascend the mountainside. After climbing for a short while, take a path that traverses the steep grass-covered hill. The Myagdi khola assumes a steep-walled V-shape as the traverse ends and a high, winding path climbs the steep, grassy slope. Descend through a forested area, emerging to a ridge snout where Bagara (2080) is visible. Descend through terraced fields to this mountain village where you camp in people's yards or the terraced fields.
Overnight in Tent – (BLD)
Day 07
Bagar – Dovan (2,520m) 6hrs
Here we leave the villages behind and the trail becomes increasingly challenging.
Overnight in Tent – (BLD)
Day 08
Dovan – Shallaghari (3,370m) 4hrs
After having breakfast our trail Passes through the beautiful forest we rapidly gain altitude and mountains burst out all around.
Overnight in Tent – (BLD)
Day 09
Shallaghari -Italian Base Camp (3,680m) 4hrs
After breakfast we start our trek towards Italian Base Camp passing through beautiful flower laden forest we rapidly gain altitude and mountains burst out all around. We will camp just in front of the West wall of the massive Dhaulagiri.
Overnight in Tent – (BLD)
Day 10
Rest and Acclimatization day in Italian Camp
Today is our acclimatization or rest day at this base camp and we will explore around. Mountain views of the entire Dhaulagiri Mountain Range are also one of the features of staying at the Italian Base Camp .You can experience breathtaking views of Manapathi peak, Dhaulagiri II among other unnamed peaks and mountains.
Overnight in Tent – (BLD)
Day 11
Italian Base camp - Dhaulagiri Base Camp (4,780m) 7/9 hrs
After crossing the first glacier, most using a rope in a couple of spots, we climb onto the main glacier. The surroundings are spectacular which makes up for the forceful and unsafe trail. We may use a rope on this section. This is a particularly tough day. We camp on the glacier rubble. Soon the rough rubble gives way to the smooth ice of the white part of the glacier. We climb progressively to the smooth and chilling spectaculars Dhaulagiri Base Camp.
Overnight in Tent – (BLD)
Day 12
Dhaulagiri Base Camp - French Col (5,360m) - Hidden Valley 6 hrs (5,140m)
Getting off the glacier above the base camp often requires a rope, but once over the steep moraine walls we are in safer and gentler area. After a breathless climb to on top of French Col (5300m) the views of Hidden Valley open out and wide. The broad valley is reminiscent of Tibet or Ladakh and can may the temperatures -20 at night.
Overnight in Tent – (BLD)
Day 13
Hidden Valley – Yak Kharka (4,750m) via Thapa pass (5,244m) and Dhampush pass (5,210m) 7/8 hrs
After crossing over the 5200 m Dhampus Pass, we pass through avalanches-horizontal slopes and then descend steeply to Yak Kharka. You will see the view of Dhaulagiri 1, Tukuche Peak Nilgiri and Annapurna range.
Overnight in Tent – (BLD)
Day 14
Extra day encase of weather problem or any cases
Today is a spare day as we might need this due to the weather conditions. Having this extra day gives you acclimatize and adjust to the thinning of the air. It is recommended that your body acclimatizes to the high altitude and be "tuned" for the even higher altitudes to come. However, if the trip goes smoothly, this day will not be required.
Overnight in Tent – (BLD)
Day 15
Yak Kharka – Marpha via Jomsom (2,670m) 4hrs
After having breakfast we again more steep descent leads to Marpha. Marpha is famous for apple; apple brandy and cider afterwards continue to Jomsom and well deserves the last day party.
Overnight in Tent – (BLD)
Day 16
Jomsom – Pokhara (820 m) fly 25m
Early breakfast and transfer to Jomsom airport for sweeping short flight of 25 minutes to Pokhara, during airborne spectacular views of Dhaulagiri, Nilgiris and Annapurna range of mountains with rolling hills dotted with farm villages, On reaching Pokhara airport transfer to respective hotels by the serene lake Phewa, afternoon free for individual activities or just relax and enjoy the views of the Annapurna Himalaya.
Overnight at Hotel – (BB)
Day 17
Pokhara – KTM fly/ Drive 30m/ 6hrs on your request
After Breakfast, transfer to airport and fly back to Kathmandu or we can also drive back via Tourist bus. After reaching Kathmandu, we have the rest of the day off to rest or do some souvenir shopping.
Overnight at Hotel – (BB)
Day 18
KTM free day and farewell dinner
You are free to spend the day at your leisure to relax, refresh, and perhaps take a trip to explore more of the city, before the group's final evening celebrating huge achievement with a special dinner. Around the evening, we will take you for a farewell dinner. While having dinner, we will also discuss your trip and take feedback.
Overnight at Hotel – (BBD)
Day 19
Final Departure by privet vehicle and back to homeland share experiences with family unforgettable memory of Dhaulagiri circuit trek
One of our company representatives will assist you to get to the airport by privet vehicle as per your flight departure time and back to home share experiences with family and friends unforgettable memory of Dhaulagiri circuit trek.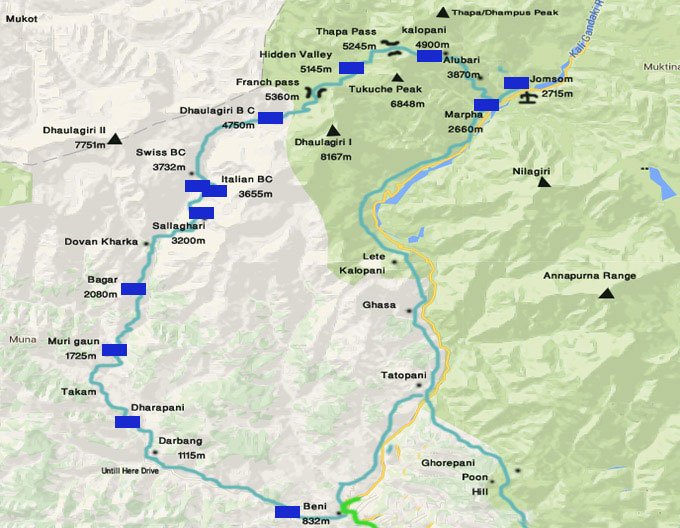 Fitness
Dhaulagiri Circuit Trek
TRAIN AND FITNESS 
Physical fitness is one of the most key elements on the trek. The trekking in the Himalayan is not forced on it and pacing is always slow, most of the days generally being shorter than a hiking day at your home country. We believe that should be you're imaginable of its kind of holiday trip literally than a contest to provide evidence of the travelers. We maintain situated so as to allow easy access to your trip can be demanding but not a difficult. You can make your own speed and enjoy your trip stunning atmosphere rather than following to other to catch. Himalayan Trails, recommend that you assume on a good fitness agenda proceeding to your trip although and one that builds up general strength and specific leg muscle groups. There is nothing like hiking with a bag pack to train for trek in Himalaya. So our best advice is to get out into the Hills or Alps as often as you can. You better ware your hiking boots and carry about 5-6 kg in your day bag-pack; this is a good weight to walk with it.
If you are doing Gym then which can be helpful and work on the thigh and calf muscles but better to build your heart rate over 50%. Any kind of heart breed activities are good but swimming will not add it doesn't train right muscles groups better added other exercise to be effective. Hiking in Hills, Alps would be the best preparation for a trek in Nepal.
EXPERIENCE FOR THE NEPAL TREK
The trekking trail and area of Nepal mostly well trodden and natural path most of the regions, even though it can be rocky and rough in some parts. It is not precipitous and there is no rock climbing or Mountaineering which is requiring equipments. It is hike most of the way in Himalaya, but some parts of the hills can be steep up and down and can be longer!
On the way you may meet many people along the trails as well as Donkeys, Yaks and heavy load porters. Walking in the Himalaya there is rule of the way when meet an approaching Donkeys, Yaks and porters always make sure you step to always on side where wide enough to passes through each other,( towards slopes side of the hill or inside of the Trail). Note: never ever stand ridged sides of the trail. If you stand, it means, we call (outside standing is suicide and inside is safe site) because it can be push by them down to mountains or rivers.
The trekking poles are very useful, if you have problems with knees, depending on weather or personal choice for using them. Even though higher up, ice path, moraine, open slopes may give you extra support from it, also quite easy to follow the path.
Always final sections are can be Glacier itself and high elevation, it is bit difficult and occasionally slippery under trails. The ice is covered in water stones and dirt, so where a coolant produces cold temperatures in the surface below.
Comfortable, good sole, ankle support (4 seasons) trekking boots water proof are recommended for the high passes trek but for the lower trek light weight hiking boots are fine to protect you beside, probably going over an ankle, low altitude trek heavy boots will be hot and unwieldy.
ACCOMMODATION ON THE TREK
Tea house trek accommodation will be in comfortable tea houses and lodges run most of the area by local families, except people specify a preference for tents. Every tea house or lodge has a common heated Chimney in the dining hall, although the bedrooms are not heated with mattresses, pillows and two beds in a room. We recommend you to bring your own sleeping bag (3 seasons in normally fine) but possibility is also you can buy and hire in Kathmandu.
Generally most of the tea houses have hot showers by gas gizzards and they have squire toilets but some area have and use drop toilets with flush systems.
For the Camping/ Tent trekking we use branded company tents which are for two persons comfortably can sleep and can put your luggage on side, and we provide you the mattresses. Tents are fixed always near the guest house and eating in our own dining tent, sometimes eating can be indoors, depends on possibility. So toilets sometimes you will use from the lodge but obvious we will have our privet toilet tents too.
Himalayan Trails support 
Our main back bones of the trek are porters, will carry your main duffle bag up to a maximum weight of 12-14 kg per guest and supply for all the groups needs, if you need to go back down to the valley together with assisting you. Apart from specially camping, all the accommodations are in local lodge or Tea houses which are well prepared, warm and friendly environment.
Our entire trip we run by permanently Guides or Leaders, who have been employed over ten years with us and been training personally high standard leadership and first aid by our company. They know how to deal with emergencies and speak fluently English. They are always helpful and look after you so many years have been working with tourist and westerns, they know the westerns needs and understanding. Our porters are always who works with us forever all our teams are dedicated and they will provide high standards services.