Trip Mode
Tea House + Camping
Information

Tour Plan

Trip Maps

Gallery

Reviews

Similar Tours

More Information
What's included
Price includes
Arrival airport pick up and Departure transfers on both domestic and international flights.

Accommodation 2-3 stars Hotel in Kathmandu on a twin share bed with B/B plan

According to CHOICE of menu 3 times meal B/F, Lunch & Dinner with 2cups of tea or coffee in breakfast and every meals a cup of while the trekking.

Responsible trekking policy of two Trekkers: One porter.

Accommodations at clean and comfortable local Tea House – lodge during the trek.

English speaking guided half day city tour with world heritage sites.

All domestic flight, Airport taxes, private transportations starting & ending points of trek.

English Speaking Experience local Mountain Guides – by Himalayan Trails trained and Nepal government licensed holder as well as First Aid Eco trained.

Along the trek basic complete First Aid Kit.

Assistants Guide and other support staff if indeed.

Everest Trekking map.

Insurance of all staffs Guide, Assistants, Porters, Accommodations, food and reasonable salary during the treks.

All necessary officials pepper work.

TIMS, Sagarmatha National Park entry fee.

Warm clothing and required trekking gear for porters

Travel and Rescue arrangements

All the Government Taxes

Welcome and Farewell dinner as per itinerary
Price does not include
Nepal entry Visa fees (US$ 40 per person for 30 days)

International Airfare

Your Travel Insurance

Lunch, Dinner & Drinks in the cities.

Any kind of drinks & personal expenses on trek.

Hot shower, Electricity Bills during the trek

Personal gear & clothing

Medical evacuation encase of Emergency

Tips and Items of a personal nature like postage and laundry

Expenses deserve due to Natural or manmade hazards like landslide, strikes, political unrest etc. will be charge extra as per actual and anything not specify on the cost
Overview
Everest Base Camp, Cho-La Pass & Gokyo Ri Trek to explore the heart of the Sherpa homeland unofficial capital Namche Bazar before ascending the stunning Gokyo valley. However, to the glacial lakes under the huge peak of Cho-Oyu.
Hence, before crossing the famous Cho-La Pass you will climb Gokyo – Ri for a spectacular view. Five above 8,000 meters peaks including, Mt. Everest,  Cho-Oyo, Lhotse, Makalu, and many other fabulous high mountains undisturbed wild natural areas. After being Cho-la pass you will join the standard route to Everest Base Camp to conclude in the ascent of Kalapatthar. It's one of the world's greatest viewpoints in the Everest region.
The Khumbu region in the corporation of royally soaring mountains, friendly Sherpa peoples. The Namche Bazaar, great colorful monasteries, and surly to the base of the impressive Mt. Everest.  The treks in going forward to the base of the planet tallest mountain plans out fabulous vistas from such renowned viewpoints Gokyo- Ri, Kalapatthar and then get together the sight of the breathtaking Khumbu Ice-fall.
Everest Base Camp, Cho – La Pass & Gokyo Ri Trek Is Lifetime Experience
Gokyo, Cho-La -Everest Base Camp Trek is a concisely, will be a lifetime experience. With the absorbing sights of Mt. Cho Oyu, Pomori, Everest, Lhotse, Nuptse Makalu, Ama Dablam, Mani walls and including Tengboche Monastery – the biggest monastery in the Khumbu valley. Likewise,  Himalayan Trails offer you this trek is ideal for trekkers who wish to obtain up bit more challenge and "stay off the beaten path".
However, if you are a beginner trekker those are in normal physical fitness and good health this trek might be the right holiday trip for you. Take the advantage and have an experience once in life adventure.
Day 01

Day 02

Day 03

Day 04

Day 05

Day 06

Day 07

Day 08

Day 09

Day 10

Day 11

Day 12

Day 13

Day 14

Day 15

Day 16

Day 17

Day 18
Day 01
KTM Arrival pick up from Airport and welcoming by garland and transfer to Hotel, trek briefing and welcome dinner.
On your arrival day in Kathmandu, You will be received by the representative staff from Himalayan Trails Trekking & Climbing P Ltd with proper greeting. You will be taken to the hotel where you have your time to settle in and freshen up. In the afternoon, you will visit our office there will be short trip briefing and introduction with your trekking guide. After short briefing you can hang out to the necessary places you might need to go before trekking like, Money changer, ATM, Market ETC. In the evening, there will be a welcome dinner hosted by Himalayan Trails Trekking & Climbing. For dinner, you will be served excellent cuisine.
Overnight at Hotel – (BB)
Day 02
Fly to Lukla (2,840m) Trek to Phakding (2,810m) 3hrs
We take an early morning flight to Lukla (2,840m) 35 minutes. Our Everest high passes treks begin form here. We begin our short trek to Phakding (2610m) immediately after landing. At one hour's gradual descent, we will be at a Cheplung village from where we have a glimpse of Mt. Khumbila (18900ft), a sacred mountain which has never been climbed. From Cheplung, we continue descending to Phakding and spend the night.
Overnight at Lodge – (BLD)
Day 03
Phakding – Namche Bazzar (3,440m) 6hrs
After Breakfast we will cross Dudh Koshi River and a magnificent view of Mt. Thamserku (21,675ft) from the Benkar village. We cross more bridges and reach the entrance of Sagarmatha National Park at Monjo, where our trekking permits are checked. We walk furthermore and pass through Jorsale village before reaching Namche bazaar (3440m).From here, we get beautiful views of the Himalayas including Everest, Lhotse, Tawache and others it will take 5 or 6 hrs approximately to reach there.
Overnight at Lodge (BLD)
Day 04
Acclimatization day hike Khumjung via Everest view Hotel (3,800m)
Today is the Acclimatization day we can tour Namche Bazaar which is the staging point for expeditions to Everest and other Himalayan peaks in the area. Further from Namche lies the Everest View Hotel. The hotel is the highest located hotel in the world and provides view of Mount Everest and many other Himalayan peaks from all of its windows. After witnessing beautiful scenery we will trek towards Khumjung. The path slowly drops down to the largest sherpa village in Khumbu – Khumjung. It's actually a fairly large flat agricultural land between low ridge above Namche and holy mountain Khumbi La. Khumjung is a beautiful Sherpa village in Khumbu lying at the foothills of sacred mountain Khumbilla. The first Everest conqueror, Sir Edmund Hillary has established a school in Khumjung 1961.The Green Valley offers excellent views of both Ama Dablam and Thamserku. Another local attraction is the cave above Khunde where the guru Rimpoche is said to have meditated. we also visit the Khumjung Monastery which houses the scalp of what's said to be a Yeti. After hike there for some more time we retun back to Namche.
Overnight at Lodge (BLD)
Day 05
Namche – Dole (3,950 m)
After having breakfast we start our trek through same path towards the monastery. From the monastery, it was a fairly flat trail for a mile or so to Sanasa. Sanasa was a small town where the road forks. The path to the right leads you to Tengboche and towards EBC. The path to the left leads you up a steep hill towards Mong la, Dole and eventually Gokyo lakes. We head down to Phortse Tanga which was located at the bottom of the hill. It only took us 15 minutes to descend the hill to Phortse Tanga so we kept going until we rwach Dole.
Overnight at Lodge (BLD)
Day 06
Dole – Machhermo (4,410 m)
After having breakfast, our trail climbs steadily along the side of the valley as the altitude increases. The trek passes through several summer settlements, which are used when yaks are taken to these pastures to graze in the summer months, before reaching Machhermo.
Overnight at Lodge (BLD)
Day 07
Machhermo – Gokyo (4,750 m)
After hot breakfast continue our journey to Gokyo leaving the foothills entering desolate tundra. A few lakes appear on the trail and finally reach to Gokyo (4,750m), which is a collection of stone houses and walled pastures on the shores of large lake. The mountain views in the Gokyo region are spectacular.
Overnight at Lodge –BLD
Day 08
Gokyo – Gokyo - ri (5,350 m) back to Gokyo lunch and trek to Dragnag (4,700m)
We wake up early in the morning and hike up to Gokyo RI for the breathtaking view of Khumbu Himalayan Range. This is the life memorable moment as you we can see more than 40 peaks from the top including Mt. Everest, Mt. Choyu, Mt. Makalu and and many more Himalayan scenery. After spending some time, we stroll back to Gokyo. After having lunch at Gokyo we will trek towards Dragnag passing by the second lake and an unforgettable walk across the Ngozumba Glacier.
Overnight at Lodge –BLD
Day 09
Dragnak – Dzongla (4,830m) Via Cho – La pass (5,420)
From Dragnak, we will have to gain about 600 meters to reach Cho La and lose the same to arrive at Dzongla. We need to start early as the weather fluctuates in the afternoon. The entire walk upto the pass is uphill so we ascent until we reach Cho La Pass, a place with huge moraine blocks and loose rocks. The tracks are quite slippery at the top so we need to be careful as we descend downwards to the village of Dzongla.
Overnight at Lodge –BLD
Day 10
Dzong la – Lubuche (4,910m)
The path from Dzongla undulates gently above a small glacial lake and passes along the beautiful summit of Cholatse and Taboche and the small Chola glacier. The trail heads first east and then north to go around the eastern slopes of Lobuche East (6119 m / 20075 ft). Shortly after it joins the main Everest trail and an hour later it reaches Lobuche. Overall the walk is flat and very pleasant with excellent views in all directions. You will see the mighty north face of Cholatse (6440 m), Taboche (6,542 m). To the east Ama Dablam (6812 m) shoots up in the sky and the moment you turn the corner of the trail and step into the Khumbu Valley you will see Nuptse (7861 m).
Overnight at Lodge –BLD
Day 11
Lobuche – Gorakshep via EBC (5,360b) back to Gorakshep (5,100m)
After breakfast our trail moves along the lateral moraine of the Khumbu Glacier. Ahead on the trail we see the crest of the north ridge of Everest along with Pumori, Mahalangur, Lingtern, Khumbutse, Nuptse and other mountains. A small ascent takes us to Thangma Riju. From here we admire panoramic views of the Himalayan vista. We ascend on a steep trail up to the top of Changri Glacier. As we reach Gorak Shep, we are surrounded by the Himalayas. After resting for a short while, we continue to Everest Base Camp passes through rocky dunes, moraines and streams before reaching the base camp of the world's tallest mountain, Everest. From here we admire Nuptse, Khumbuste and Pumori mountains. We trek back to Gorak Shep and spend the night.
Overnight at Lodge –BLD
Day 12
Gorakshep – Kalapather (5,545m) down to Pheruche
The hike from Gorakshep to Kalapatthar is about an hour steep climbing. Depending on your walking speed it may take a little more or less. It is a windy path up sedge like rocky slopes to achieve the highest. From where you can see the stunning views of Mt. Everest (8848m). Kalapathar also offers spectacular views of other several peaks like Mt Khumbutse (6,639m), Mt. Lhotse (8,501m), Mt Nuptse (7,864m), Mt Ama Dablam (6,814m), Cholatse peak, Tawache peak and Mt Pumori.It is located at an altitude of 5545 meters and it is also the point from where the Everest expedition starts. After staying at Kala Patthar for some time and looking at the mountain summits, we start our return journey. We will reach Pheriche, a small village in the Khumbu region, at the end of the day.
Overnight at Lodge (BLD)
Day 13
Pheruche – Tengboche (3,860m)
After breakfast we start our trek to Tengboche (3867m) via Pangboche Village it takes 4 hours. You will enjoy every moments of trip specially while the trail is less stressful and you get time to feel the landscapes.
Overnight at Lodge (BLD)
Day 14
Tengboche – Namche (3,440m)
From Tengboche the trail drops sharply down to the Dudh Koshi River and the village of Phunki, where we cross the river, and up toward Namche Bazaar, winding high above the river with views north towards Everest, Lhotse and Nuptse.
Overnight at Lodge (BLD)
Day 15
Namche - Lukla (2,866 m)
We begin our trek to Lukla today on a rocky terrain. It is mostly a downhill trek on a trail alongside the Dudh Koshi River. We cross several suspension bridges, pass by several monasteries, rhododendron and pine forest, prayer flags and Sherpa villages for the last time before reaching Lukla. After reaching Lukla, you can either spend your time with rest of the crew members celebrating your achievement, or spend some alone time summoning up the wonderful memories made during the past few days before reaching Lukla.
Overnight at Lodge (BLD)
Day 16
Luka – KTM fly back
Normally flights are always in the morning due to the weather. So guide will do all airport formalities by the time you can have a breakfast at the lodge. You will catch an early morning flight to Kathmandu from the airport in Lukla. From the airport in Kathmandu, a private vehicle will transfer you to your hotel in Kathmandu.
Overnight at Hotel – (BB)
Day 17
Free day in KTM and farewell dinner
You are free to spend the day at your leisure to relax, refresh, and perhaps take a trip to explore more of the city, before the group's final evening celebrating huge achievement with a special dinner. Around the evening, we will take you for a farewell dinner. While having dinner, we will also discuss your trip and take feedback.
Overnight at Hotel – (BB/D)
Day 18
Departure to international airport by privet vehicle
One of our company representatives will assist you to get to the airport by privet vehicle as per your flight departure time and back to home share experiences with family and friends unforgettable memory of Gokyo, Cho-La -Everest base camp Trek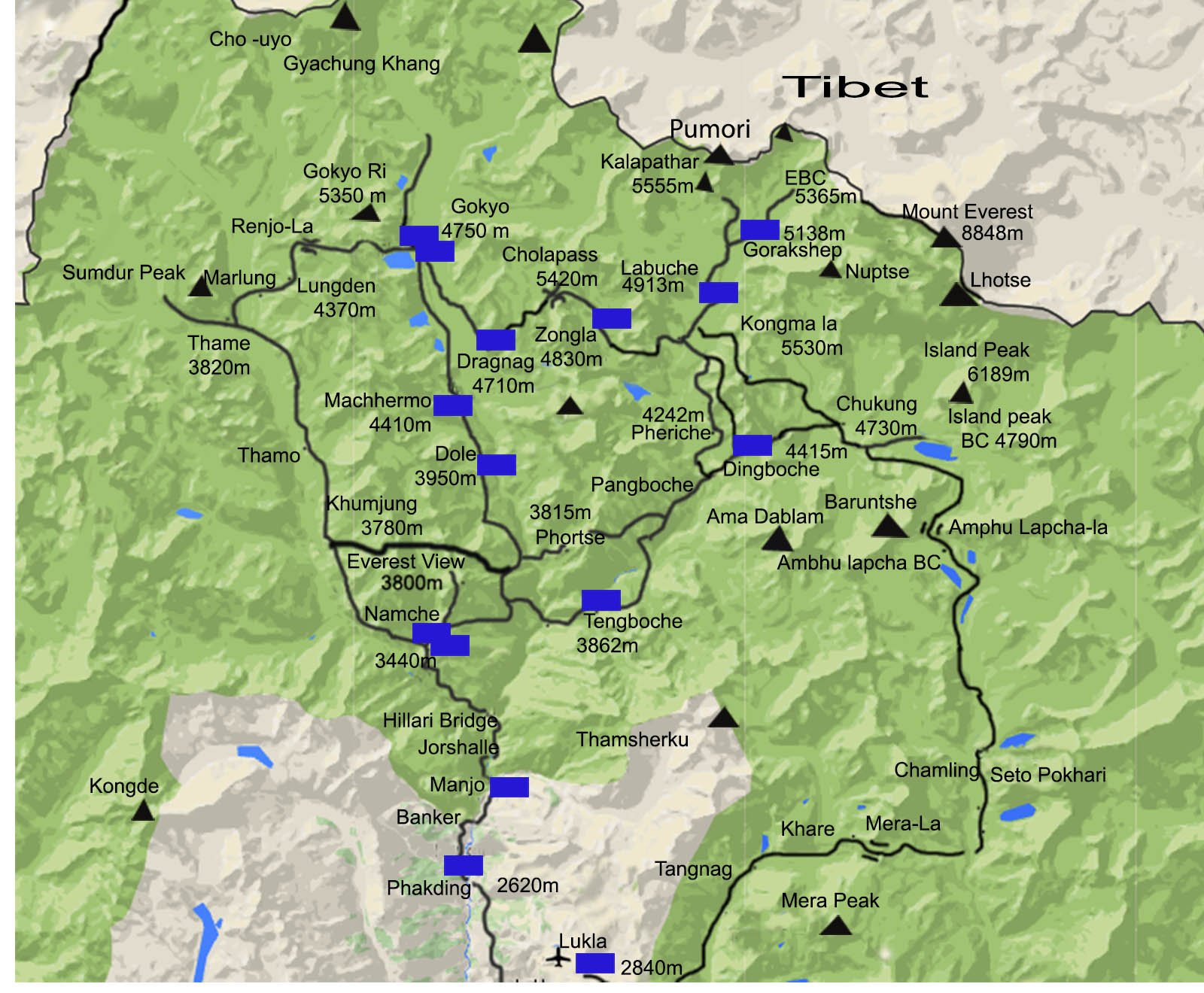 Fitness
TRAIN AND FITNESS
Physical fitness is one of the most key elements on the trek. The trekking in the Himalayan is not forced on it and pacing is always slow, most of the days generally being shorter than a hiking day at your home country. We believe that should be you're imaginable of its kind of holiday trip literally than a contest to provide evidence of the travelers. We maintain situated so as to allow easy access to your trip can be demanding but not a difficult. You can make your own speed and enjoy your trip stunning atmosphere rather than following to other to catch. Himalayan Trails, recommend that you assume on a good fitness agenda proceeding to your trip although and one that builds up general strength and specific leg muscle groups. There is nothing like hiking with a bag pack to train for trek in Himalaya. So our best advice is to get out into the Hills or Alps as often as you can. You better ware your hiking boots and carry about 5-6 kg in your day bag-pack; this is a good weight to walk with it.
If you are doing Gym then which can be helpful and work on the thigh and calf muscles but better to build your heart rate over 50%. Any kind of heart breed activities are good but swimming will not add it doesn't train right muscles groups better added other exercise to be effective. Hiking in Hills, Alps would be the best preparation for a trek in Nepal.
EXPERIENCE FOR THE NEPAL TREK
The trekking trail and area of Nepal mostly well trodden and natural path most of the regions, even though it can be rocky and rough in some parts. It is not precipitous and there is no rock climbing or Mountaineering which is requiring equipments. It is hike most of the way in Himalaya, but some parts of the hills can be steep up and down and can be longer!
On the way you may meet many people along the trails as well as Donkeys, Yaks and heavy load porters. Walking in the Himalaya there is rule of the way when meet an approaching Donkeys, Yaks and porters always make sure you step to always on side where wide enough to passes through each other,( towards slopes side of the hill or inside of the Trail). Note: never ever stand ridged sides of the trail. If you stand, it means, we call (outside standing is suicide and inside is safe site) because it can be push by them down to mountains or rivers.
The trekking poles are very useful, if you have problems with knees, depending on weather or personal choice for using them. Even though higher up, ice path, moraine, open slopes may give you extra support from it, also quite easy to follow the path.
Always final sections are can be Glacier itself and high elevation, it is bit difficult and occasionally slippery under trails. The ice is covered in water stones and dirt, so where a coolant produces cold temperatures in the surface below.
Comfortable, good sole, ankle support (4 seasons) trekking boots water proof are recommended for the high passes trek but for the lower trek light weight hiking boots are fine to protect you beside, probably going over an ankle, low altitude trek heavy boots will be hot and unwieldy.
ACCOMMODATION ON THE TREK AND WHILE PEAK CLIMBING
Tea house trek accommodation will be in comfortable tea houses and lodges run most of the area by local families, except people specify a preference for tents. Every tea house or lodge has a common heated Chimney in the dining hall, although the bedrooms are not heated with mattresses, pillows and two beds in a room. We recommend you to bring your own sleeping bag (3 seasons in normally fine) but possibility is also you can buy and hire in Kathmandu.
Generally most of the tea houses have hot showers by gas gizzards and they have squire toilets but some area have and use drop toilets with flush systems.
For the Tent Camp/ Tent trekking we use branded company tents which are for two persons comfortably can sleep and can put your luggage on side, and we provide you the mattresses. Tents are fixed always near the guest house and eating in our own dining tent, sometimes eating can be indoors, depends on possibility. So toilets sometimes you will use from the lodge but obvious we will have our privet toilet tents too.
Himalayan Trails support
Our main back bones of the trek are porters, will carry your main duffle bag up to a maximum weight of 12-14 kg per guest and supply for all the groups needs, if you need to go back down to the valley together with assisting you. Apart from specially camping, all the accommodations are in local lodge or Tea houses which are well prepared, warm and friendly environment.
Our entire trip we run by permanently Guides or Leaders, who have been employed over ten years with us and been training personally high standard leadership and first aid by our company. They know how to deal with emergencies and speak fluently English. They are always helpful and look after you so many years have been working with tourist and westerns, they know the westerns needs and understanding. Our porters are always who works with us forever all our teams are dedicated and they will provide high standards services.