Trip Mode
Tea House + Camping
Information

Tour Plan

Trip Maps

Gallery

Reviews

Similar Tours

Fitness
What's included
Price includes
Arrival airport pick up and Departure transfers on both domestic and international flights.

Accommodation 2-3 stars Hotel in Kathmandu on a twin share bed with B/B plan.

According to CHOICE of menu 3 times meal B/F, Lunch & Dinner with 2cups of tea or coffee in breakfast and every meals a cup of while the trekking.

Responsible trekking policy of two Trekkers: One porter.

Accommodations at clean and comfortable local Tea House – lodge during the trek.

English speaking guided half day city tour with world heritage sites.

All domestic flight, Airport taxes, private transportations starting & ending points of trek.

English Speaking Experience local Mountain Guides – by Himalayan Trails trained and Nepal government licensed holder as well as First Aid Eco trained.

Along the trek basic complete First Aid Kit.

Assistants Guide and other support staff if indeed.

Trekking Map

Insurance of all staffs Guide, Assistants, Cook, porters and Accommodations, food and reasonable salary during the trek All necessary officials pepper work.

Peak permit, TIMS, Gaurishanker Conservation and Sagarmatha National park entry fees

Warm clothing and required trekking gear for porters

Travel and Rescue arrangements

All the Government Taxes

Welcome and Farewell dinner as per itinerary
Price does not include
Nepal entry Visa fees (US$ 40 per person for 30 days)

International Airfare

Your Travel Insurance

Lunch, Dinner & Drinks in the cities.

Any kind of drinks & personal expenses on trek.

Hot shower, Electricity Bills during trek

Personal gear & clothing

Medical evacuation encase of Emergency

Tips and Items of a personal nature like postage and laundry

Expenses deserve due to Natural or man made hazards like landslide, strikes, political unrest etc. will be charge extra as per actual and anything not specify on the cost
Overview
The Rolwaling via Pachermo Peak Climbing is one of the popular trekking peaks at Rolwaling valley in Nepal. However, it is an undemanding snow-covered peak. This was the first ascent in 1955 by Dennis Davis and Phil Boultbe along the north side. The group was led by one of the famous mountaineer Gregory Alf. The trail goes through Rolwaling hidden valley, via Tashi Lapcha –La pass and Khumbu valley into the Everest region.
The Pachermo Peak is 6,273 meters peak lies between Khumbu and Rolwaling valley. The peak which you see from Tashi Lapacha –La just in front of you. It's one of the beautiful and attractive snow-covered peaks in Nepal. Parchomo peak is a fairly challenging trekking peak in the Rolwaling region, the climbing route can be relatively easy from the northwest ridge but obviously icy- glaciers and some crevasses along the main route of the summit. If you are wondering "do I need a climbing guide for Pachermo peak" then, it depends upon your experience. But it is always suggested to climb with a professional guide.
Rolwaling via Pachermo Peak Climbing Marvelous Vista
Likewise, Rolwaling and Thame both valleys are the main trail access to climbing the peak. But Rolwaling valley is easier access then the Thame. Generally, Rolwaling via Pachermo Peak Climbing starts northeast of ice-fall from Tashi Lapcha pass. Where you set up a high camp just underneath rocky wall about 5,700meter. From the high camp, we gain to the summit, following it lacking much trouble but of course, some crevasses would be the reason and can create some difficulties near the top. Rolwaling valley leads throughout a section which reminds you hidden; untouched civilization and often you don't see any foreigner travelers and trekkers in the area.
In conclusion, Rolwaling via Pachermo Peak Climbing is marvelous vista the trails lead along the wilderness river valleys before premising in high alpine country. Once when you on the summit surely superb mountains Mt. Gaurishanker, Melungtse, Yalung- Ri whole Rolwaling range, even far west some of Langtang range many others snow-covered peaks. And of course in Khumbu valley, thousands of spectacular Himalayan peaks are you can observe above 8000m peaks including Cho- Oyu, Makalu, and world highest peak Mt. Everest, etc.
Important Note
On the Hidden valley of Rolwaling, Tso Rolpa Lake with Tashi Labtse–La enchanting forest of Rhododendrons and Hemlocks Traditional antique villages, Hindu and Buddhist culture, the Great Himalayan Trails route remarkable landscape and Cristal Mountains ranges together with Cho- Oyu, Makalu and world highest peak Mt. Everest, from sub-tropical-alpine to arctic topography.
NOTICE!! NOTICE!! NOTICE!!
Dear customer: we would like to let you know that, since 2018 every season's spring and autumn. All the airlines are operating the flights from Ramechap instated of Kathmandu due to the air traffic in Kathmandu Airport. So please note that you will have to drive about 4 hours to Ramechhap by privet vehicle. Who has time they can stay overnight in Ramechhap near the airport, but hotels are meets all basic things and mostly local foods are available. Please don't expect like in Kathmandu or on trek. Consequently, if someone who doesn't have time and arrive today and have to leave next day to Lukla for trek then you have to drive very early morning to catch the flight to Lukla. So please prepare mentally yourself and we are really, sorry for your inconvenience. Thanks for understanding.
Day 01

Day 02

Day 03

Day 04

Day 05

Day 06

Day 07

Day 08

Day 09

Day 10

Day 11

Day 12

Day 13

Day 14

Day 15

Day 16

Day 17

Day 18

Day 19

Day 20
Day 01
KTM Arrival pick up from Airport and welcoming by garland and transfer to Hotel
On your arrival day in Kathmandu, You will be received by the representative staff from Himalayan Trails Trekking & Climbing P Ltd with proper greeting. You will be taken to the hotel where you have your time to settle in and freshen up.
Overnight at Hotel – (BB)
Day 02
Sightseeing world heritage sights Hindus & Buddhist shrines / Trek preparation and welcome dinner
The very next morning, after breakfast you will leave for a half day sightseeing tour around Kathmandu valley. Some of these landmarks are considered World Heritage Sites including the historic Durbar Square, the sacred Hindu temple of Pashupatinath, the famous 'Monkey Temple' (Swayambhunath) and Buddhist shrine (Bouddhanath) which is one of the largest stupas in the world. In the afternoon, you will visit our office there will be short trip briefing and introduction with your trekking guide. After short briefing you can hang out to the necessary places you might need to go before trekking like, Money changer, ATM, Market ETC. In the evening, there will be a welcome dinner hosted by Himalayan Trails Trekking & Climbing. For dinner, you will be served excellent cuisine.
Overnight at Hotel – (BB)
Day 03
Kathmandu to Gonggur Khola / Chet Chet (1,440m) drive by privet vechale Via Dolakha
Wake up early in the morning and we start drive towards Gonggur khola by jeep through the river gorges. On the way we admire natural wonders including the daily activities of local people for their survival. First couple of hours we follow the smooth road of Araniko Highway, following the drive of Bhotekoshi and Sunkoshi River bank side. Drive through adventurous zigzag and rugged road takes us to reach at Gangor Khola. Gongar Khola itself is a dusty un-interesting village, in the shadow of the big hydro-electric dam project up the Tamakoshi valley, turned itself into a big construction site. , we start walking north up the new road. After about 45 minutes you'll get to Chetchet, A cluster of dwellings on the right side of the road. After about ten minutes you'll get to the bridge that crosses the Tamakoshi River then cross the suspension bridge over Tama Koshi River. After crossing the bridge ascend towards on a rocky steep slope. As we get walk through a forest and later cross terrace fields of Simigaun. The village itself is beautiful. It is spread all over the side of the hill. We observe and explore Sherpa culture and other mixed cultural villages, frequently encounter and interaction with honest and hospitable natives.
Overnight at Lodge – (BLD)
Day 04
Simigoan –Kylche/ Dhokang Kharka (2,790m)
After breakfast we start our trek towards Dhokang Kharka. We walk through dense mixed forests and enter the Rolwaling valley. The path steadily climbs towards the forests and streams as we get Cyalche. Then we descend back down to the river side and set up camps on the bank of Rolwaling Khola. On the way, we will be blessed with the views of the natural landscapes including the adjoining mountains.
Overnight at Lodge – (BLD)
Day 05
Dokang Kharka – Bedding (3,742m)
After having breakfast we start walk through the forested valley of lush green alpine vegetation, with excellent mountain scenery surrounding us. We will be covering considerable distance as we will reach to the altitude of 3742 meters at the end of the day. We walk into the woods, and descent to reach Nyamare village. Then again our journey begins with great view of Gaurishankar Mountain and Melungtse which is Rolwaling's highest summit. We reach big Sherpa Village named Beding. The village of Beding offers some great views of several mountain peaks including Rolwaling Himalayan range also known as village of Everest summiteers.
Overnight at Lodge – (BLD)
Day 06
Bedding – Naa Gaun (4,175m)
After having breakfast we start our journey by climbing up through Rolwaling River. We pass through the jungle, small local village, and gigantic Mani stone draped with prayer flags, the large rock on which the image of Bodhisattva is painted. Then we will reach Na Gaon which has been surrounded by stone walls. On the way to Nagaun, you will be blessed with some of the great views of the Rolwaling Peak from a remarkably close distance.
Overnight at Lodge – (BLD)
Day 07
Naa – Acclimatization day
Today is the acclimatization day which helps us to adjust in the changing conditions and the environment. Acclimatization will help you to get prepared for the trekking that will follow on the coming days. Besides resting, you can walk around the local villages and talk with the local Sherpa people in the afternoon.
Overnight at Lodge – (BLD)
Day 08
Yalung Ri Base Camp (4,800m)
After having breakfast we start trek towards the Yalung Ri base camp. The trail is steadily climbing up after we pass the valley floor. You will get some stunning views of Yalung Glacier, Ramdung Peak (5930m), and Yalung RI (5630m) and to the north the breathtaking Himalayan Mountains along the Tibetan border and Mt. Cho-oyu.
Overnight at Tent – (BLD)
Day 09
Yalung Ri Summit back to Naa Village
We start early with the aim to achieve the summit. Continue our goal by following the footsteps and guidance of our experienced climbing experts we will overcome minor technical sections and head towards the summit of Yalung RI. One can see far-stretched Dolakha from the peak, including other mountains, as well as Panch Pokhari. After successful summit of Yalung RI peak, return back to Na Village.
Overnight at Lodge – (BLD)
Day 10
Naa –Kabug Cave (Chugima Odar) (4,560m) via Tso - Rolpa Lake
After having breakfast we walk along the Rolwaling khola then climb up to the short steep hill section in a dam that holds back the Tsho-Rolpa Glacier Lake. We walk along the right side of the lake and enter a meadow after a steep climb; we cross a moraine area then descend to the sandy field. Then we continue the walk along the Trakarding glaciers and camp at the middle of Glacier.
Overnight at Tent – (BLD)
Day 11
Kabug Cave – Doba (Dhagarding) Glacier Camp (4,820m)
The path enters towards the glacier which is a huge and impressive rocky area. We will walk many ups and downs through the glacier following the cairns which marks trail. Just below the Trolumbau glacier, a fantastic panorama with the Trakarding glacier below and the great glacial wall of the Trolumbau glacier to the north.
Overnight at Tent – (BLD)
Day 12
Glacier Camp – Tashi Labtse Base camp (5,400m) Short day and afternoon resting
Our trek starts we will be trekking through the flat and then soon ascend as we will get to witness the beautiful Natural Lake filled with glacier lakes. Along the trail we will be offered with beautiful views of Menlung and Tibetan Side Mountains. After walking for several hours we arrive at Tashi Labtse Base camp, from here we can see amazing views of the surrounding peaks.
Overnight at Tent – (BLD)
Day 13
Tashi Labtse Base camp – Tashi Labtse - La (5755m)
Early morning we follow a path on glacier for an hour or more, and then reaching a spur which provides an easy access to our route on the upper glacier. We need ropes, make steps although terrain is not so difficult, a precaution is necessary around these types of mountain landscapes. We climb along with beautiful scenery leads to the top of the pass at highest point of the trek on top Tashi Labtsa pass above 5,755 m high, marked with Buddhist prayer flags and cairns.
Overnight at Tent – (BLD)
Day 14
This day is your Summit day and early morning our climbing guide will take you to Parchomo Peak (6,273m) summit and descent to Parchemuche Tsho camp. (4,780m)
Today is the most important day of trek as we are going to attempt our climb towards Parchamo Peak. We start our climb early in the morning, flow the snow slope; we climb north-east over the rock and snow made walls of Tengi Ragi Tau. Our experienced climbing guide will provide instructions and the guidelines which need to be followed carefully. As soon as reach the summit, we will be rewarded by spectacular views of Mt. Cho Oyu, Mt. Amadablam, Mt. Thamserku, Mt, Kusum Kanguru and many other snow capped peaks. After having the successful summit, we descend and head to reach Parchemuche Tsho camp.
Overnight at Tent – (BLD)
Day 15
Parchemuche Tsho camp –Thame (3,800m)
We descend through the glaciers, pass rock slide, grassy moraine and following the valley and arrive at Thame. Thame will reward us with spectacular views of Everest, Nuptse, Lhotse, Ama Dablam, Kusum Kangari, and Thamserku. Also visit an ancient monastery above Thame.
Overnight at Lodge – (BLD)
Day 16
Thame – Namche Bazaar (3,440m)
After having breakfast, our trek begins with a gradual descent and then becomes steep before a bridge crossing over the Dudh Koshi to Phunki Tenga. A verdant green change of scenery unfolds on our journey to Namche Bazaar.
Overnight at Lodge – (BLD)
Day 17
Namche Bazaar – Lukla (2,860m)
After breakfast in beautiful Namche Bazaar, We begin our trek to Namche Bazaar today on a rocky terrain. It is mostly a downhill trek on a trail alongside the Dudh Koshi River. We cross several suspension bridges, pass by several monasteries and villages before reaching Lukla. After reaching Lukla we spend the rest of the day taking a rest as today will be our last day on the mountains.
Overnight at Lodge – (BLD)
Day 18
Fly to Kathmandu (1,350m)
Normally flights are always in the morning due to the weather. So guide will do all airport formalities by the time you can have a breakfast at the lodge. You will catch an early morning flight to Kathmandu from the airport in Lukla. From the airport in Kathmandu, a private vehicle will transfer you to your hotel in Kathmandu.
Overnight at Hotel – (BB)
Day 19
Free day in KTM, Celebration and farewell dinner
You are free to spend the day at your leisure to relax, refresh, and perhaps take a trip to explore more of the city, before the group's final evening celebrating huge achievement with a special dinner. Around the evening, we will take you for a farewell dinner. While having dinner, we will also discuss your trip and take feedback.
Overnight at Hotel – (BBD)
Day 20
Final Departure by privet vehicle and back to homeland share experiences with family unforgettable memory of Tashi Labtse, Parchemuche Peak trek.
One of our company representatives will assist you to get to the airport by privet vehicle as per your flight departure time and back to home share experiences with family and friends unforgettable memory of Rolwaling via Parchomo Peak Climbing.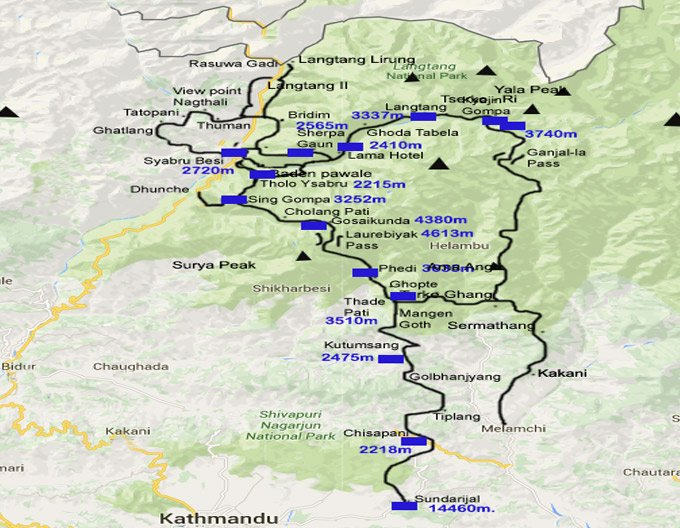 Rolwaling Parchomo Peak Climbing
Train and  Fitness
Physical fitness is one of the most key elements on the trek. The trekking in the Himalayan is not forced on it and pacing is always slow, most of the days generally being shorter than a hiking day at your home country. We believe that should be you're imaginable of its kind of holiday trip literally than a contest to provide evidence of the travelers. We maintain situated so as to allow easy access to your trip can be demanding but not a difficult. You can make your own speed and enjoy your trip stunning atmosphere rather than following to other to catch. Himalayan Trails, recommend that you assume on a good fitness agenda proceeding to your trip although and one that builds up general strength and specific leg muscle groups. There is nothing like hiking with a bag pack to train for trek in Himalaya. So our best advice is to get out into the Hills or Alps as often as you can. You better ware your hiking boots and carry about 5-6 kg in your day bag-pack; this is a good weight to walk with it.
If you are doing Gym then which can be helpful and work on the thigh and calf muscles but better to build your heart rate over 50%. Any kind of heart breed activities are good but swimming will not add it doesn't train right muscles groups better added other exercise to be effective. Hiking in Hills, Alps would be the best preparation for a trek in Nepal.
Experience For The Nepal Trek
The trekking trail and area of Nepal mostly well trodden and natural path most of the regions, even though it can be rocky and rough in some parts. It is not precipitous and there is no rock climbing or Mountaineering which is requiring equipments. It is hike most of the way in Himalaya, but some parts of the hills can be steep up and down and can be longer!
On the way you may meet many people along the trails as well as Donkeys, Yaks and heavy load porters. Walking in the Himalaya there is rule of the way when meet an approaching Donkeys, Yaks and porters always make sure you step to always on side where wide enough to passes through each other,( towards slopes side of the hill or inside of the Trail). Note: never ever stand ridged sides of the trail. If you stand, it means, we call (outside standing is suicide and inside is safe site) because it can be push by them down to mountains or rivers.
The trekking poles are very useful, if you have problems with knees, depending on weather or personal choice for using them. Even though higher up, ice path, moraine, open slopes may give you extra support from it, also quite easy to follow the path.
Always final sections are can be Glacier itself and high elevation, it is bit difficult and occasionally slippery under trails. The ice is covered in water stones and dirt, so where a coolant produces cold temperatures in the surface below.
Comfortable, good sole, ankle support (4 seasons) trekking boots waterproof are recommended for the high passes trek but for the lower trek lightweight hiking boots are fine to protect you beside, probably going over an ankle, low altitude trek heavy boots will be hot and unwieldy.
Accommodation on The Trek and while climbing
Tea house trek accommodation will be in comfortable tea houses and lodges run most of the area by local families, except people specify a preference for tents. Every tea house or lodge has a common heated Chimney in the dining hall, although the bedrooms are not heated with mattresses, pillows and two beds in a room. We recommend you to bring your own sleeping bag (3 seasons in normally fine) but possibility is also you can buy and hire in Kathmandu.
Generally most of the tea houses have hot showers by gas gizzards and they have squire toilets but some area have and use drop toilets with flush systems.
For the Tent Camp/ Tent trekking we use branded company tents which are for two persons comfortably can sleep and can put your luggage on side, and we provide you the mattresses. Tents are fixed always near the guest house and eating in our own dining tent, sometimes eating can be indoors, depends on possibility. So toilets sometimes you will use from the lodge but obvious we will have our privet toilet tents too.
Himalayan Trails Support
Our main back bones of the trek are porters, will carry your main duffle bag up to a maximum weight of 12-14 kg per guest and supply for all the groups needs, if you need to go back down to the valley together with assisting you. Apart from specially camping, all the accommodations are in local lodge or Tea houses which are well prepared, warm and friendly environment.
Our entire trip we run by permanently Guides or Leaders, who have been employed over ten years with us and been training personally high standard leadership and first aid by our company. They know how to deal with emergencies and speak fluently English. They are always helpful and look after you so many years have been working with tourist and westerns, they know the westerns needs and understanding. Our porters are always who works with us forever all our teams are dedicated and they will provide high standards services.