Information

Detailed Itinerary

Trip Maps

Gallery

Reviews

Similar Tours

More Information
What's included
Price includes
Arrival airport pick up and Departure transfers on both domestic and international flights.

Accommodation 2-3 stars Hotel in Kathmandu on a twin share bed with B/B plan

According to CHOICE of menu 3 times meal B/F, Lunch & Dinner with 2cups of tea or coffee in breakfast and every meals a cup of while the trekking.

Responsible trekking policy of two Trekkers: One porter.

Accommodations at clean and comfortable local Tea House – lodge during the trek.

English speaking guided half day city tour with world heritage sites.

All domestic flight, Airport taxes, private transportations starting & ending points of trek.

English Speaking Experience local Mountain Guides – by Himalayan Trails trained and Nepal government licensed holder as well as First Aid Eco trained.

Along the trek basic complete First Aid Kit.

Assistants Guide and other support staff if indeed.

Everest Trekking map.

Insurance of all staffs Guide, Assistants, Porters, Accommodations, food and reasonable salary during the treks.

All necessary officials pepper work.

TIMS, Khumbu Community and Sagarmatha National Park entry fee.

Warm clothing and required trekking gear for porters

Travel and Rescue arrangements

All the Government Taxes

Welcome and Farewell dinner as per itinerary.
Price does not include
Nepal entry Visa fees (US$ 40 per person for 30 days)

International Airfare

Your Travel Insurance

Lunch, Dinner & Drinks in the cities

Any kind of drinks & personal expenses on trek

Hot shower, Electricity Bills during trek

Personal gear & clothing

Medical evacuation encase of Emergency

Tips and Items of a personal nature like postage and laundry

Expenses deserve due to Natural or man made hazards like landslide, strikes, political unrest etc. will be charge extra as per actual and anything not specify on the cost.
Overview
Gokyo Lakes Trek is one of the best treks in Nepal without a doubt. The longer version of the journey allows you to explore the major natural attractions of the Everest region, may it be the Everest Base Camp, the Gokyo Lakes, and the numerous viewpoints that offer you amazing views of mountains in the Everest region. There is also a shorter version of the trek that doesn't cover the base camp, however, it is still worth your time and energy. For all these reasons, it has become one of the most popular treks in the Everest region if not Nepal.
Gokyo Lakes Trek
Everest Gokyo Lake trek allows you to explore the Gokyo Lakes Nepal. They are a high altitude complex of mountain lakes situated on an elevation range between 4700 m and 5000 m. On the trek, you will also get to enjoy Gokyo Ri national park. Gokyo Ri is a mini-mountain; trekkers tend to hike to reach its top and enjoy the views of the mountains around from there. Gokyo Ri national park is another name of Sagarmatha National Park, which is one of the richest protected areas in Nepal. Everest Gokyo Lake trekking also takes you to Gokyo village.
On the Gokyo trek, you get to enjoy the wonderful views of the Everest range, may it be from the settlement areas, the top of the mini-mountains, or the viewpoints. It is one of the best trekking in Nepal experiences, and to get the best out of it, make sure to get your hands on the Gokyo lake trek map, and research well about the Gokyo Lake trek difficulty.
Best Season For Gokyo Lakes Trek
The best season for Gokyo Lakes Trek is between the months of September and November. What makes this time of year the best time to explore this part of the world is definitely the climate. It's neither too hot nor too cold, and the weather is clear and bright. You will be offered the best views of the mountains during this time. Since this is the most popular time of the year, there is a lot of crowd in the Everest region this season. You could also try the Gokyo Lakes trek between the months of March and May. The weathering profile is almost the same at this time.
Gokyo Lakes trek can prove to be an ideal journey for you, especially if you love the mountains, and diving deep into the cultures of rural Nepal. Depending on your interest, you could choose any one of the two versions of Gokyo Lakes trek. You can rest assured about falling in love with the journey no matter which one you choose. There are also so many side treks on the trip that you can explore. All you need to do is walk a couple of hours away from the main route, and you'll reach a major attraction. Choose Gokyo Lakes trek as your upcoming holiday activity.
Himalayan Trails Trekking takes you on wonderful trips in the hills of Nepal, and interesting tourist destinations in countries like Bhutan and Tibet. They specialize in trekking and expedition, and to meet the needs of the tourists, they also offer luxury tour options featuring activities such as jungle safari, adventure sports, helicopter tour, food and cultural tour, and so on. If you're looking for an ideal holiday option, or more specifically if you're looking to travel to these places and try out these activities, make sure to contact Himalayan Trails Trekking and choose them as your travel partner. You won't regret it and that's a guarantee.
Short Itinerary
Day 01:

KTM Arrival pick up from Airport and welcoming by garland and transfer to Hotel welcome Dinner
O/N Hotel – (DB/B)


Day 02:

Kathmandu (1,315m) – Lukla (2,840m), flies 30 mints, and trek to Phakding (2,640m) 4 hrs
O/N Lodge – (BLD)

Day 03:

Phakding – Namche Bazaar (3,440m) 6hrs
O/N Lodge – BLD


Day 04:

Namche Bazaar – Acclimatization Day Up to (3,800m)
O/N Lodge – (BLD)

Day 05:

Namche – Tyengboche (3,800m) 5hrs
O/N Lodge – (BLD)


Day 06:

Tyengboche – Phortse via Pangboche (3,800m) 5hrs
O/N Lodge – (BLD)

Day 07:

Phortse – Dole (4,040m) 4hrs
O/N Lodge – (BLD)

Day 08:

Dole – Machhermo (4,410m) 6hrs
O/N Lodge – (BLD)


Day 09:

Machhermo – Gokyo (4,750m) 4/5hrs
O/N Lodge – (BLD)


Day 10:

Gokyo – visit Gokyo – Ri (5,340m) 4hrs
O/N Lodge – (BLD)


Day 11:

Gokyo – Dole (4,040m) 5hrs
O/N Lodge – (BLD)

Day 12:

Dole – Namche (3,440m) 6hrs
O/N Lodge – (BLD)

Day 13:

Namche – Lukla (2,840m) 7hrs
O/N Lodge – (BLD)

Day 14:

Lukla – Kathmandu fly in the morning 25 -30 minuts Transfer to Hotel free day
O/N Hotel – (B/B)

Day 15:

Free day or Sightseening in KTM and farewell dinner
O/N Hotel – (BDB)


Day 16:

Final departure gets back to home with unforgettable memory of the Himalaya
Day 01

Day 02

Day 03

Day 04

Day 05

Day 06

Day 07

Day 08

Day 09

Day 10

Day 11

Day 12

Day 13

Day 14

Day 15

Day 16
Day 01
KTM Arrival pick up from Airport and welcoming by garland and transfer to Hotel welcome Dinner
On your arrival day in Kathmandu, You will be received by the representative staff from Himalayan Trails Trekking & Climbing P Ltd with proper greeting. When you have had your time to settle in and freshen up. In the evening, there will be a welcome dinner hosted by Himalayan Trails Trekking & Climbing. For dinner, you will be served excellent cuisine.
Overnight at Hotel –BDB
Day 02
Kathmandu (1,315m) - Lukla (2,840m), fly 30 mints, and trek to Phakding (2,640m) 4 hrs
We take an early morning flight to Lukla (2,840m) 35 minutes. Our Everest high passes treks begin form here. We begin our short trek to Phakding (2610m) immediately after landing. At one hour's gradual descent, we will be at a Cheplung village from where we have a glimpse of Mt. Khumbila (18900ft), a sacred mountain which has never been climbed. From Cheplung, we continue descending to Phakding and spend the night.
Overnight at Lodge (BLD
Day 03
Phakding – Namche Bazaar (3,440m) 6hrs
After Breakfast we will cross Dudh Koshi River and a magnificent view of Mt. Thamserku (21,675ft) from the Benkar village. We cross more bridges and reach the entrance of Sagarmatha National Park at Monjo, where our trekking permits are checked. We walk furthermore and pass through Jorsale village before reaching Namche bazaar (3440m).From here, we get beautiful views of the Himalayas including Everest, Lhotse, Tawache and others it will take 5 or 6 hrs approximately to reach there.
Overnight at Lodge (BLD)
Day 04
Namche Bazaar – Acclimatization Day Up to (3,800m)
It is the day to acclimatize but not for the complete day rest. To keep fit and acclimatized with the altitude, we can tour Namche Bazaar which is the staging point for expeditions to Everest and other Himalayan peaks in the area. It is also is a prosperous market town selling everything from Tibetan artifacts to trekking and climbing equipment. Namche is situated on the slope of an arch-shaped mountain, which allows you to oversee the sights of glorious mountain peaks throughout the valley and you will also get know about Sherpa & Tibetan culture. If you are lucky enough to be there on Saturday you will get to see the Hatt Bazaar (weekly market gusto). The market is a spotlight in the middle of the town, and traders from Tibet and other villages come with the pieces of arts and goods to attract the hearts of their potential customers. Further from Namche lies the Everest View Hotel. The hotel is the highest located hotel in the world and provides view of Mount Everest and many other Himalayan peaks from all of its windows. Our way back to Namche we also visit Khumjung Monastery (houses a yeti scalp!) and Hillary School.
Overnight at Lodge (BLD
Day 05
Namche – Tyengboche (3,800m) 5hrs
After breakfast, the uniform and easy trail leads us towards the view of Mount Everest, descending deep into the Dudh Koshi Valley at Pungki Thanka and from this point, it ascends the right flank of the Dudh Koshi valley to Tengboche Monastery (3860m).It is the spiritual center of the Khumbu. The climb is lengthy, but is more than adequately compensated by gorgeous views of Mount Amadablam and on a clear day, views of Mt. Everest and its surrounding peaks.
Overnight at Lodge – BLD
Day 06
Tyengboche – Phortse via Pangboche (3,800m) 5hrs
After breakfast we move up the Imja river valley to Pangboche (3900m). We stop here for lunch and visit the Monastery and look at the 'Yeti Sculpt'. In the afternoon we continue walk further to the Sherpa village Phortse. Phortse is a beautiful village in Everest region.
Overnight at Lodge – BLD
Day 07
Phortse – Dole (4,040m) 4hrs
After breakfast continue walk uphill to Dole through rhododendron forest and then fades to juniper and conifers trees, at Dole for overnight stop with view of Khumbila and Tawache peaks.
Overnight at Lodge – BLD
Day 08
Dole – Machhermo (4,410m) 6hrs
After breakfast we start journey towards Dole. While trekking to Machhermo, we get plenty of opportunity to witness the insightful cultural influence of Tibetan Buddhism. Today we pass over Luza village, witness prayer flags, prayer wheels and chortens along the way and mostly walk alongside Dudhkosi river trails.
Overnight at Lodge – BLD
Day 09
Machhermo – Gokyo (4,750m) 4/5hrs
After breakfast we continue our Trek by ascending through ridge from the top of which offers spectacular panoramic views of snow capped mountains. Then we will be trekking downhill towards the river stream before making our way up to Ngozumpa Glacier. As we crossover the bridge, first lake we will witness is Longpongo Lake followed by second one Taboche Tso with third one, most popular Dudh Pokhari. In this way, we enter the mesmerizing Gokyo valley at heart of world's highest peaks.
Overnight at Lodge – BLD
Day 10
Gokyo – visit Gokyo – Ri (5,340m) 4hrs
Morning hike to Gokyo RI 5,357m, offers panorama of world's highest peaks from Mt. Cho Oyo, Gyachung Kang, Mt. Everest, Mt. Lhotse, Cholatse, Taweche and to the east rises Mt. Makalu. After a mesmerizing time at Gokyo RI descend to Gokyo.
Overnight at Lodge – BLD
Day 11
Gokyo – Dole (4,040m) 5hrs
After breakfast we leave behind the spectacular Gokyo village behind. From now onwards, enjoy gradual downhill trekking alongside the river streams emerging from Ngojumpa glacier. Slowly trace our steps at lower altitudes trekking alongside beautiful forests with quite a few ascends and descends. In this way, we return towards Dole.
Overnight at Lodge – BLD
Day 12
Dole – Namche (3,440m) 6hrs
After breakfast return back to Namche. While returning down from Dole to Namche, we enjoy much of flora fauna and overall surroundings with beautiful rhododendron forests, waterfalls and have different perspective on beautiful views of Amadablam, Thamserku and other surrounding peaks.
Overnight at Lodge – BLD
Day 13
Namche – Lukla (2,840m) 7hrs
After breakfast, we descend 950m and ascend 250m in total, which might take us of nearly 6 hours to complete. The trail descending from Jorsale at Dudh Koshi reaches at Monjo and from there to Lukla, both the beginning and ending point of our trek.
Overnight at Lodge –BLD
Day 14
Lukla – Kathmandu fly in the morning 25 -30 minuts Transfer to Hotel free day
Normally flights are always in the morning due to the weather. So guide will do all airport formalities by the time you can have a breakfast at the lodge. You will catch an early morning flight to Kathmandu from the airport in Lukla. From the airport in Kathmandu, a private vehicle will transfer you to your hotel in Kathmandu.
Overnight at Hotel (B/B)
Day 15
Free day or Sightseeing in KTM and farewell dinner
You are free to spend the day at your leisure to relax, refresh, and perhaps take a trip to explore more of the city, before the group's final evening celebrating huge achievement with a special dinner. Around the evening, we will take you for a farewell dinner. While having dinner, we will also discuss your trip and take feedback.
Overnight at Hotel (B/DB)
Day 16
Final departure gets back to home with unforgettable memory of the Himalaya
One of our company representatives will assist you to get to the airport by privet vehicle as per your flight departure time and back to home share experiences with family and friends unforgettable memory of Gokyo Lake Trek.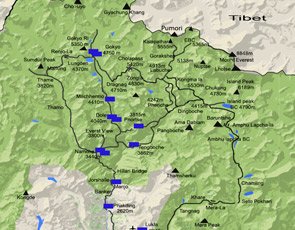 Fitness
Gokyo Lake Trek
TRAIN AND FITNESS 
Physical fitness is one of the most key elements on the trek. The trekking in the Himalayan is not forced on it and pacing is always slow, most of the days generally being shorter than a hiking day at your home country. We believe that should be you're imaginable of its kind of holiday trip literally than a contest to provide evidence of the travelers. We maintain situated so as to allow easy access to your trip can be demanding but not a difficult. You can make your own speed and enjoy your trip stunning atmosphere rather than following to other to catch. Himalayan Trails, recommend that you assume on a good fitness agenda proceeding to your trip although and one that builds up general strength and specific leg muscle groups. There is nothing like hiking with a bag pack to train for trek in Himalaya. So our best advice is to get out into the Hills or Alps as often as you can. You better ware your hiking boots and carry about 5-6 kg in your day bag-pack; this is a good weight to walk with it.
If you are doing Gym then which can be helpful and work on the thigh and calf muscles but better to build your heart rate over 50%. Any kind of heart breed activities are good but swimming will not add it doesn't train right muscles groups better added other exercise to be effective. Hiking in Hills, Alps would be the best preparation for a trek in Nepal.
EXPERIENCE FOR THE NEPAL TREK
The trekking trail and area of Nepal mostly well trodden and natural path most of the regions, even though it can be rocky and rough in some parts. It is not precipitous and there is no rock climbing or Mountaineering which is requiring equipments. It is hike most of the way in Himalaya, but some parts of the hills can be steep up and down and can be longer!
On the way you may meet many people along the trails as well as Donkeys, Yaks and heavy load porters. Walking in the Himalaya there is rule of the way when meet an approaching Donkeys, Yaks and porters always make sure you step to always on side where wide enough to passes through each other,( towards slopes side of the hill or inside of the Trail). Note: never ever stand ridged sides of the trail. If you stand, it means, we call (outside standing is suicide and inside is safe site) because it can be push by them down to mountains or rivers.
The trekking poles are very useful, if you have problems with knees, depending on weather or personal choice for using them. Even though higher up, ice path, moraine, open slopes may give you extra support from it, also quite easy to follow the path.
Always final sections are can be Glacier itself and high elevation, it is bit difficult and occasionally slippery under trails. The ice is covered in water stones and dirt, so where a coolant produces cold temperatures in the surface below.
Comfortable, good sole, ankle support (4 seasons) trekking boots water proof are recommended for the high passes trek but for the lower trek light weight hiking boots are fine to protect you beside, probably going over an ankle, low altitude trek heavy boots will be hot and unwieldy.
ACCOMMODATION ON THE TREK
Tea house trek accommodation will be in comfortable tea houses and lodges run most of the area by local families, except people specify a preference for tents. Every tea house or lodge has a common heated Chimney in the dining hall, although the bedrooms are not heated with mattresses, pillows and two beds in a room. We recommend you to bring your own sleeping bag (3 seasons in normally fine) but possibility is also you can buy and hire in Kathmandu.
Generally most of the tea houses have hot showers by gas gizzards and they have squire toilets but some area have and use drop toilets with flush systems.
For the Camping/ Tent trekking we use branded company tents which are for two persons comfortably can sleep and can put your luggage on side, and we provide you the mattresses. Tents are fixed always near the guest house and eating in our own dining tent, sometimes eating can be indoors, depends on possibility. So toilets sometimes you will use from the lodge but obvious we will have our privet toilet tents too.
Himalayan Trails support 
Our main back bones of the trek are porters, will carry your main duffle bag up to a maximum weight of 12-14 kg per guest and supply for all the groups needs, if you need to go back down to the valley together with assisting you. Apart from specially camping, all the accommodations are in local lodge or Tea houses which are well prepared, warm and friendly environment.
Our entire trip we run by permanently Guides or Leaders, who have been employed over ten years with us and been training personally high standard leadership and first aid by our company. They know how to deal with emergencies and speak fluently English. They are always helpful and look after you so many years have been working with tourist and westerns, they know the westerns needs and understanding. Our porters are always who works with us forever all our teams are dedicated and they will provide high standards services.