Trip Mode
Tea House + Camping
Information

Tour Plan

Trip Maps

Gallery

Reviews

Similar Tours

Fitness
What's included
Price includes
Arrival airport pick up and Departure transfers on both domestic and international flights.

Accommodation 3 stars Hotel in Kathmandu on a twin share bed with B/B plan

According to CHOICE of menu 3 times meal B/F, Lunch & Dinner with 2cups of tea or coffee in breakfast and every meals a cup of while on the trekking

Responsible trekking policy of two Trekkers: One porter

Accommodations at clean and comfortable 2 Men Tent or local Tea House – lodge during the trek

English speaking guided half day city tour with world heritage sites

All private transportations starting & ending points of the trek

English Speaking Experience local Mountain Guides – by Himalayan Trails trained and Nepal government licensed holder as well as First Aid –Eco trained

Along the trek basic complete First Aid Kit

Assistants Guide and other support staff if indeed

Kanchenjunga Trekking Map

Insurance of all staffs Guide, Assistants, Cook, porters and Accommodations, food and reasonable salary during the treks

Kanchenjunga special permit, TIMS, Kanchenjunga conservations entry fees

All necessary officials paper work

Warm clothing and required trekking gear for porters

Travel and Rescue arrangements

All the Government Taxes

Welcome and Farewell dinner as per itinerary
Price does not include
Nepal entry Visa fees (US$ 40 per person for 30 days)

International Airfare

Your Travel Insurance

Lunch, Dinner & Drinks in the cities

Any kind of drinks & personal expenses on trek

Hot shower, Electricity Bills during trek

Personal gear & clothing

Medical evacuation encase of Emergency

Tips and Items of a personal nature like postage and laundry

Expenses deserve due to Natural or manmade hazards like landslide, strikes, political unrest etc. will be charge extra as per actual and anything not specify on the cost
Overview
Kanchenjunga Trek is one of the most famous treks in Nepal. Every year thousands of trekkers hike to Kanchenjunga Trek. Kanchenjunga Trek is a restricted trekking area. Trek to Kanchenjunga area, you need a local guide and at least 2 trekkers to obtain necessary permits to trek through Kanchenjunga. Kanchenjunga trek is not as popular as Everest Base Camp Trek or Annapurna Base Camp Trek. It means not as crowded as other parts of Nepal and still remote. So you can experience remote Nepalese cultures, foods, and lifestyles in its traditional form while trekking in the Kanchenjunga area.
Kanchenjunga trek is a tea-house trek. Tea-house treks have small lodges with a minimum variety of food and lodges that come along the trek route. The eastern parts of Nepal are not affected much from earthquakes equally as the westerns and central regions and to do a trek, trails have not been obstructed and the landscapes are also in good condition, the region has been declared safe to be travel. The mountains stand tall for the trekkers to view its magnificent beauty. The most favorable seasons for trekking in Nepal are autumn (September-November) and spring (March-May).
Kanchenjunga Trek
Kanchenjunga means Five Treasures of the Great Snow, which is the 3rd highest mountain in the world at 8,586 meters from sea level. The whole trekking area in this region streaked through and around the Arun River is an untouched valley. The Arun valley is one of the most beautiful regions for trekking in Nepal. This trek to this area is probably the best that trekking has to offer in terms of lush natural beauty. However, as the trip crosses the 4,000m mark several times, one must take care of high altitude sickness.
Kanchenjunga trek starts from Kathmandu fly to Bhadrapur and drives to Taplejung. The route starts by approaching the north side of Kanchenjunga. Where you see views of many stunning snow cover mountains and then at Base Camp Kanchenjunga itself becomes visible. From Pangpema the trek returns to Ghunsa and then crosses the Mirgin La pass over to the south side of Kanchenjunga. Once over this pass, we visit the yak pastures of Ramche and Oktang where there are impressive views of the southwest face of Kanchenjunga. Retracing your route to Bhadrapur you return to Kathmandu.
Day 01

Day 02

Day 03

Day 04

Day 05

Day 06

Day 07

Day 08

Day 09

Day 10

Day 11

Day 12

Day 13

Day 14

Day 15

Day 16

Day 17

Day 18

Day 19

Day 20

Day 21

Day 22

Day 23

Day 24

Day 25

Day 26
Day 01
KTM Arrival pick up from Airport and welcoming by garland and transfer to Hotel
On your arrival day in Kathmandu, You will be received by the representative staff from Himalayan Trails Trekking & Climbing P Ltd with proper greeting. You will be taken to the hotel where you have your time to settle in and freshen up.
Overnight at Hotel – (BB)
Day 02
Half day sightseeing world heritage sights Hindus & Buddhist shrines / trek briefing and preparation and welcome dinner
The very next morning, after breakfast you will leave for a half day sightseeing tour around Kathmandu valley. Some of these landmarks are considered World Heritage Sites including the historic Durbar Square, the sacred Hindu temple of Pashupatinath, the famous 'Monkey Temple' (Swayambhunath) and Buddhist shrine (Bouddhanath) which is one of the largest stupas in the world. In the afternoon, you will visit our office there will be short trip briefing and introduction with your trekking guide. After short briefing you can hang out to the necessary places you might need to go before trekking like, Money changer, ATM, Market ETC. In the evening, there will be a welcome dinner hosted by Himalayan Trails Trekking & Climbing. For dinner, you will be served excellent cuisine.
Overnight at Hotel – (BDB)
Day 03
Flight to Bhadrapur Drive to Phidim 6/7hrs
After having your breakfast, we will drive you to the Domestic Airport we take an early morning
45 minutes Bhadrapur flight. From Bhadrapur airport we drive to Phidim. The drive in itself is a beautiful experience in between the jungle getting acquainted with the Terai region of Nepal.
Overnight at Hotel – (BLD)
Day 04
Phidim drive Taplejung (1,820m) 5/6hrs
After breakfast, continue drive to Taplejung Bazaar on winding hill roads that ascend and descend through river valleys we finally reach Taplejung Bazaar, known locally as Fungling, is a bustling town that hosts the district's headquarters. Telephone and internet services are available, although they may not be reliable.
Overnight in Tent/ Tea House – (BLD)
Day 05
Taplejung to Sinuwa
After breakfast descend from Taplejung through Hangdewa, crisscrossing the new jeep track. Cross a suspension bridge to Mitlung, a sleepy hamlet situated on the upper banks of the Tamur River. Continue past Mitlung on the jeep track and descend to Sinuwa where the jeep road ends. Sinuwa is a multi-ethnic village with a high school, a health post, a police post, numerous shops, as well as a weekly market (haat bazaar).
Overnight in Tent/ Tea House – (BLD)
Day 06
Sinuwa – Taplethok (1,380m) 6hrs
After breakfast we pass through landslide debris and boulders. Then we descend to Thiwakhola and cross it over a wooden bridge. After a few up and down trails, we reach the Chiruwa market. From there, we again follow Tamur River to finally get to Taplethok.
Overnight in Tent/ Tea House – (BLD)
Day 07
Tapethok – Amjilasha (2,300m) 7hrs
After breakfast cross a landslide area to reach a bridge crossing a tributary of the Tamur River. This is the Simbuwa Khola, which flows from the south side of Kangchenjunga. You will continue on towards the base camp, crossing several bridges and following what is now called the Gunsa Khola. The trail is very narrow and you follow the Ghunsa River until you break for lunch. This walk requires a lot of caution and concentration. On the way, you pass a small Sherpa settlement mainly tending to Yaks. After lunch, there is a steep climb towards Amjilasha. Amjilasha (Amjilosa) is a small Tibetan settlement.
Overnight in Tent/ Tea House – (BLD)
Day 08
Amjilasha – Gyabla (2,730m) 5hrs
After breakfast we hike upward river bank. Pass through the densely forest of mainly bamboo, fir and rhododendrons. Eventually reach a small stone house by the river. Then climb up again crossing a few small bridges. We will find that the river drops steeply with many waterfalls and pools. Another short uphill walk takes us to the Tibetan settlement of Gyapla.
Overnight in Tent/ Tea House – (BLD)
Day 09
Gyapla – Ghunsa (3,595m) 5hrs
From Gyabla trek starts with downhill descending trail toward river and as we move onward valley slowly open wide on the way toward Phale. We have to walk 3 hours to reach Phale villlage. On the way we will cross dense mix forest, meet people of Tibetan origins in Phale village and have a chance to see their unique culture and traditions, if we are lucky we will have a chance to see Red Panda (one of the endangered species). After walking for about 2 hours we will reach Ghunsa.
Overnight in Tent/ Tea House – (BLD)
Day 10
Ghunsa – Acclimatization day
Today is the rest and acclimatization day. We will hike up to Lpasan La Monastery passing through lush green forest area. We also have an option of a 3 hrs walk opposite River Khanso Thanso, from where we see a panoramic view of Phole Peak and Sobithongi Peak and also a glimpse of Mt. Khumbakaran After spending some time on monastery ridgelines we will descend back to Ghunsa.
Overnight in Tent/ Tea House – (BLD)
Day 11
Ghunsa – Khambachen (4,050m) 5hrs
After breakfast we pass through larch and juniper forest, river, waterfall, rock fall, landslide and glacier to reach Kambachen (4 150m). From here there are great views of several peaks including Jannu (7,710m/25,295ft). This is a very remote area and not unusual to see some wildlife such as blue sheep, ibex, mountain goat or smaller animals among the rocks such as hyrax and marmots and birds of prey above eagle, kites and falcons.
Overnight in Tent/ Tea House – (BLD)
Day 12
Khangbachen – Lonak (4,780m) 5hrs
After breakfast we enter a different kind of desolate landscape. We pass through pastoral huts, unstable bridges, Rocky River banks and glacier. We then continue our trek on a rough trail to reach Lhonak (4,790m).
Overnight in Tent/ Tea House – (BLD)
Day 13
Lonak – Pangpema base camp back to Lonak (5,143m) 5/6 hrs
After breakfast the path follows the lip of the Kanchenjunga glacier over short grasses or rocky tracks that undulate with the terrain. Pangpema Base Camp (5,160m) lies opposite the head of the glacier and from here offers the first full view of the vast north face of the mountain.
Overnight in Tent/ Tea House – (BLD)
Day 14
Lonak – Ghunsa (3,595m) 4 /5hrs
From Lhonak, we slide the distance to Ghunsa by means of Kambache. We continue downwards the valley in order to reach Ramtang. By enjoying the panoramic views of the mountain peaks like Gimmigela Chili, Kiratchulietc through the way we finally reach the Tibetan influenced village of Ghunsa. 7 to 8 hours trek.
Overnight in Tent/ Tea House – (BLD)
Day 15
Ghunsa – Selele phedi (4,200m) 4hrs
After breakfast walk through dense alpine forest, negotiate steep rocky trail up to the hilltop, then down again to reach the campsite at Sele Le near a stream with ancient moss-covered rocks.
Overnight in Tent/ Tea House – (BLD)
Day 16
Selele phedi – Chairam (3,870m) via Miring-La (4,480m) 8hrs
After breakfast we do an uphill trek and enjoy the mesmerizing south side view of Jannu Himal and Makalu (the world's 6th highest mountain), opening up the vista of Sikkim and Mt Ratong as well. After starting from Sele Le, we climb to the first high pass at Sinon La (4480m) and continue to cross the other formidable passes named Mirgin La (4480m) and Sinelapche La (4724m). Enjoy miraculous views from here and start a knee-cracking descent to Chairam, descending almost 900 meters.
Overnight in Tent/ Tea House – (BLD)
Day 17
Chairam – Ramche (4,570m) 5hrs
After breakfast we ascend past the snout of the Yalung Glacier and walk alongside the Simbuwa Khola, pass through Lapsang village and reach Ramche. While there, we walk further up the valley or ascend a ridge for a tremendous view of blue sheeps. We then follow the stream before climbing on the moraine top until confronted by Kanchenjunga's southern face. We walk further ahead for a glimpse of the Jannu Himal. We can even consider continuing to Oktang Monastery.
Overnight in Tent/ Tea House – (BLD)
Day 18
Ramche via Oktang (4,730m) – Chairam 7hrs
After breakfast we walk further up the valley or ascend a ridge for a tremendous view of blue sheeps. We then follow the stream before climbing on the moraine top until confronted by Kanchenjunga's southern face. We walk further ahead for a glimpse of the Jannu Himal. We can even consider continuing to Oktang Monastery. Then return back to Cheram.
Overnight in Tent/ Tea House – (BLD)
Day 19
Chairam – Lashe vanjang (3,310m) 6/7hrs
After breakfast we trek towards Lasiya Bhanjyang. The trail is through Rhododendron forests passing several small pastures. As you ascend on the muddy switchbacks, the Kanchenjunga massif is visible. As we approach camp, you will notice a large landslide. To avoid this, we climb a few hundred feet above the landslide to stay above this exposed section. Extreme caution is required. Lasiya Bhanjyang is a small open meadow in the forest with a small tea-house. The ground can be muddy.
Overnight in Tent/ Tea House – (BLD)
Day 20
Lashe vhanjang – Yamphudin (2,080m) 5hrs
After breakfast we walk up through trees and area of landslides. The terrain changes after every monsoon but by the middle of October it should be stable with a route through. Walking further down we reach the village of Yamphudin, a village inhabited by Sherpas, Limbus and Rais.
Overnight in Tent/ Tea House – (BLD)
Day 21
Yamphudin - Khebang
After breakfast we descend crossing the Omje Khola up to halfway. Now you ascend through the jungle of cardamom and orchid plants. You pass a small village where you can find different human settlements, small thatched roof houses and local shops with minimal supplies. From here, the trails is quite ascent up to Khebang Danda and then you trek in descending order to Khebang village. Khebang is comparatively big village where is found the people following religion of Hindu and Buddhism.
Overnight in Tent/ Tea House – (BLD)
Day 22
Khebang – Khanigaun/ Khandemi (1,200m) 5hrs
After breakfast we will follow the descending trail through forest. Later, we need to pass through few tea houses before arriving at Kahngdembe which is one of the largest Limbu villages in the region.
Overnight in Tent/ Tea House – (BLD)
Day 23
Khanigaun/ khandevi drive to Illam, 8hrs
After breakfast we start journey towards Ilam. Ilam is a municipality and tea-producing town. Located in hilly eastern region of Nepal, it is famous for natural scenery, landscapes, tea production and diverse agricultural economy. After lunch we can make a visit to the tea gardens and the cheese factory.
Overnight at Hotel – (BLD)
Day 24
Illam drives to Bhadrapur (3hrs) fly to KTM Transfer to Hotel
A short drive to Bhadrapur airport with an early breakfast where we bid farewell to our camping staff and porters, while our main guide escorts us to Bhadrapur airport for sweeping flight back to Kathmandu, during flight views of snow-clad peaks on reaching Kathmandu transfer to your hotel with rest of the day free at leisure.
Overnight at Hotel – (BLD)
Day 25
Free day in KTM farewell dinner
You are free to spend the day at your leisure to relax, refresh, and perhaps take a trip to explore more of the city, before the group's final evening celebrating huge achievement with a special dinner. Around the evening, we will take you for a farewell dinner. While having dinner, we will also discuss your trip and take feedback.
Overnight at Hotel – (BDB)
Day 26
Final departure gets back to home, Share experience with family unforgettable memory of Kanchenjunga Trek.
One of our company representatives will assist you to get to the airport by privet vehicle as per your flight departure time and back to home share experiences with family and friends unforgettable memory of Kanchenjunga Trek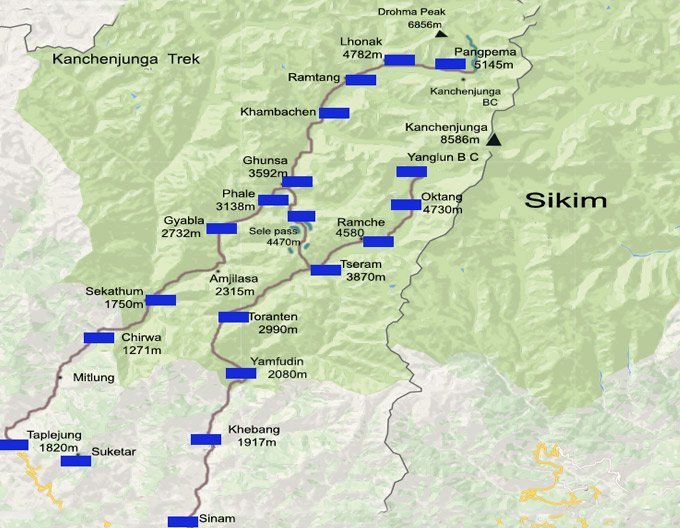 Fitness
Kanchenjunga Trek
TRAIN AND FITNESS 
Physical fitness is one of the most key elements on the trek. The trekking in the Himalayan is not forced on it and pacing is always slow, most of the days generally being shorter than a hiking day at your home country. We believe that should be you're imaginable of its kind of holiday trip literally than a contest to provide evidence of the travelers. We maintain situated so as to allow easy access to your trip can be demanding but not a difficult. You can make your own speed and enjoy your trip stunning atmosphere rather than following to other to catch. Himalayan Trails, recommend that you assume on a good fitness agenda proceeding to your trip although and one that builds up general strength and specific leg muscle groups. There is nothing like hiking with a bag pack to train for trek in Himalaya. So our best advice is to get out into the Hills or Alps as often as you can. You better ware your hiking boots and carry about 5-6 kg in your day bag-pack; this is a good weight to walk with it.
If you are doing Gym then which can be helpful and work on the thigh and calf muscles but better to build your heart rate over 50%. Any kind of heart breed activities are good but swimming will not add it doesn't train right muscles groups better added other exercise to be effective. Hiking in Hills, Alps would be the best preparation for a trek in Nepal.
EXPERIENCE FOR THE NEPAL TREK
The trekking trail and area of Nepal mostly well trodden and natural path most of the regions, even though it can be rocky and rough in some parts. It is not precipitous and there is no rock climbing or Mountaineering which is requiring equipments. It is hike most of the way in Himalaya, but some parts of the hills can be steep up and down and can be longer!
On the way you may meet many people along the trails as well as Donkeys, Yaks and heavy load porters. Walking in the Himalaya there is rule of the way when meet an approaching Donkeys, Yaks and porters always make sure you step to always on side where wide enough to passes through each other,( towards slopes side of the hill or inside of the Trail). Note: never ever stand ridged sides of the trail. If you stand, it means, we call (outside standing is suicide and inside is safe site) because it can be push by them down to mountains or rivers.
The trekking poles are very useful, if you have problems with knees, depending on weather or personal choice for using them. Even though higher up, ice path, moraine, open slopes may give you extra support from it, also quite easy to follow the path.
Always final sections are can be Glacier itself and high elevation, it is bit difficult and occasionally slippery under trails. The ice is covered in water stones and dirt, so where a coolant produces cold temperatures in the surface below.
Comfortable, good sole, ankle support (4 seasons) trekking boots water proof are recommended for the high passes trek but for the lower trek light weight hiking boots are fine to protect you beside, probably going over an ankle, low altitude trek heavy boots will be hot and unwieldy.
ACCOMMODATION ON THE TREK
Tea house trek accommodation will be in comfortable tea houses and lodges run most of the area by local families, except people specify a preference for tents. Every tea house or lodge has a common heated Chimney in the dining hall, although the bedrooms are not heated with mattresses, pillows and two beds in a room. We recommend you to bring your own sleeping bag (3 seasons in normally fine) but possibility is also you can buy and hire in Kathmandu.
Generally most of the tea houses have hot showers by gas gizzards and they have squire toilets but some area have and use drop toilets with flush systems.
For the Camping/ Tent trekking we use branded company tents which are for two persons comfortably can sleep and can put your luggage on side, and we provide you the mattresses. Tents are fixed always near the guest house and eating in our own dining tent, sometimes eating can be indoors, depends on possibility. So toilets sometimes you will use from the lodge but obvious we will have our privet toilet tents too.
Himalayan Trails support 
Our main back bones of the trek are porters, will carry your main duffle bag up to a maximum weight of 12-14 kg per guest and supply for all the groups needs, if you need to go back down to the valley together with assisting you. Apart from specially camping, all the accommodations are in local lodge or Tea houses which are well prepared, warm and friendly environment.
Our entire trip we run by permanently Guides or Leaders, who have been employed over ten years with us and been training personally high standard leadership and first aid by our company. They know how to deal with emergencies and speak fluently English. They are always helpful and look after you so many years have been working with tourist and westerns, they know the westerns needs and understanding. Our porters are always who works with us forever all our teams are dedicated and they will provide high standards services.