Information

Tour Plan

Trip Maps

Gallery

Reviews

Similar Tours

More Information
What's included
Price includes
Arrival airport pick up and Departure transfers on both domestic and international flights.

Accommodation 2-3 stars Hotel in Kathmandu on a twin share bed with B/B plan

According to CHOICE of menu 3 times meal B/F, Lunch & Dinner with 2cups of tea or coffee in breakfast and every meals a cup of while the trekking.

Responsible trekking policy of two Trekkers: One porter.

Accommodations at clean and comfortable local Tea House – lodge during the trek.

English speaking guided half day city tour with world heritage sites.

All domestic flight, Airport taxes, private transportations starting & ending points of trek.

English Speaking Experience local Mountain Guides – by Himalayan Trails trained and Nepal government licensed holder as well as First Aid Eco trained.

Along the trek basic complete First Aid Kit.

Assistants Guide and other support staff if indeed.

Everest Trekking map.

Insurance of all staffs Guide, Assistants, Porters, Accommodations, food and reasonable salary during the treks.

All necessary officials pepper work.

TIMS, Sagarmatha National Park entry fee.

Warm clothing and required trekking gear for porters

Travel and Rescue arrangements

All the Government Taxes

Welcome and Farewell dinner as per itinerary
Price does not include
Nepal entry Visa fees (US$ 40 per person for 30 days)

International Airfare

Your Travel Insurance

Lunch, Dinner & Drinks in the cities.

Any kind of drinks & personal expenses on trek.

Hot shower, Electricity Bills during the trek

Personal gear & clothing

Medical evacuation encase of Emergency

Tips and Items of a personal nature like postage and laundry

Expenses deserve due to Natural or manmade hazards like landslide, strikes, political unrest etc. will be charge extra as per actual and anything not specify on the cost
Overview
Everest Base Camp Trek
Everest Base Camp Trek is a 16 days long journey, and during this time, the trekkers cover interesting places like Lukla, Namche Bazaar, Tengboche, and so on. Lukla is the home to Tenzing Hillary Airport. Many consider this one as the world's most dangerous airports. Namche Bazaar, on the other hand, is the commercial capital of the Khumbu region. Tengboche is home to Dawa Choling Gompa. Also known as Tengboche Monastery, it was established by Lama Gulu, and it is the most significant Buddhist religious site on the Everest Base Camp trekking route.
The trek to Everest Base Camp allows you to explore attractions such as Kala Patthar. It is a mini-mountain with a height of 5545 m. Trekkers tend to climb this peak early in the morning for the most amazing sunrise views. The top of the mountain is said to offer exciting views of major peaks in the Everest region like Lobuche, Nuptse, Everest, and so many others.
Nepal Everest Base Camp trek route is a part of Sagarmatha National Park. Without a doubt, it is one of the richest national parks in Nepal when it comes to flora and fauna that consider the park their home. The park is home also to the people living in its villages. These belong to tribes following diverse cultures and traditions. The region is known for Sherpas, who are an indigenous group of people. They have been living in this part of the country for centuries. The majority of people here follow Buddhism. Since the region shares its borders with Tibet, you will also find a lot of people following Bon-Po, which is a religion local to Tibet.
Everest Base Camp Trek Cost
Everest Base Camp Trek Cost can range between $1500 and $2700 per person. What makes the range so huge is the level of luxury offered in the trekking package. There are both local and international trekking agencies offering the services, and needless to say, the latter ones tend to charge higher than the former ones. Many trekkers have realized that there is very little difference in the quality of services that are offered by both kinds of agencies. So, It is recommended that tourists should go with local tour operators. It saves money and supports the economy.
Everest Base Camp Trek Map
Everest Base Camp trek map is one tool that many trekkers get their hands on the way ahead of their journey. With a map in your hands, you can properly analyze the journey. You will get to know what attractions you come across, and what difficulties you will have to face. It doesn't just help you better prepare for the trip, but also helps you realize whether you can take on the trek or not. Everest Base Camp trek map is the ideal tool for solo trekkers, as it helps them explore the entire region, and mainly, enables them to go for side treks, independently.
Best Time To Trek Everest Base Camp
When it comes to taking a tour of a mountainous country like Nepal, the right time to do so is between the months of September and November. When it comes to the best time to trek Everest Base Camp, well, things are no different. The weather during this time of the year is ideal for you to enjoy mountain views. This is also the most preferred time to visit Nepal, so you'll find a lot of people in the villages, on the route, and so on. The second best time to trek Everest Base Camp is between the months of March and May. The crowd is less at this time.
Everest Base Camp Trek Difficulty
Before going on the Everest Base Camp trek, it's crucial that you find out answers to significant questions like how hard is the Everest Base Camp trek! Everest Base Camp trek difficulty level can be marked between moderate and challenging. Actually, the trek is quite difficult, however, the services that are offered on the route, like food, accommodation, warm baths, internet, and so on, make the trek quite comfortable. Whatever the case, Everest Base Camp trek is generally recommended to only the experienced trekkers, who are in good physical condition.
Everest Base Camp trek is one of those journeys that you should definitely try at least once in a lifetime, especially if you're someone who loves the mountains and natural beauty. There is nothing that comes close to the experience of standing on the Everest Base Camp, face to face with this great white giant. By extending your Everest Base Camp trek by a few days, you allow yourself to explore a few amazing attractions such as the three high passes and Gokyo Lakes. Everest region is a pot full of wonders; all you need is the time and energy to explore it fully.
Himalayan Trails Trekking offers you exciting trekking and expedition packages. Their packages also include luxury tour options, featuring activities such as adventure sports, helicopter tours, food and cultural tours, jungle safari, and so many others. Their itineraries cover amazing tourist destinations in countries such as Nepal, Tibet, and Bhutan. What makes their services different from that of others is that they prioritize client satisfaction. If you're looking to explore these places and try out these activities, make sure to contact Himalayan Trails Trekking and choose their services. You'll definitely have a great time with them by your side as your travel partner.
Day 01

Day 02

Day 03

Day 04

Day 05

Day 06

Day 07

Day 08

Day 09

Day 10

Day 11

Day 12

Day 13

Day 14

Day 15

Day 16

Day 17
Day 01
KTM Arrival pick up from Airport and welcoming by garland and transfer to Hotel, trek briefing and welcome dinner.
On your arrival day in Kathmandu, You will be received by the representative staff from Himalayan Trails Trekking & Climbing P Ltd with proper greeting. When you have had your time to settle in and freshen up. In the afternoon, you will visit our office there will be short trip briefing and introduction with your trekking guide. In the evening, there will be a welcome dinner hosted by Himalayan Trails Trekking & Climbing. For dinner, you will be served excellent cuisine.
Overnight at Hotel B/B
Day 02
Sightseeing world heritage sights Hindus & Buddhist shrines / Trek preparation
The very next morning, after breakfast you will leave for a full day sightseeing tour around Kathmandu valley. Some of these landmarks are considered World Heritage Sites including the historic Durbar Square, the sacred Hindu temple of Pashupatinath, the famous 'Monkey Temple' (Swayambhunath) and Buddhist shrine (Bouddhanath) which is one of the largest stupas in the world. After sightseeing you can hang out to the necessary places you might need to go before trekking like, Money changer, ATM, Market ETC.
Overnight at Hotel B/B
Day 03
Fly to Lukla (2840m) Trek to Manjo (2810m. 4hrs)
We take an early morning flight to Lukla (2,840m) 35 minutes. Our Everest treks begin form here. We walk on a trail that gradually descends to place like Chaurikharka, Chheplung, Ghat, Phakding, Toktok and Banker before we reach Monjo and from Cheplung village we get a glimpse of Mt. Khumbila, a sacred mountain which has never been climbed. From here, we gradually descend until Phakding. The trail is flat until we cross Dudh Koshi River and then will start gentle climbing. It will take about 2.5 hours from Phakding to reach Monjo.
Overnight at Lodge (BLD)
Day 04
Phakding –Namche Bazzar (3440m) 6hrs
After Breakfast we will cross Dudh Koshi River Soon thereafter, we will approach the entrance to Sagarmatha National Park for a brief permit check and then descend to Dudh Kosi River before we start steep climbing uphill. Until we reach Top Danda the trail is pretty steep! Once we reach Top Danda we will have some far distance views of Himalayan peaks including Everest along with Nuptse and Lhotse on a clear day. After taking rest for we will again start climbing to reach Namche bazaar (3440m).It will take 06 hrs to reach there.
Overnight at Lodge (BLD)
Day 05
Acclimatization day hike Everest view Hotel (3800m) or Thame & back to Namche
Today is the Acclimatization day we can tour Namche Bazaar which is the staging point for expeditions to Everest and other Himalayan peaks in the area. It is also is a prosperous market town selling everything from Tibetan artifacts to trekking and climbing equipment. Namche is situated on the slope of an arch-shaped mountain, which allows you to oversee the sights of glorious mountain peaks throughout the valley and you will also get know about Sherpa & Tibetan culture. If you are lucky enough to be there on Saturday you will get to see the Hatt Bazaar (weekly market gusto). The market is a spotlight in the middle of the town, and traders from Tibet and other villages come with the pieces of arts and goods to attract the hearts of their potential customers. Further from Namche lies the Everest View Hotel. The hotel is the highest located hotel in the world and provides view of Mount Everest and many other Himalayan peaks from all of its windows and if you rae intrested you can go to explore the Thame village (3788m) and ancient monastery, Chortens and Mani walls. Thame is the home village of many famous and world record holders Sherpa mountaineers including Apa Sherpa. After crossing Thamo, Gumba and Samde village finally you reach the Thame village Khumbu Nepal. It will take 4 to 5 hours to reach Thame village from Namche Bazzar.Back to Namche , you can visit the Everest Photo Gallery and the Sherpa Culture Museum as well.
Overnight at Lodge (BLD)
Day 06
Namche – Phorche Village (3860m) 6 hrs
After breakfast we continue our trails to Phorche Village (3860m).I this days we can able to see Himalayan thar, musk deer, Himalayan danfe etc.
Overnight at Lodge (BLD)
Day 07
Phorche – Dhingboche (4410m ) 5hrs
We continue our Everest base camp trek walking to Dingboche (4410m) which is one of the most beautiful trails with outstanding view of enormous mountain and deep valley. Graceful views of Lhotse, the Ama Dablam and the Island Peak from Dingboche are quite amazing.
Overnight at Lodge (BLD)
Day 08
Acclimatization day hike about (5000m)
Today is the Acclimatization and hike day in Dingboche. After the breakfast you may hike to Chhukung village. The trail follows with river all the way to Chukung village. The river is originated from glacier lake Imja .On the way you see Yak Kharka with wide grassland area. The Chukung valley is surrounding by magnificent high mountains and Glacier Lakes. From this valley you can see Island Peak (6189m20300ft), Amphulapche (5663m/18574ft), Lhotse Shar (8382m/27492ft) and Lhotse (8516m/27932ft), and then we will back to Dhingboche.
Overnight at Lodge (BLD)
Day 09
Dhingboche –Lobuche (4910m) 6hrs
Trail continues with outstanding views of the surrounding valleys. The path follows further down to the Khumbu Glacier moraine from there. The views of mountain peaks like Khumbutse, the Mahalangur Himal, Lingtren and the Pumori from the moraine are amazing. Mount Nuptse also looms up ahead once the glacier pass is crossed. The trail consists of numerous huge rocks and yaks will be passing nearby. We will reach the trail coming from Gokyo Lakes and Cho La Pass. The trail will become slightly easier from here and mostly we will be walking on the flat. Here we come at Lobuche (4910m). Lobuche has few houses and all of them are only for commercial purposes i.e. guest houses, lodges, small tea shops etc.
Overnight at Lodge (BLD)
Day 10
Lobuche – Gorakshep (5140m via EBC 5300m) & Gorakshep (8hrs)
After breakfast we start hiking to Gorakshep, along the way we can view Khumbu glacier by crossing north rim of Everest next to Khumbutse and Pumori, then we will reach Gorak Shep. From Gorakshep we will continue for Everest Base Camp by passing several short up and down hills until we reach there. This is the flanking that you can get to Everest without climbing supplies, and there are frequently a few endeavors in Base Camp. The Base Camp is spread over a wide zone and looks like a tented town with endeavors from everywhere throughout the planet vying for a favorable area and ensconcing themselves as agreeably as could be allowed. From Everest Base Camp we can view Khumbu ice fall, Khumbu glacier, Mt. Pumori, Khumbutse and other several peaks, then we will back to Gorakshep for night stay.
Overnight at Lodge (BLD)
Day 11
Gorakshep – Kalapather (5545m) back down Pheruche (4240m) 8hrs
The hike from Gorakshep to Kalapatthar is about an hour steep climbing. Depending on your walking speed it may take a little more or less. It is a windy path up sedge like rocky slopes to achieve the highest. From where you can see the stunning views of Mt. Everest (8848m). Kalapathar also offers spectacular views of other several peaks like Mt Khumbutse (6,639m), Mt. Lhotse (8,501m), Mt Nuptse (7,864m), Mt Ama Dablam (6,814m), Cholatse peak, Tawache peak and Mt Pumori.It is located at an altitude of 5545 meters and it is also the point from where the Everest expedition starts. After staying at Kala Patthar for some time and looking at the mountain summits, we start our return journey. We will reach Pheriche, a small village in the Khumbu region, at the end of the day.
Overnight at Lodge (BLD)
Day 12
Pheruche – Tengboche (3860m) 4hrs
After breakfast we start our trek to Tengboche (3867m) via Pangboche Village it takes 4 hours. You will enjoy every moments of trip specially while the trail is less stressful and you get time to feel the landscapes.
Overnight at Lodge (BLD)
Day 13
Tenboche – Namche (5hrs)
From Tengboche the trail drops sharply down to the Dudh Koshi River and the village of Phunki, where we cross the river, and up toward Namche Bazaar, winding high above the river with views north towards Everest, Lhotse and Nuptse.
Overnight at Lodge (BLD)
Day 14
Namche – Lukla (6hrs)
We begin our trek to Lukla today on a rocky terrain. It is mostly a downhill trek on a trail alongside the Dudh Koshi River. We cross several suspension bridges, pass by several monasteries, rhododendron and pine forest, prayer flags and Sherpa villages for the last time before reaching Lukla. After reaching Lukla, you can either spend your time with rest of the crew members celebrating your achievement, or spend some alone time summoning up the wonderful memories made during the past few days.
Overnight at Lodge (BLD)
Day 15
Lukla – KTM fly in the morning
Normally flights are always in the morning due to the weather. So guide will do all airport formalities by the time you can have a breakfast at the lodge. You will catch an early morning flight to Kathmandu from the airport in Lukla. From the airport in Kathmandu, a private vehicle will transfer you to your hotel in Kathmandu.
Overnight at Hotel (B)
Day 16
Free day in KTM and farewell dinner
You are free to spend the day at your leisure to relax, refresh, and perhaps take a trip to explore more of the city, before the group's final evening celebrating huge achievement with a special dinner. Around the evening, we will take you for a farewell dinner. While having dinner, we will also discuss your trip and take feedback.
Overnight Hotel (B/DB)
Day 17
Final Departure by privet vehicle share experiences with family unforgettable memory of Everest Base Camp trek and back to homeland.
Final Departure One of our company representatives will assist you to get to the airport by privet vehicle as per your flight departure time and back to home share experiences with family and friends unforgettable memory of Everest Base camp Trek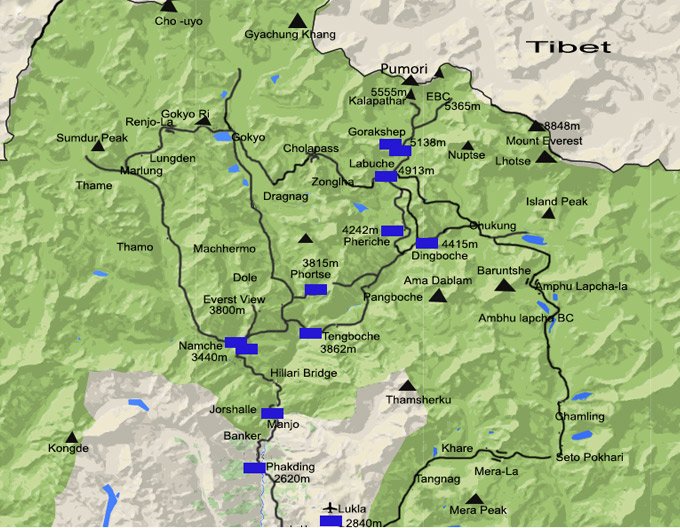 Fitness
Everest Base Camp Trek
TRAIN AND FITNESS 
Physical fitness is one of the most key elements on the trek. The trekking in the Himalayan is not forced on it and pacing is always slow, most of the days generally being shorter than a hiking day at your home country. We believe that should be you're imaginable of its kind of holiday trip literally than a contest to provide evidence of the travelers. We maintain situated so as to allow easy access to your trip can be demanding but not a difficult. You can make your own speed and enjoy your trip stunning atmosphere rather than following to other to catch. Himalayan Trails, recommend that you assume on a good fitness agenda proceeding to your trip although and one that builds up general strength and specific leg muscle groups. There is nothing like hiking with a bag pack to train for trek in Himalaya. So our best advice is to get out into the Hills or Alps as often as you can. You better ware your hiking boots and carry about 5-6 kg in your day bag-pack; this is a good weight to walk with it.
If you are doing Gym then which can be helpful and work on the thigh and calf muscles but better to build your heart rate over 50%. Any kind of heart breed activities are good but swimming will not add it doesn't train right muscles groups better added other exercise to be effective. Hiking in Hills, Alps would be the best preparation for a trek in Nepal.
EXPERIENCE FOR THE NEPAL TREK
The trekking trail and area of Nepal mostly well trodden and natural path most of the regions, even though it can be rocky and rough in some parts. It is not precipitous and there is no rock climbing or Mountaineering which is requiring equipments. It is hike most of the way in Himalaya, but some parts of the hills can be steep up and down and can be longer!
On the way you may meet many people along the trails as well as Donkeys, Yaks and heavy load porters. Walking in the Himalaya there is rule of the way when meet an approaching Donkeys, Yaks and porters always make sure you step to always on side where wide enough to passes through each other,( towards slopes side of the hill or inside of the Trail). Note: never ever stand ridged sides of the trail. If you stand, it means, we call (outside standing is suicide and inside is safe site) because it can be push by them down to mountains or rivers.
The trekking poles are very useful, if you have problems with knees, depending on weather or personal choice for using them. Even though higher up, ice path, moraine, open slopes may give you extra support from it, also quite easy to follow the path.
Always final sections are can be Glacier itself and high elevation, it is bit difficult and occasionally slippery under trails. The ice is covered in water stones and dirt, so where a coolant produces cold temperatures in the surface below.
Comfortable, good sole, ankle support (4 seasons) trekking boots water proof are recommended for the high passes trek but for the lower trek light weight hiking boots are fine to protect you beside, probably going over an ankle, low altitude trek heavy boots will be hot and unwieldy.
ACCOMMODATION ON THE TREK
Tea house trek accommodation will be in comfortable tea houses and lodges run most of the area by local families, except people specify a preference for tents. Every tea house or lodge has a common heated Chimney in the dining hall, although the bedrooms are not heated with mattresses, pillows and two beds in a room. We recommend you to bring your own sleeping bag (3 seasons in normally fine) but possibility is also you can buy and hire in Kathmandu.
Generally most of the tea houses have hot showers by gas gizzards and they have squire toilets but some area have and use drop toilets with flush systems.
For the Camping/ Tent trekking we use branded company tents which are for two persons comfortably can sleep and can put your luggage on side, and we provide you the mattresses. Tents are fixed always near the guest house and eating in our own dining tent, sometimes eating can be indoors, depends on possibility. So toilets sometimes you will use from the lodge but obvious we will have our privet toilet tents too.
Himalayan Trails support
Our main back bones of the trek are porters, will carry your main duffle bag up to a maximum weight of 12-14 kg per guest and supply for all the groups needs, if you need to go back down to the valley together with assisting you. Apart from specially camping, all the accommodations are in local lodge or Tea houses which are well prepared, warm and friendly environment.
Our entire trip we run by permanently Guides or Leaders, who have been employed over ten years with us and been training personally high standard leadership and first aid by our company. They know how to deal with emergencies and speak fluently English. They are always helpful and look after you so many years have been working with tourist and westerns, they know the westerns needs and understanding. Our porters are always who works with us forever all our teams are dedicated and they will provide high standards services.