Information

Tour Plan

Trip Maps

Gallery

Reviews

Similar Tours

Fitness
What's included
Departure Location
KTM Arrival pick up from Airport and welcoming by garland and transfer to Hotel
Return Location
Departure to airport / international flight
Price includes
Arrival airport pick up and Departure transfers on both domestic and international flights.

Accommodation 2-3 stars Hotel in Kathmandu on a twin share bed with B/B plan

According to CHOICE of menu 3 times meal B/F, Lunch & Dinner with 2cups of tea or coffee in breakfast and every meals a cup of while on the trekking

Responsible trekking policy of two Trekkers: One porter

Accommodations at clean and comfortable local Tea House – lodge during the trek

English speaking guided half day city tour with world heritage sites

All private transportation starting & ending points of the trek

English Speaking Experience local Mountain Guides – by Himalayan Trails trained and Nepal government licensed holder as well as First Aid –Eco trained

Along the trek basic complete First Aid Kit

Assistants Guide and other support staff if indeed

Manaslu Trekking map

Insurance of all staffs Guide, Assistants, Cook, porters and Accommodations, food and reasonable salary during the treks

All necessary officials pepper work

Manalsu special permit, TIMS, Manaslu & Annapurna conservation entry fees

Warm clothing and required trekking gear for porters

Travel and Rescue arrangements

All the Government Taxes

Welcome and Farewell dinner as per itinerary
Price does not include
Nepal entry Visa fees (US$ 40 per person for 30 days)

International Airfare

Your Travel Insurance

Lunch, Dinner & Drinks in the cities

Any kind of drinks & personal expenses on trek

Hot shower, Electricity Bills during trek

Personal gear & clothing

Medical evacuation encase of Emergency

Tips and Items of a personal nature like postage and laundry

Expenses deserve due to Natural or manmade hazards like landslide, strikes, political unrest etc. will be charge extra as per actual and anything not specify on the cost
Overview
Manaslu Circuit Trek is considered to be one of the most beautiful treks in Nepal; the Manaslu Circuit will reward every adventurous trekker with an unparalleled alpine experience. Opened in 1992, this area offers a combination of rich cultural heritage, unique natural beauty, and vast biodiversity.
Furthermore, we begin our ascent from the Budhi Gandaki valley, which offers numerous rivers and waterfalls views. Further, it provides trekkers with many chances to plunge into some of its natural hot springs. After two or three days, the strenuous section of the trek begins and yaks soon seem to out numbers of people on the rocky landscape.
In Samagoan (3,450m) one can visit the green glacial lakes of Birendra Tal, Panggen Gompa or Manaslu Base Camp. Eventually, we head out to the mystical village of Samdo, a quaint village a mere 15km from the Tibetan border. With Tibetan monks living in sacred monasteries and incredible views of the Tibetan plateau. Likewise, against the stark white Himalayas, Samdo truly is a spiritual place.
Manaslu Circuit Trek With Spirit Of The Mountains 
However, you will encounter our biggest challenge – crossing the Larkya-La pass (5,160m). The sensational Pass delivers scenic views of snow-covered peaks over 6,500 m high tower above us on either side. The descent, once below the snow line, takes you through alpine as well as tropical areas, bustling with ferns, bamboos, Rhododendrons, alpine forest, waterfalls and turquoise lakes laced with cotton-white beaches. Towards the end of your journey, Manaslu disappears out of sight as we approach Beshishar (832 m).
The Manaslu Circuit Trek is a tea-house trek with many new and comfortable lodges along the way. It still is, however, to experience the picturesque landscape, connecting with locals. Also Tibetan Buddhism, culture and cultures but it is physically demanding. This 15-18 day excursion will not only give you a gratifying feeling of achievement. But will also leave you with a sense of peace and respect for the people of Nepal and its natural wonders.
Highlights:
You can see the views of Tibet salt trading trails and an insight into Tibetan culture through various monasteries and Tibetan settlements. Unspoiled landscape stunningly beautiful valleys, dramatic gorges, and spectacular mountain views. Furthermore, it presents bathing pools, lakes, and waterfalls surrounded by alpine and tropical forests.
The itinerary is based on our own experience and is subject to change as a result of weather, local conditions, or government restrictions. We reserve the right to alter (lengthen or shorten) the trek at any time if necessary. (A rough gravel road that continues beyond the Arughat now offers the possibility of starting the trek from Soti Khola instead, shortening the trip by one day. Alternatively, the trek can be ended several days earlier in Dharapani or Besishar on your request.
Important Note
The above itinerary is a guidelines and a standard outline we advise to help you to plan your trip, we can be modified and offer Tailor–Made trips according to your requirements and availability of the time frame, before trip booked. But when trip starts your Leader or guide only legally responsibly to change itineraries foremost group interest.
Day 01

Day 02

Day 03

Day 04

Day 05

Day 06

Day 07

Day 08

Day 09

Day 10

Day 11

Day 12

Day 13

Day 14

Days 15

Days 16

Days 17

Days 18

Days 19
Day 01
KTM Arrival pick up from Airport and welcoming by garland and transfer to Hotel O/ N Hotel – (BB)
On your arrival day in Kathmandu, You will be received by the representative staff from Himalayan Trails Trekking & Climbing P Ltd with proper greeting. You will be taken to the hotel where you have your time to settle in and freshen up. In the afternoon, you will visit our office; there will be short trip briefing and introduction with your trekking guide.
Overnight at Hotel –BB
Day 02
Half day city Tour/ trek briefing and preparation and welcome dinner O/ N Hotel – (BDB)
The very next morning, after breakfast you will leave for a Half day sightseeing tour around Kathmandu valley. Some of these landmarks are considered World Heritage Sites including the historic Durbar Square, the sacred Hindu temple of Pashupatinath, the famous 'Monkey Temple' (Swayambhunath) and Buddhist shrine (Bouddhanath) which is one of the largest stupas in the world. After city tour we get together for trek briefing as per the time given by your leader. After short briefing you can hang out to the necessary places you might need to go before trekking like, Money changer, ATM, Market ETC. In the evening, there will be a welcome dinner hosted by Himalayan Trails Trekking & Climbing. For dinner, you will be served excellent cuisine.
Overnight at Hotel (BDB)
Day 03
KTM – SotiKhola via Arughat – Drive (700m) 7-8 hrs O/N Lodge – (BLD)
Earley in the morning after breakfast start the trek towards Sotikhola. During the drive, we enjoy views of the Nepalese countryside along with the mountain sceneries. We will be driving on a paved road from Kathmandu to Dhading Bensi, district headquarter of Dhading (1050m)but the drive from Dhanding Bensi to Arughat will be on a rough road. Upon reaching Arughat, a major town in the region we drive further towards Sotikhola.
Overnight at Lodge / Tent – (BLD)
Day 04
Sotikhola – Trek to Machakhola (870m) 6hrs O/N Lodge – (BLD)
After breakfast, trek through the beautiful Sal forests, and then climb onto a ridge above huge rapids on the Budhi Gandaki. We then reach Khursane upon which the rocky trail weaves its way up and down, past two tropical waterfalls on a steep, rocky trail clinging to the side of a cliff. It eventually makes its way down and past a few rice terraces, then up and around to the Gurung village of Labubesi. We further climb behind a rocky outcrop, where the valley opens up and the Budhi Gandaki meanders among wide gravel bars. Dropping to the sandy river bed, we walk along rounded stones before climbing over a side ridge. We head down again to the river and cross another suspension bridge to reach Machha Khola village.
Overnight at Lodge/ Tent – (BLD)
Day 05
Machakhola – Trek to Jagat (1,340m) 7-8hrs O/N Lodge – (BLD)
After breakfast, cross Tharo Khola and after a few more ascends and descends we come across a small Hotspring in Tatopani. From the hot spring, we climb over another ridge, then cross the Budhi Gandaki on a suspension bridge. At this juncture, we climb on a wide, well-crafted staircase, then across a landslide and over a ridge to Dobhan. Upon crossing a suspension bridge over the Yaru Khola, we climb the stone stairs and then drop to the river and again climb more stone stairs to Tharo Bharyang. Crossing the west bank of the Budhi Gandaki, we climb over a ridge, trek along the river and then climb towards the village of Jagat.
Overnight at Lodge / Tent – (BLD)
Day 06
Jagat – Trek to Pewa / Deng (1,740m) 6 hrs O/N Lodge – (BLD)
After breakfast we will trek towards Deng. The 6-7 hours trek passes through Salleri, Sirdibas and Ghatta Khola. After crossing an Eklee Bhatti, the route now enters a steep, uninhabited gorge. We will cross the Budhi Gandaki. The trail passes through bamboo forests before it reaches Deng Khola. Upon crossing the Khola, we reach the tiny village of Deng.
Overnight at Lodge / Tent – (BLD)
Day 07
Pewa – Trek to Gap (1,700m) 5-6 hrs O/N Lodge – (BLD)
After breakfast walk beyond Deng, we cross the Budhi Gandaki and climb to Rana at 1910m. From the bridge, we climb a bit to join a trail from Bhi, then head west up the Budhi Gandaki valley. The trail also passes through forests and Mani where we turn towards a corner that contours to Ghap.
Overnight at Lodge / Tent – (BLD)
Day 08
Day 08: Ghap – Trek to Lho (3,180m) 6-7hrs O/N Lodge – (BLD)
After breakfast we cross the Budi Gandaki several times today and come across several gompas en route. The trail follows the river upstream through a dense forest. After crossing the river at an impressive spot where it thunders down a narrow gorge, the forest becomes less dense and the trail is fine again. The pleasant walk continues and after a last steep climb we reach Namrung. After crossing village called Lihi we continue for Sho village. This is also one of the best spot to see and feel diffrerent aspect of Tibetan religion as well as dramatic and fabulous view of Manaslu, Manaslu North, Himalchuli, Saula Himal and Dwijen Himal and finally you will be at Lho.
Overnight at Lodge / Tent – (BLD)
Day 09
Lho – Trek to Samagaun (3,520m) 3hrs O/N Lodge – (BLD)
After breakfast we will start trek, through the Shyla village which is surrounded by mountains like the Himal Chuli and Peak 29 (Ngadi Chuli) to the left, Manaslu and large glaciers straight ahead, and other snow summits to the right. The journey will end in Samagaon.
Overnight at Lodge – (BLD)
Day 10
Acclimatization day hike visiting pung Gyan Gompa (4,000m) 8-9hrs) O/N Lodge – (BLD)
Today is the Acclimatization day so we will spend the day in Samagaon to explore the village and Gumbas (Monasteries). The village has thousands of Mani stone with Buddhist texts and picture inscribed on them. You will get a chance to explore and learn the Sherpa culture and lifestyle on a little hill near the Sama village is an old Gompa (Pungyen Gompa), a monastery with great views of the glacier. It is named after Manaslu; Pungyen means bracelet, a good description of the two peaks.
Overnight at Lodge – (BLD)
Day 11
Smagaun – Trek to Samdo (3,840m) 4hrs O/N Lodge – (BLD)
After breakfast we will descend to the Budhi Gandaki River and head to the Manaslu Base Camp. The Larkya la Trail passes through several Mani walls. After crossing the Budhi Gandaki via a wooden bridge, we will head towards Samdo.
Overnight at Lodge –(BLD)
Day 12
Samdo rest day acclimatization day and hiking about 5,000 m (4,460m) 4-5hrs O/N Lodge – (BLD)
Today is the Acclimatization day so we will spend the day in Samdo to explore the village. We could hike up the valley. This hike will take us to one of the trade passes to Tibet for excellent views of Mt. Manaslu along with other Himalayan ranges including Simrang, Hiunchuli, Ngadi, Larkye Peak, Cheo and possibly Kang Guru behind the pass. We will also encounter some beautiful mountain birds like the Lophophorus (the national bird of Nepal), Lammergeyer and Himalayan Griffin soaring high above us.
Overnight at Lodge –(BLD)
Day 13
Samdo – Trek to Dharamsala (5,160m) 5hrs O/N Lodge – (BLD)
After breakfast we will trek towards Dharamshala. We will cross the wooden bridge over Budi Gandaki and cross two streams. We will see the Larkya Glacier as we go around the valley of the Salka Khola The walk is short and pleasant.
Overnight at Lodge – (BLD)
Day 14
Dharamsala – Trek to Vimtang via crossing Larke –La (5,260m) (35,90m) 8 -9hrs O/N Lodge – (BLD)
After breakfast we continue our walk down the edge, cross the wooden bridge over Budi Gandaki and begin walking upward. Upon crossing two streams and witnessing the Larkya Glacier we go around the valley of the Salka Khola and climb up again to the stone guest house (4450 m), which is not a lodge but a kind of shelter called Dharmshala, also known as Larke Phedi.
Overnight at Lodge –(BLD)
Days 15
Vimtang – Trek to Tilche (2,300m) 6hrs O/N Lodge – (BLD)
After breakfast enjoying the splendid views of the mountains from a ridge in Bhimtang, we make our way down towards a high pasture and then a bridge over Dudh Khola. We walk through rhododendron forests, narrow valleys and fields before making a climb to the river bank that leads to the village of Gho. A short walk takes us to Tilije.
Overnight at Lodge – (BLD)
Days 16
Tilche – Trek to Dharapani and catch the Jeep to Besishar (820m) 3-4hrs O/N Lodge – (BLD)
After breakfast, we move in a stone paved path passing through a beautiful village and then cross a bridge over Dudh Khola, move past an arch and Mani walls to get to the Thonje village. After passing through a police checkpoint we make our way towards Dharapani from where we enter the Annapurna circuit section.
Overnight at Lodge – (BLD)
Days 17
After completing this wonderful Manaslu Trek, we today drive back to Kathmandu in private vehicle. The drive is bumpy in the beginning but gets pleasant after a while.
Overnight at Hotel – (BB)
Days 18
Free day and shopping Farewell dinner O/N Hotel – (BDB)
You are free to spend the day at your leisure to relax, refresh, and perhaps take a trip to explore more of the city, before the group's final evening celebrating huge achievement with a special dinner. Around the evening, we will take you for a farewell dinner. While having dinner, we will also discuss your trip and take feedback.
Overnight at Hotel (BDB)
Days 19
Final departure gets back to home, Share experience with family unforgettable memory of Manaslu circuit Trek.
One of our company representatives will assist you to get to the airport by privet vehicle as per your flight departure time and back to home share experiences with family and friends unforgettable memory of Manaslu Circuit Trek.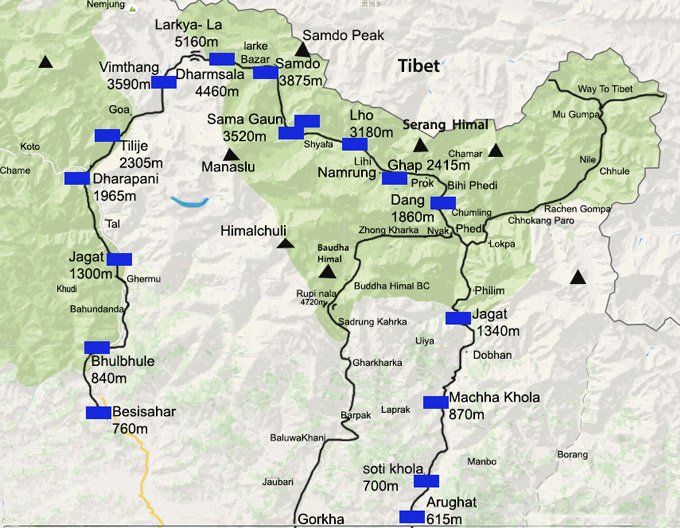 TRAIN AND FITNESS
Physical fitness is one of the most key elements on the trek. The trekking in the Himalayan is not forced on it and pacing is always slow, most of the days generally being shorter than a hiking day at your home country. We believe that should be you're imaginable of its kind of holiday trip literally than a contest to provide evidence of the travelers. We maintain situated so as to allow easy access to your trip can be demanding but not a difficult. You can make your own speed and enjoy your trip stunning atmosphere rather than following to other to catch. Himalayan Trails, recommend that you assume on a good fitness agenda proceeding to your trip although and one that builds up general strength and specific leg muscle groups. There is nothing like hiking with a bag pack to train for trek in Himalaya. So our best advice is to get out into the Hills or Alps as often as you can. You better ware your hiking boots and carry about 5-6 kg in your day bag-pack; this is a good weight to walk with it.
If you are doing Gym then which can be helpful and work on the thigh and calf muscles but better to build your heart rate over 50%. Any kind of heart breed activities are good but swimming will not add it doesn't train right muscles groups better added other exercise to be effective. Hiking in Hills, Alps would be the best preparation for a trek in Nepal.
EXPERIENCE FOR THE NEPAL TREK
The trekking trail and area of Nepal mostly well trodden and natural path most of the regions, even though it can be rocky and rough in some parts. It is not precipitous and there is no rock climbing or Mountaineering which is requiring equipments. It is hike most of the way in Himalaya, but some parts of the hills can be steep up and down and can be longer!
On the way you may meet many people along the trails as well as Donkeys, Yaks and heavy load porters. Walking in the Himalaya there is rule of the way when meet an approaching Donkeys, Yaks and porters always make sure you step to always on side where wide enough to passes through each other,( towards slopes side of the hill or inside of the Trail). Note: never ever stand ridged sides of the trail. If you stand, it means, we call (outside standing is suicide and inside is safe site) because it can be push by them down to mountains or rivers.
The trekking poles are very useful, if you have problems with knees, depending on weather or personal choice for using them. Even though higher up, ice path, moraine, open slopes may give you extra support from it, also quite easy to follow the path.
Always final sections are can be Glacier itself and high elevation, it is bit difficult and occasionally slippery under trails. The ice is covered in water stones and dirt, so where a coolant produces cold temperatures in the surface below.
Comfortable, good sole, ankle support (4 seasons) trekking boots water proof are recommended for the high passes trek but for the lower trek light weight hiking boots are fine to protect you beside, probably going over an ankle, low altitude trek heavy boots will be hot and unwieldy.
ACCOMMODATION ON THE TREK
Tea house trek accommodation will be in comfortable tea houses and lodges run most of the area by local families, except people specify a preference for tents. Every tea house or lodge has a common heated Chimney in the dining hall, although the bedrooms are not heated with mattresses, pillows and two beds in a room. We recommend you to bring your own sleeping bag (3 seasons in normally fine) but possibility is also you can buy and hire in Kathmandu.
Generally most of the tea houses have hot showers by gas gizzards and they have squire toilets but some area have and use drop toilets with flush systems.
For the Camping/ Tent trekking we use branded company tents which are for two persons comfortably can sleep and can put your luggage on side, and we provide you the mattresses. Tents are fixed always near the guest house and eating in our own dining tent, sometimes eating can be indoors, depends on possibility. So toilets sometimes you will use from the lodge but obvious we will have our privet toilet tents too.
Himalayan Trails support 
Our main back bones of the trek are porters, will carry your main duffle bag up to a maximum weight of 12-14 kg per guest and supply for all the groups needs, if you need to go back down to the valley together with assisting you. Apart from specially camping, all the accommodations are in local lodge or Tea houses which are well prepared, warm and friendly environment.
Our entire trip we run by permanently Guides or Leaders, who have been employed over ten years with us and been training personally high standard leadership and first aid by our company. They know how to deal with emergencies and speak fluently English. They are always helpful and look after you so many years have been working with tourist and westerns, they know the westerns needs and understanding. Our porters are always who works with us forever all our teams are dedicated and they will provide high standards services.