Mount Everest, the highest peak of the world, located in Nepal is what attracts tourists from all over the world. Every year thousands of tourists come to Nepal for various trekking and mountaineering activities. Thus, trekking in Nepal is one of the most popular tourist activities. If you are an adventure lover and love to explore the natural beauty of Himalaya, Nepal should be on your holiday travel list. Having said that, in this blog, we will be talking about the Everest Base Camp Trek. This is one of the best trekking destinations in Nepal.
Everest Base Camp Trek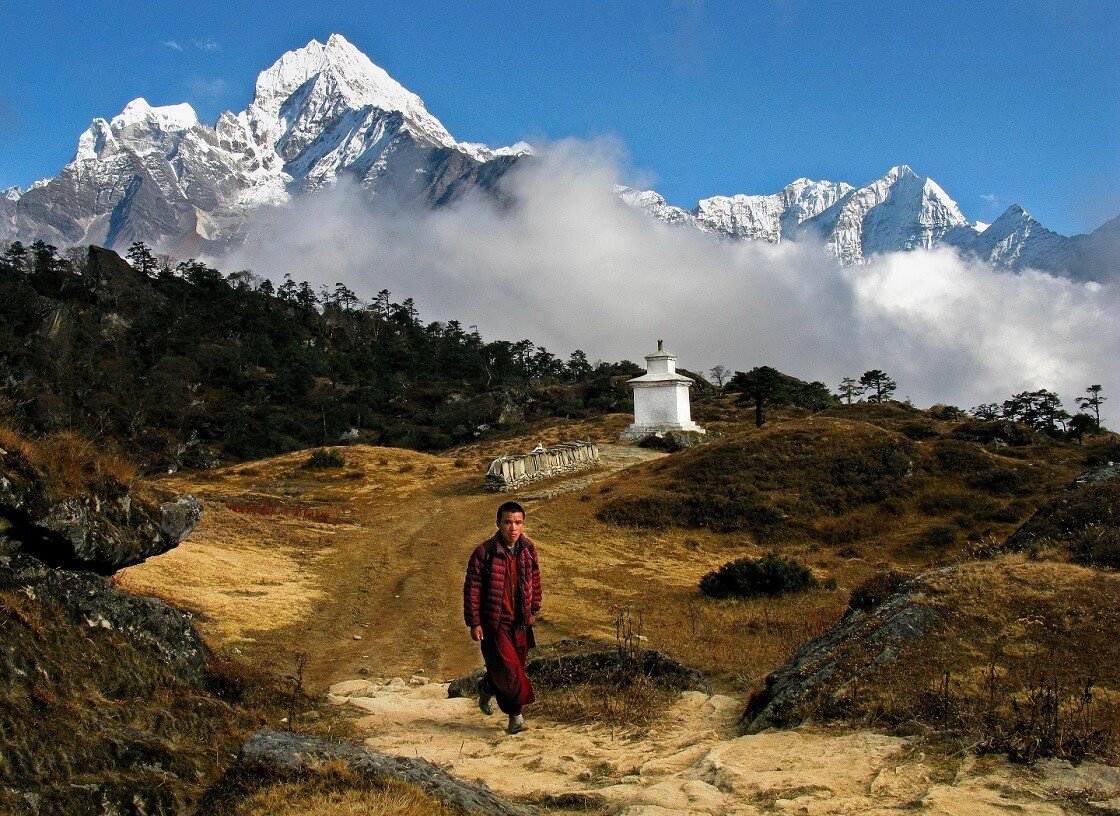 This iconic trekking in Nepal is popular all over the world for its natural beauty and adventure. The trek usually starts from a breathtaking flight from Kathmandu to Lukla Airport. The airport in Lukla is listed among the most dangerous airports in the world. The classic Everest Base Camp trek from Lukla to EBC and back is 130km long – 65km each way.
The Everest Base Camp trek can be started from either from South Base Camp or the North Base Camp. Here, we will talk about the south base camp as it is very popular among the trekkers and mountaineers. Every year more than 40,000 trekkers use this base camp to trek for Mount Everest. The trek for the South Base Camp starts from Lukla airport. The trek starting from Lukla airport leads you to Namche Bazaar 3440 meters. Namche Bazar is known to be the heart of this area. It takes about two days to reach Namche Bazar from Lukla airport. Since the trek will reach greater heights from this region, trekkers are allowed to rest for a day for acclimatization. Then the trek moves towards Dingboche 4,260 meters where the trekkers will rest for another day for further acclimatization. Trekking from Dingboche, you'll reach the Everest Base Camp via Gorakshep after trekking for two days.
The Tengboche Village, home to the famous Tengboche Monastery, is another attraction of the Everest Base Camp trek. This is one of the largest and oldest Buddhist monasteries in the region. Kalapatthar, another highlight of the trek, presents panoramic views of the entire Mount Everest massif spectacularly.
On your hike to Everest Base Camp, you'll move through the popular village town of Namche, quiet monasteries & meet up with the well-known Sherpa folks who inhabit this region. The most important part of the hike is that you get to experience the lifestyle and culture of the Sherpas. The legendary trail for a hike to Everest Base Camp is not just adventurous but also gives a psychological thrill to the trekkers looking for a wild hike.
You might also be interested in:
Everest Base Camp Altitude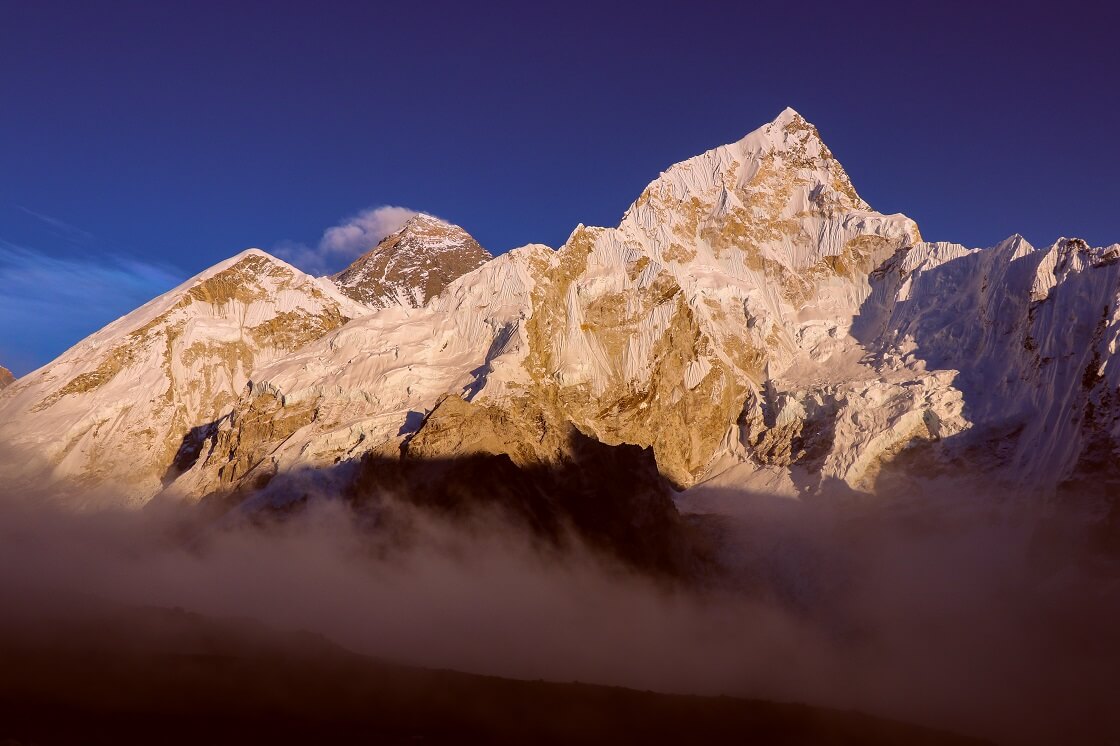 As mentioned earlier, the Everest Base Camp trek can be started from the two sides of the Everest. Thus, the Everest Base Camp refers to the two base camps located at these sites, namely the South Base Camp and the North Base Camp. These two base camps lie at different altitudes. The South Base Camp located in Nepal lies at an altitude of 5,364 meters (17,598 ft), while North Base Camp located in Tibet, China lies at 5,150 meters (16,900 ft).
On your way to the Everest Base Camp trek, you'll go through many altitude variations. Thus, this trek has to be carried out gradually while allocation proper time for acclimatization. Here's the information on Everest Base Camp altitude variation in the Everest Base Camp trek:
Lukla- 2,600 meters (8,530 feet)
Phakding- 2,610 meters( 7086 feet)
Namche Bazar- 3,440 meters(11286 feet)
Tengboche- 3,860 meters(12664 feet)
Dingboche-4,410 meters(14468 feet)
Lobuche- 4,940 meters(16207 feet)
Gorka Shep- 5,368 meters (17611 feet)
Kala Patthar- 5,500 meters(18044 feet)
Mount Everest Weather
Mount Everest weather is very unpredictable and extreme. The region faces above freezing temperatures, for example, the temperature in January can drop as low as -60 degrees Celsius. Also, the climb to Mount Everest is made furthermore challenging by the hurricane-force winds. These forceful winds are less powerful during May. This is why most of the climbers prefer Everest Base Camp trek during this time of the year.
If you are planning an Everest Base Camp trek, let us inform you that the best time to hike Everest Base Camp is during autumn and spring. Please note that the trail remains slippery and muddy due to monsoon. There are two trekking seasons to hike to the Everest Base Camp. So, the best time to hike Everest Base Camp during pre-monsoon season is during February, March, April, and May. And, if you are planning to hike to Everest Base Camp in the post-monsoon season, the best time to hike Everest Base Camp would be September, October, November, and December. You can choose to trek to Everest Base Camp in January and February but it can be very cold higher up (-20C/-4F to – 30C/-22F) It can dump snow on the trail at any time of year. If you are planning on trekking to Everest Base Camp in these months, you are definitely going to need more time for weather delays. Mount Everest weather conditions can be more challenging in these winter months.
Everest Base Camp Trek Cost
The Everest Base Camp trek cost is very affordable. However the cost for the Everest Base Camp Trek depends on various factors, so the overall cost may depend on your choices. Here, we'll introduce you to the factors that contribute to the overall cost of the Everest Base Camp Trek:
Transportation Mode
Since your Everest Base Camp trek starts from Lukla, you'll need to travel to Lukla by direct flight or by drive to Salleri or Phaplu. If you want to buy a flight from Kathmandu, the flight ticket for one way it cost you about USD 180 depending on the seat availability, season and early booking.
However, if you want to save on this transportation cost, you can also choose to take a bus or jeep. Transportation cost from Kathmandu to Salleri or Phaplu about Nrs. 2000-2200 ($ 20) per person.
Travel Insurance
There are many risks in the Everest Base Camp trekking that arises, especially due to weather and climate. This is why, travel insurance is a must for trekking in Nepal, not only for the Everest Base Camp trekking. Insurance costs vary with companies you choose and also on what all you want to cover. So, on average, the 30-day insurance policy costs around $150. It covers all the emergencies and requirements up to the height of 6,000 meters.
Trekking Equipment
The cost of climbing gears or equipment depends on your personal choice or requirements. You can either rent the equipment or purchase them. The Everest Base Camp trek requires the following climbing gears/equipment:
Climbing harness
5 meters or more of 6mm climber's accessory cord
Figure 8 or Abseil belay device
1 large mitten sized ascender (large Petzl) and arm length leash
2 locking carabiners, 1 large and 1 small
4 regular carabiners
Ice axe with a leash
Crampons – must fit your boots perfectly. Steel crampons with anti-balling (anti-bot) plates are the most recommended
Adjustable trekking poles
Helmet
Ski goggles
Glacier sunglasses with side shields
Oximeter
If you don't want to buy these items, you can also get it on rent at Kathmandu or Lukla. The rental cost for trekking equipment will be around $1- $10 per item per day.
Permits
You need to obtain special permits for your Everest Base Camp trekking. You'll need to obtain a TIMS card and a Sagarmatha National Park Permit. The permit for Sagarmatha National Park costs around $33 (approx. Nrs 3,390). Also with this permit, you get to enter the Khumbu region as well.
While the price of the TIMS card varies according to its type:
Organized TIMS card: $10
Individual TIMS card: $20
SAARC country TIMS card: $3
Note: You don't need a TIMS card for trekking in Everest Region. You can buy a local permit for $20 in the Everest Region.
Food & Accommodation
The food and accommodation costs have to be included for Kathmandu and the trekking route. The cost of your accommodation in Kathmandu from $15- $250 per night. From Lukla, your accommodation choices will be limited to tea houses. The cost of rooms in these tea houses range from $2-$6 per night.
You can choose from a variety of meal options in Kathmandu.  Here, the cost for a basic meal can range from $2 to $30. Also, the options for meals and drink after Lukla and back will be limited to the things that have been bought and carried on the back of the porters.
Guides And Porters
Having a professional guide with you during the trek will ensure safety in the trekking routes, especially when you have to trek through the unmarked trails. A guide for your Everest Base Camp trek will costs you around $25 per day.
Also, having a porter with you will lessen your burden to carry all your stuff. The porters will carry all your trekking equipment and supplies that you do not require on a particular day. Each porter will carry a maximum of 25 kgs in weight. The cost for a porter is $15 per day.
These are some of the major Everest Base Camp trek costs that should be considered while budgeting for your Everest Base Camp Trek. Other expenses might include charging a cost for gadgets, tips, hot showers, etc.
Everest Base Camp Packing List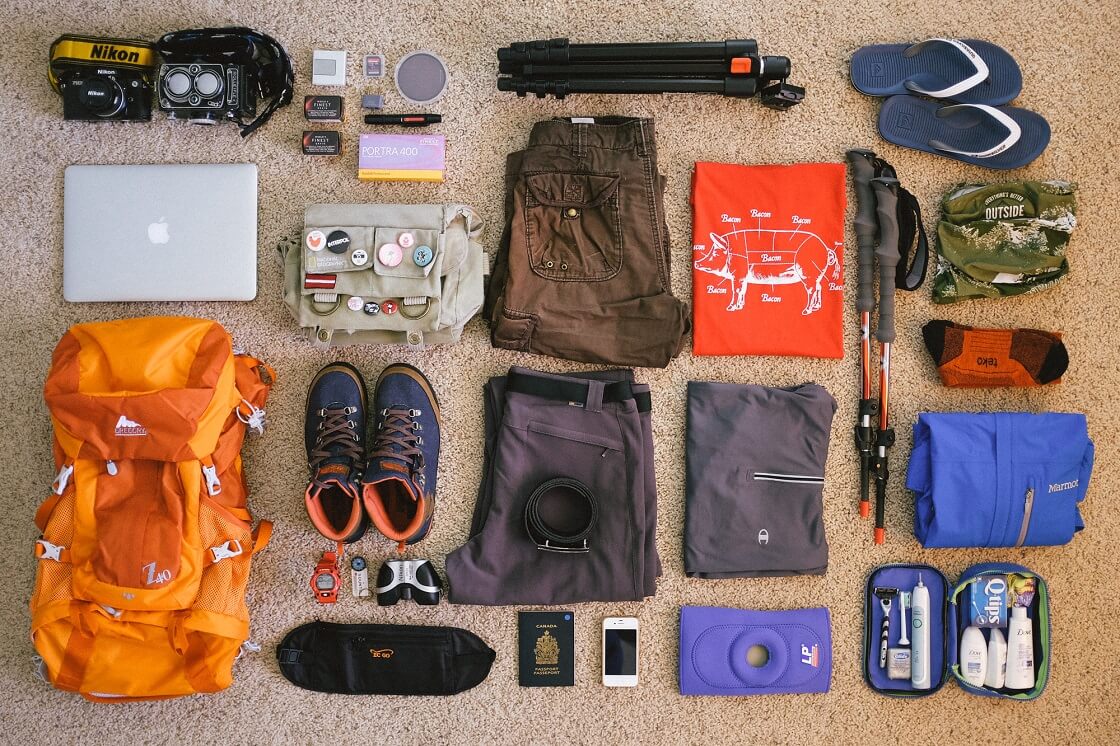 Before getting started with your Everest Base Camp trek, make sure that your Everest Base Camp packing list includes the following items:
Travel documents: passport, visa, travel insurance, air tickets, voucher, passport sized photo
Binoculars
Hand Sanitizers
First-aid kit (containing lip balm, Aspirin/paracetamol, Band-Aids/plasters, bandage for sprains, iodine or water purifier, Moleskin for blisters, antiseptic for cuts, anti-bacterial throat lozenges, anti-histamine, Imodium or similar tablets for diarrhea, re-hydration powder, Norfloxacin or Ciprofloxin, antibiotic for Girdia, Diamox and any extra prescription drugs you are currently taking) also if you have any personal Medicines don't forget to carry with you.
Protein bars, chocolates, dried fruits, candies, and snack foods
Money- cash
Money bag
Swiss army knife
Sleeping bag
Lightweight Towel
Toiletries (quick-drying towel, toothbrush, toothpaste, multipurpose soap, deodorant, nail clippers, face, and body moisturizer, feminine hygiene products
Day pack (with waist straps)
Alarm clock and torch/flashlight/headlamp
Lighter
Insect repellent
Earplugs and eye mask
Small padlock
Small wash towel
Refillable water bottle
Sunhat, sunglasses, scarf / buff
Bag liners
Wind and waterproof shell jacket & trousers (preferably breathable fabric)
Comfortable walking shoes
Running shoes or sandals
Socks: thick wool blend and thin cotton to be worn in combination
Lightweight thermal gloves
Underwear and Shorts
T-Shirts 2 or 3
Long-sleeved shirts
Four season Trekking/Hiking boots with spare laces
Lightweight long trousers (no jeans)
Layered clothing /Thermals and Extra warm clothing during high altitude
1 heavyweight or 2 lightweight wool jumper/sweater/fleece jacket
Fleece wind-stopper jacket (optional)
Down jacket or down vest
Fleece or wool trousers/pants
Heavyweight gloves or mittens – wool or fleeced with a waterproof shell outer
A four-season sleeping bag/sleep sheet
Thick, warm wool hiking socks
Gaiters (optional) for high passes Trek
Lightweight wool jumper/sweater/fleece
Umbrella/waterproof jacket and trousers (May to September)
Sunscreem lotion with maximum SPF
Hot Water bottle/ Thermos
Since you'll be going for a long and very challenging trek, make sure that you don't miss any of the essentials in your Everest Base Camp packing list.
Everest Base Camp Side Treks
If you want to explore the Everest region in detail, you can also plan for the Everest Base Camp side trek while on your Everest Base Camp trek. There are various long and short trekking destinations on the way to the Everest Base Camp that can be added to your itinerary if you plan or stay for a longer time in Nepal. Some of the most popular destinations for Everest Base Camp side treks are Everest Gokyo Lake Trek, Everest Three High Pass Trek, Everest Gokyo Ri Trek, Mera Peak, Pachermo Peak, Ama Dabblam, Sherpa Village Trek and many more. These are the side treks that are mostly preferred by trekkers travelling to the Everest Base Camp.
Here will introduce you to a few of the side treks in the Everest Base Camp:
Gokyo Lake Trek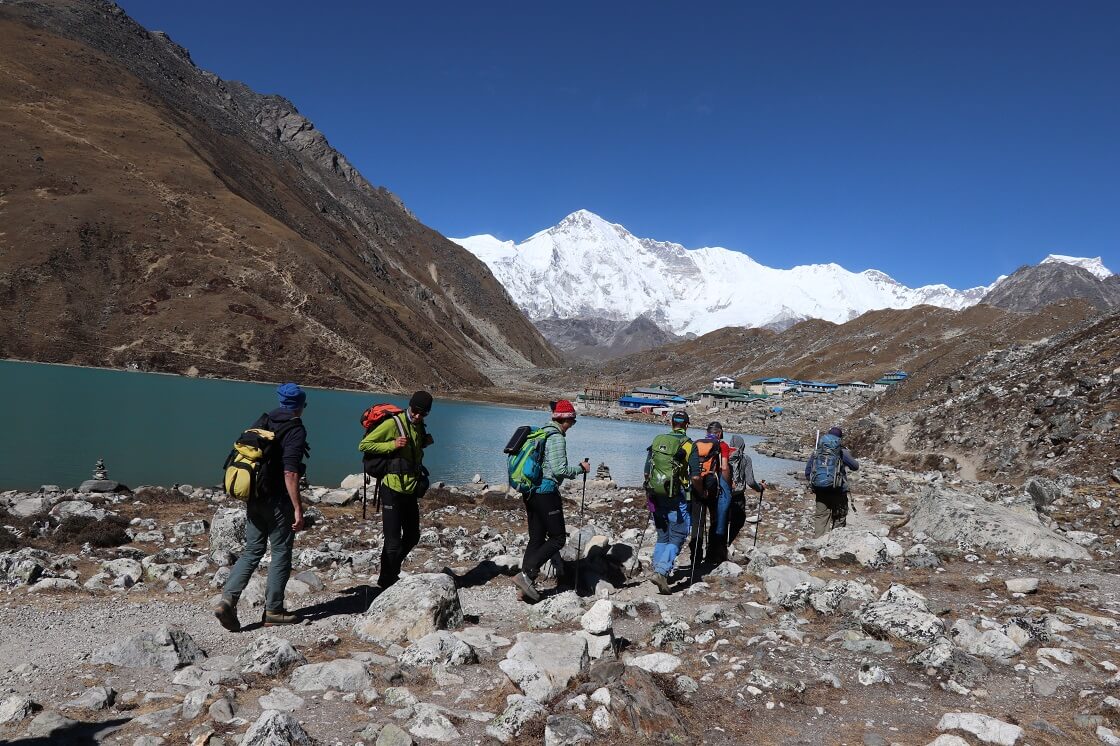 The Everest Gokyo Lake trek package is one of the most popular choices for side treks in the Everest region among the trekkers travelling to the Everest region. The Everest Gokyo lake trek is an ideal option for mountain lovers and people who like to face challenges that come with high altitudes. The major attractions of the Gokyo Lake Trek are the majestic views of the mountains like Everest, Lhotse, Nuptse, and Makalu. The largest glacier of Nepal, the Ngozumpa glacier, also lies in the Gokyo Lake region. The Gokyo Valley welcomes you with beautiful cobalt blue lakes that continues for 3 hours on your hike to the Gokyo Village. The Gokyo Village sits at the foot of Gokyo Ri (18,300 ft) a huge black mound of rock and dirt.
Everest Three Passes Trek
This Everest side trek is named as the Everest Three Passes Trek as the trek will take you across three high altitude passes i.e. Renjo La Pass (5,465m), Cho La Pass (5,420m) and Khongma La Pass (5,535m). This beautiful side trek should be a definite addition to your Everest Base Camp Trek. This Everest Three Passes Trek package also covers well-known trails that include EBC, the towering Kalapathar and the tranquil Gokyo valley with its emerald lakes.
Mera Peak Climbing
Situated on the edge of the famous Khumbu Region, Mera Peak (6,461m/ 21,190 ft) is the highest trekking peak in Nepal which is an exciting trekking peak and scenically beautiful peak of the Khumbu valley. Mera Peak Climbing is an adventure peak with technical difficulties which has stunning views of the world's 8000 meter Mountains- Everest, Kanchenjunga, Makalu, Lhotse, Cho-Oyu.
Pachermo Peak Climbing
The Pachermo peak lies in the Khumbu/Everest region, south to high pass Tesi Lapcha of Khumbu. It is one of the beautiful mountains in Nepal and can be approached either from the busy trekking trail of the Khumbu region or the beaten off the path of the Rolwaling region. Pachermo Peak climbing has become an adventure climb for trekkers crossing the high Tasi Lapcha (5,755m) to Namche Bazaar in the Everest region. Pachharmo peak lies south of the Tesi Lapcha.
Ama Dabblam Expedition
Ama Dablam is one of the most beautiful mountains in the world. This beautiful mountain is located in the Khumbu region of Nepal, south of Mt. Everest. There is a hanging glacier on the southwest face of Ama Dablam that bears a resemblance to the sacred ornament box used by Sherpa Women, which is known as Dablam. This is why the mountain is named as "Ama Dablam" This peak is 6,812 meters in elevation from the sea level.
These are some of the very famous Everest Base Camp side treks. If you are interested in Everest Base Camp Trekking, please free to contact the Himalayan Trails Trekking. Himalayan Trails Trekking is a travel and trekking agency in Kathmandu which you plan, design and enjoys the travel experience you have been dreaming of. Whether you are into high adventure and physical challenges or prefer to take your time to explore subtle elements of landscape and culture, this region is a treasure trove! We can take you trekking, mountain biking, on a cycle tour, touring on a classic motorbike, paragliding, rafting, canoeing, on a wildlife safari and bird watching, learning about art, religion, food, and culture. Whatever your style and preferred pace, it's all here to design your combination of experiences!
We have a team of experienced and professional travel junkies. We love to travel and this is our favorite part of the planet! As travelers ourselves we understand how important it is to have a professional and experienced operator who delivers the travel experience you want.  We have designed and operated tours here for many years already and continue to do so because we find it tremendously rewarding to share our passion for the Himalayas!