Langtang Trek allows you to explore the Langtang region of Nepal. Proximity wise, the region is closest to Kathmandu Valley, allowing you to reach there in the shortest amount of time and get indulged in numerous activities. Langtang region is famous for Langtang National Park, mountains lakes and mainly Gosaikunda Lake, few of the tallest mountains in Nepal like Langtang Lirung, religiously significant gompas like Kyanjin Gompa, high altitude mountain passes like Ganja La, and so many other natural, religious and cultural spectacles. You will get to come close and experience all these attractions and many more during Langtang trek.
Langtang Trek is the prime example of trekking in Nepal. It has all the features that a trekker would want in good trekking in Nepal experience. For a long time, the popularity of the trek was undermined by other more famous treks in Nepal, however, for the past few years, the tourists have gotten interested to explore this part of Nepal as well. Langtang region is known not just for Langtang trek, but also for expedition journeys. Mountaineers from all over the world come to this region, with the hope to reach the top of some of the tallest mountains here.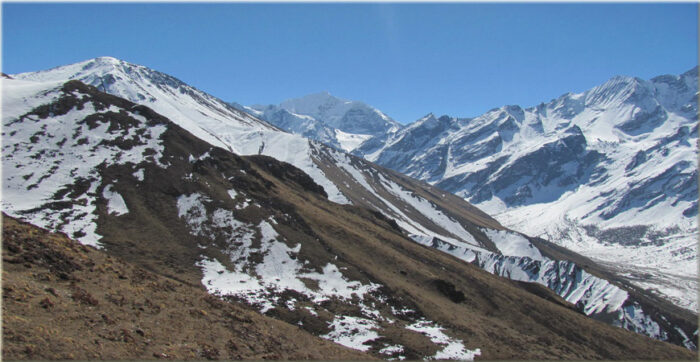 One can go for Langtang trek simply to enjoy the beauty of nature or to experience the numerous cultural phenomenon practiced here. However, there is one particular reason why people tend to travel to this place, and that is Langtang pictures. As Langtang trek covers some of the most photogenic natural and cultural spectacles, it makes sense for anyone to go on this trip for some amazing Langtang Pictures. Here, Langtang Pictures denote everything that is click-worthy and not just that of Langtang Lirung or other mountains. Langtang Trek is a must-try trip for you especially if you like off-the-beat trekking destinations.
Langtang Region 
Langtang Region is one of the richest places in Nepal from the perspective of natural and cultural attractions that the place has to offer. It is because of the same reason that tourists from all over the world visit this region for various purposes. You can go for activities such as trekking, expedition, pilgrimage tour, jungle safari, helicopter tour, adventure sports, and so many others in this region. It's not possible to cover all of these attractions in one go, and so, the travelers tend to visit this region time and again, and try out different activities each time.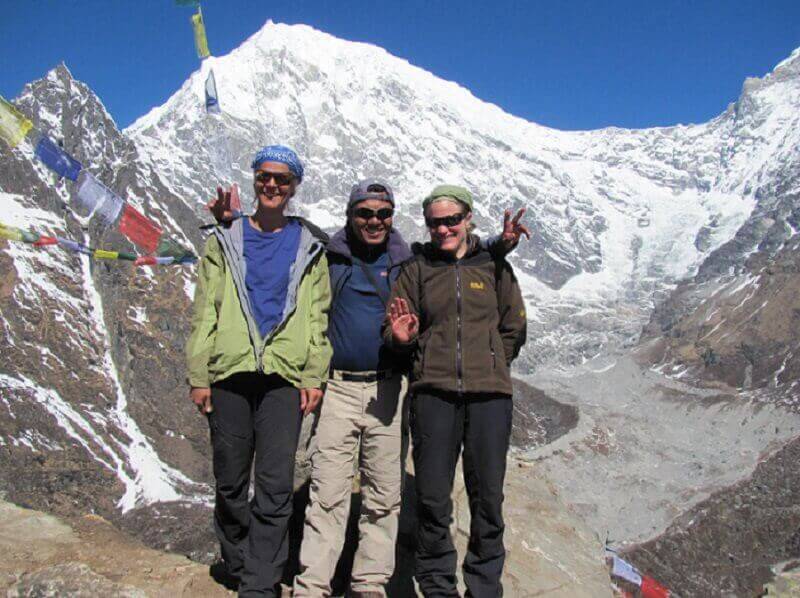 Langtang National Park
One of the most significant attractions of the Langtang Region is Langtang National Park. It is one of the oldest and the richest national parks in Nepal. As a matter of fact, Langtang National Park is another term that is used to address the Langtang region, for a simple reason that The park area consists of all the major attractions that are considered to be a part of the Langtang Region. Needless to say that the most significant features of the park are the numerous species of flora and fauna that consider the park home. Except for the birds, all the other creatures are settled here.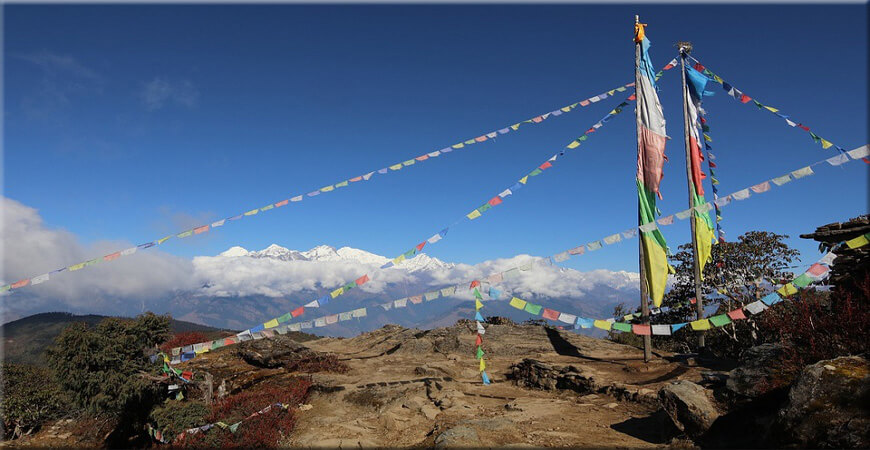 When you go on the Langtang trek, you make your way through Langtang National Park. The beauty of the park stuns the visitors. Depending on the time of the year, the park blooms up with flowers like rhododendron, magnolia, and so many others. The park is quite rich in flora, with 14 different types of vegetation, and forests ranging from tropical to alpine and perennial. These woods are homes to numerous species of fauna. Don't be surprised if you come across a few of these during your trekking trip. It's moments like these that totally overwhelm the trekkers.
Among the numerous rare and endangered species that have been spotted in the Langtang National park, some of the most widely seen are the Yellow-Throated Martens, Red Panda, Blue Sheep, Snow Leopard, and so on. In the same way, among the numerous birds spotted in the park, some of the common ones are Red-Billed Chough, Snow Pheasant, Himalayan Monal, and so on. The number of birds in the park fluctuates depending on the season. Many species of migratory birds tend to visit the park during summer and go away during the winter.
Langtang Himal 
A very crucial attraction that most trekking regions in Nepal are known for are the numerous mountains and mountain ranges. Langtang Region is no exception to this fact, as it is home to one of the most prominent mountain bodies of Nepal, Langtang Himal. It is a massif with numerous mountain bodies emerging from it, and the tallest among them is Langtang Lirung. The height of Langtang Lirung is 7234 m. Mountaineers from all over the world come to Nepal to climb on this enormous giant despite the fact that it is not a part of the top 10 list of the highest peaks of the world, or even that of Nepal.
It is a peak that is considered to be not too technical. Now, though there haven't been as many ascents on Langtang Lirung as other famous peaks in Nepal, the expedition history of the peak is also quite rich. The mountain was discovered by H. W. Tilman and P. Lloyd in 1949, however, the first successful ascent happened in 1978. The two climbers who achieved this feat belonged to the Japanese expedition team.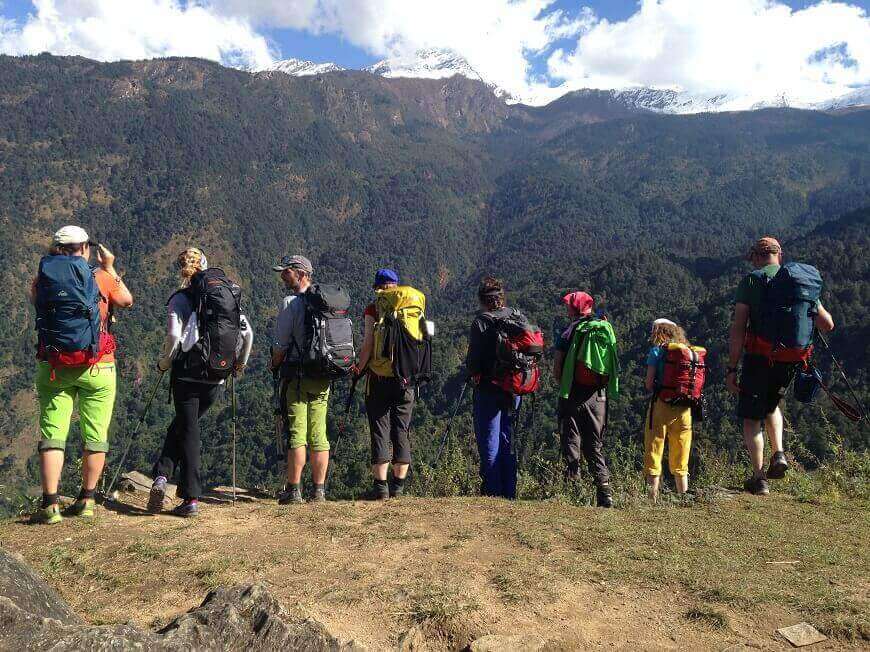 The first winter ascent, however, was made 10 years later in 1988, by Mikołaj Czyżewski, Kazimierz Kiszka and Adam Potoczek, who belonged to the Polish Expedition team. So far, there have been around 27 climbing attempts on the peak. Out of these, only 14 have been successful. Other prominent peaks of Langtang Himal include Langtang Ri, Dorje Lakpa, Gangchenpo, Yala Peak, and so on. The latter one happens to be the shortest peak in the range, with a height of 5520 m. The mountains that have a height lower than 6000 m are often regarded as hiking peaks.
During treks, if the trekker has enough time, they tend to walk to reach the top of these peaks and admire the view of the region. Generally, core mountaineering skills aren't required to climb these mini peaks. Yala Peak is a prime example of such mini-mountains. Another very popular short mountain in the region is Kyanjin Ri. It is situated quite close to Kyanjin Gompa.
High Altitude Lakes
Langtang Region is known for numerous natural spectacles, and one of the most prominent ones among them are the mountain lakes. These lakes are generally situated at an altitude above 3000 m. Now, a lot of them are not just natural spectacles but also religious attractions. Pilgrims from all over southeast Asia and even around the world visit the region to be around these lakes. One of the prominent examples of these lakes in Gosaikunda. As a matter of fact, it is not just one lake, but a complex of lakes. It is quite an experience to observe these lakes.
Mountain Glaciers
Going on Langtang trek is a way for you to be as close as you can get to the mountains without actually climbing on the top. Now, it's a natural thing that when you get as close to the mountains, you come across the glaciers. There are so many mountains in Nepal, and these happen to be the sources of numerous rivers that flow in the country. The rivers mainly originate from the glaciers that originate from the mountains. One of the most prominent glaciers in Nepal is Langtang glacier, which is found in this region. This one is said to be the longest glacier in Nepal. During your trip to the Langtang region, you could have a good view of this glacier.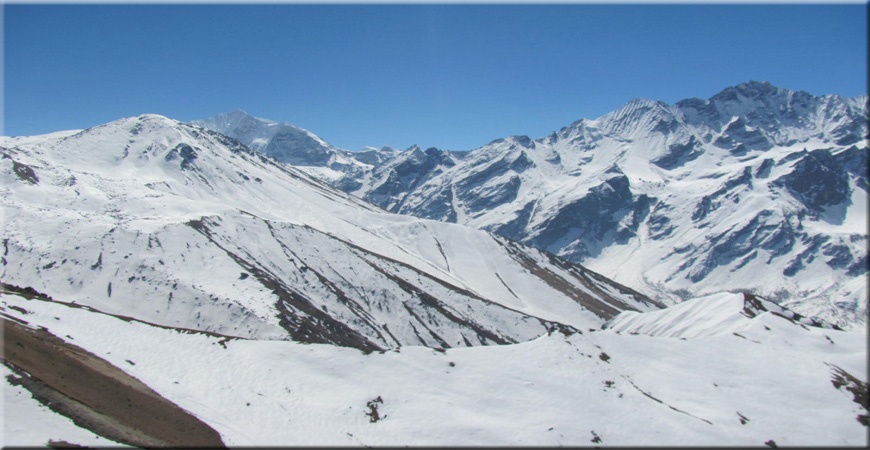 Villages in the Langtang Region
Yet another significant feature of the Langtang region are the numerous villages and settlement areas. These places are homes to thousands of indigenous people. They have been living here for centuries and they definitely add richness to the cultural diversity in the country. Villages like Lama Hotel, Syabrubesi, Dhunche, and so on are some of the settlement areas that you will get to visit during Langtang trek. However, if you want to explore other places in the region, you'd have to cover other trekking routes, like Gosaikunda trek, Helambu trek, and so many others.
In the year 2015, the 7.8 magnitude earthquake that occurred in Nepal destroyed most of the villages in the region. Langtang Village mainly suffered the biggest impact, and the disaster completely leveled the entire settlement area. Now, this didn't just damage the businesses and houses in the village, but also the economic activities halted as the main occupation of the people living in the region is serving the tourists. And because of the disaster, no tourist was going to visit the region. Also, if they did, there were no places for them to stay in.
When you visit Langtang Region currently, you will be surprised to see the situation of the settlement areas there. It appears as if no incident has occurred. It all seems so perfect. As a matter of fact, everything has been rebuilt from scratch. From 2015 itself, the locals, the government of Nepal, and the international agencies joined hands to reestablish everything. And it took them almost two years to bring everything back on track. Since 2017, the villages in the Langtang region started serving the tourists who'd visit the region for numerous fun activities.
Religious and Cultural Heritages
The people living in the region follow mainly two religions – Buddhism and Hinduism. Among the two, the majority of people follow the former one. Since the region is quite close to Tibet, you will also find many people who follow Bon Po, which is a faith that originated in Tibet, and also, Tibetan Buddhism, which is slightly different from the Buddhism followed in Nepal. You will notice the religious influences not just in the settlement areas, but also while walking on the route.
The paths are full of places marked with prayer flags and stones. In the villages, you will find either a small temple or gompa. The most significant religious heritage in the region is Kyanjin Gompa, which happens to be the main attraction of Langtang trek. People from around the region make sure to visit this heritage during special occasions and perform ceremonies.
Langtang Trekking
A lot of trekkers think that Langtang Trekking is all about Langtang trek or Langtang Valley trek, but it's not true. The term Langtang trekking stands for all the possible trekking journeys that you can go for in the Langtang region. Langtang region trek consists of trekking routes like Panch Pokhari Trek, Helambu Trek, Gosaikunda Trek, Tamang heritage trek, and of course the Langtang Valley Trek, the most common of them all. By going on these journeys, you allow yourself to experience some of the most beautiful spectacles of nature and local culture.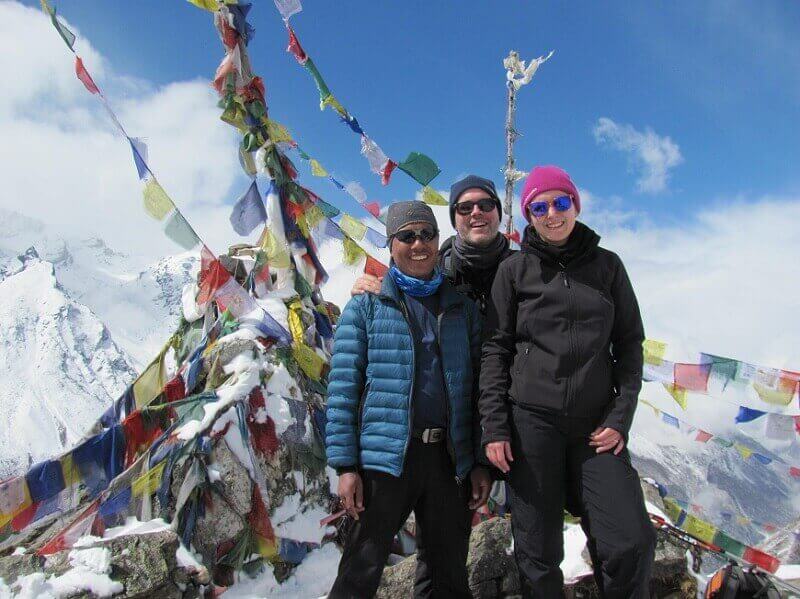 Of course, it's not possible for anyone to try all these trekking journeys in one go, and so, the tourists tend to return to Nepal time and again to try all of them out. Now, despite the fact that all these routes happen to be parts of the same region, you will realize that these treks are totally different from each other, from the difficulty level to the attractions, and so many other angles, these treks are unique in their own ways. Going on these journeys can prove to be a great alternative to going on the more popular treks in Nepal. These have every quality of a good trek.
1. Helambu Gosaikunda Langtang Trek 
Helambu Gosaikunda Langtang trek can be considered as the extended version of Langtang trek. During this journey, you don't just get to explore the entire Langtang valley, but also the Gosaikunda Lakes complex, and Sundarijal National Park. From the angle of natural spectacles, probably this is the richest trek in the country, as you get to explore not just one but two national parks of Nepal. Along with Shivapuri Nagarjun National Park, you also make your way through Langtang National Park. Without a doubt, trekking in Nepal can't get any better than this.
Helambu Gosaikunda Langtang trek is also referred to as Gosaikunda trek for a simple reason that Gosaikunda lake is the main attraction of the trip. Now, there is another route that you can follow to reach Gosaikunda lake, and that one is shorter than this. However, the trekkers tend to prefer this one as during this trek they get to explore so much. Not just the numerous natural spectacles, but also the religious and cultural ones. Altogether, this extended version of Langtang trek is 18 days long, and during this time, you get to visit places such as Thadepati, Kutumsang, Phedi, and so on.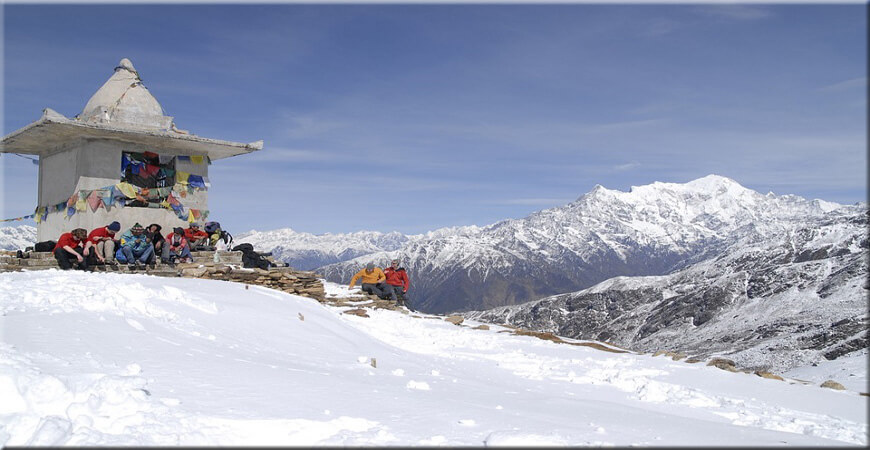 The trek begins at Sundarijal and ends at Syabrubesi. Both of these places are a couple of hours of drive away from Kathmandu. The former one is nearer. Now, though the water in Gosaikunda Lake comes from a nearby glacier, there is a very interesting mythological story about the origin of the lake. The lake is dedicated to Hindu God Lord Shiva, who happens to be one of the three major gods of Hinduism. It is said that millennia ago, Lord Shiva, right after swallowing a great amount of poison, came here, and using his trident, he slashed off a mountain, forcing water to flow from it.
It is the same water that accumulated and formed the Gosaikunda Lake. The incident is mentioned in Vishnu Purana, one of the holy books of Hinduism. Another interesting thing about Gosaikunda lake is that it is, in fact, a complex of lakes. Gosaikunda is one of the lakes in this system. There are 109 lakes that are located here, and all of them are considered religiously significant and worshipped. You will make your way through Nagarjun Shivapuri National Park towards the beginning of the journey, as you make your way from Sundarijal towards Gosaikunda.
The park is one of the richest in Nepal, from the perspective of the numerous rare and endangered species of flora and fauna that consider the park their home. There are altogether around 2700 species of plants in the park. These include fungi, flowering plants, vascular plants, endemic plants, and herbs. In the same way, around 318 species of birds have been spotted here. The park is also rich in animal life, with hundreds of species of mammals like Barking Deer, Wild Boar, Rhesus Monkey, and so on. There are also numerous temples and gompas that are significant elements of the national park. One of the highly regarded temples in the park is Sundarimai Temple.
2. Langtang Valley Trek
Langtang valley trek is also known as Langtang trek. It is one of the basic treks in the region, and definitely, it offers the best of the Langtang region. It spans for a duration of 13 days, and during this time, you get to visit and explore the villages of Thulo Syabru, Sherpa Gaun, Langtang, and so on. The trek begins in Dhunche and ends at Syabrubesi. Both of these places are around 8 to 9 hours long drive away from Kathmandu. Since you don't cover a lot of high altitude places on the Langtang trek, there is not even a single day allocated for acclimatization.
One of the interesting places to visit on the route is the Lama Hotel. Now, though it might seem as if the place has one hotel, as a matter of fact, it is a village, and the entire area is filled with hotels. And you might have guessed that almost all of them introduce themselves as Lama Hotel. There is an interesting story behind the establishment of this place. Initially, there used to be only one Lama Hotel here. And it got really popular. Considering its success, even other people established similar hotels in the area and named their establishment Lama Hotel.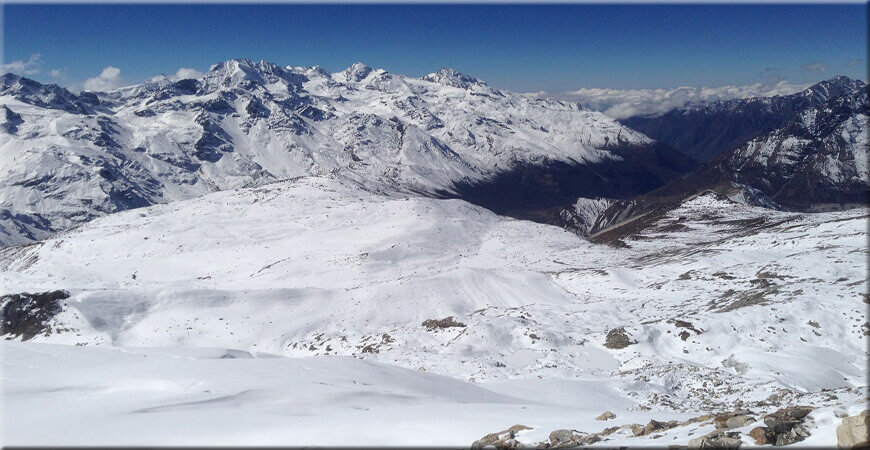 One after another the number grew, and so, now, we have an entire village full of Lama Hotels. One of the significant features of the trek are the numerous religious heritages, and one of them is Kyanjin Gompa. As a matter of fact, Kyanjin Gompa is the most significant religious site in the region, and probably, that's the reason why locals from across the valley visit the monastery during special occasions. As Kyanjin Gompa is a major attraction of the trek, Langtang trek is also called Langtang Kyanjin gompa trek at times. Provided that you're interested in Buddhism, you could spend a day or two here at the gompa.
The monks here are friendly and would love to tell you a thing or two about the Buddhism practiced in this part of Nepal. Generally, the trekkers tend to spend one night at this place, and on the other day, they make their way back. Yet another attraction that you'd get to explore during the journey is Tserko Ri. It is a mini-mountain with a height of 4985 m. This happens to be the highest point of the journey. Early in the morning, the trekkers walk from Kyanjin Gompa all the way to the top of Tserko Ri.
Their intention is to enjoy the early morning mountain views from the top of Tserko Ri. It is said that the peak offers the most splendid mountain views in the entire region. Provided that you're not so much into walking, you could choose to avoid this side trip as well. Keep in mind that though it doesn't require mountaineering skills for the trekkers to reach the top of this peak, the walk to its top is definitely tougher than regular trekking. Without a doubt, the best thing to do is to go for it.
3. Tamang Heritage Trek 
Tamang Heritage Trek is yet another extension of the fundamental Langtang trek. In addition to what you experience during the Langtang trek, you get a deep insight into the life of Tamang people during this trek. Altogether, the trek spans for a duration of 16 days, and during this time, you get to explore places such as Rimche, Ghatlang, Thuman, and so on. There is also a shorter version of this trek where you don't tend to cover the Langtang trek route, but most people tend to prefer this one over others as adding Langtang trek route to the Tamang Heritage trail makes the journey richer and much sweeter. However, if you're someone who prefers short treks over the long one, you could just go for the regular Tamang Heritage trail. It's good too.
Tamang heritage trek allows you to explore the life of the people living in the region, and a lot of them happen to be Tamangs. Tamangs are a group of people that are indigenous to Nepal. They have been living here for centuries. They have their own cultures, traditions, language, and other attributes that make them unique from other tribes that are found in the hills of Nepal. On the Tamang Heritage trek, you visit a few villages that are largely populated by Tamangs and during your stay with them, you'd get to know about their lifestyle, and even experience them.
This trek is basically a cultural tour despite the fact that it closely resembles a regular trekking trip. On this journey, instead of camping or staying in hotels and lodges, you get to live in homestays, and since these homes belong to people from the Tamang community, you'd live like a family member with them. You'd eat with them, interact with them, and get to see how they live. Tamangs are friendly people, and they'd love to tell you about their way of life. Provided that you live with them for a few days, you'd get to know most things about them.
The best time to go for the Tamang Heritage trek is during festivals. When you stay in these homestays during festivals, you also get to celebrate these occasions with them, which is a better way to get to know about them. As they dress up in their traditional attire and practice their religious ceremony, you'll be amazed by how rich their traditions are. And their traditional mouthwatering food is one of the best reasons to be with them during these special occasions.
From the aspect of a difficulty, the shorter version of this trek can be considered as one of the mellow treks in Nepal, ideal for the first time trekkers, and the ones who are looking to learn about the cultures in Nepal. The longer version, however, is a bit tougher. Still, it's difficulty level could be marked as a medium, because it's not as unforgiving as other more strenuous treks in Nepal. Depending on your experience and the level of expertise, you could choose the one.
4. Helambu Circuit Trek 
Helambu Circuit trek is probably the most unique trek on the list, not counting the Panch Pokhari trek, as this is a journey that is not a version of Langtang trek. Also, it's probably the shortest trek in the list, as it spans only for a duration of 12 days. The journey takes you through the Helambu region, which is only slightly connected to the Langtang region. Most parts of Helambu are secluded from Langtang. On the trek, you get to explore places like Thadepati, Melamchi Gaun, Tarkeghyang, and so on. The journey starts from Sundarijal and ends at Thimbu. Both of these places are very close to Kathmandu, and it takes only a couple of hours of drive to reach these villages.
These settlement areas are some of the most beautiful places in Nepal. The hilly villages also offer you a deep insight into the cultures and norms followed here. On the Helambu Circuit trek, you make your journey through Shivapuri Nagarjun National Park. In comparison to the other protected areas of Nepal, this one is comparatively new. It was established in 2002. Because of the close proximity of the park to Kathmandu city, it is popular as a weekend getaway spot for the locals. There are numerous resorts around the national park.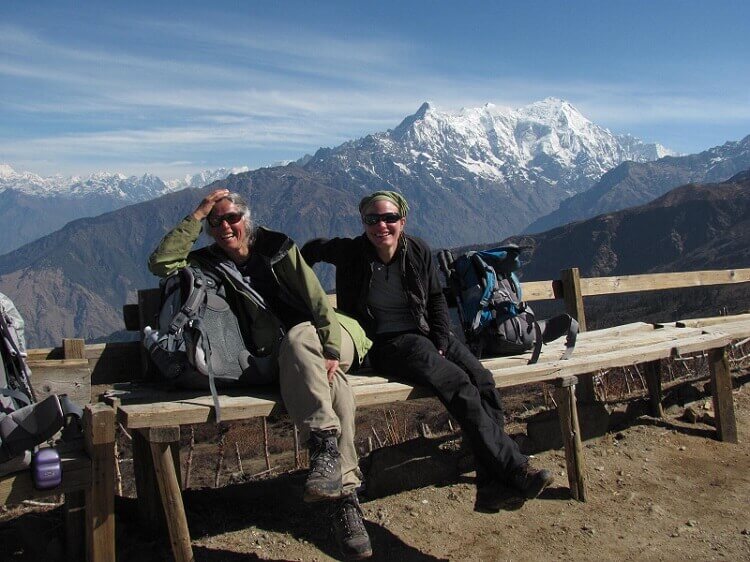 Also, the entire area is popular for one to two days of short hiking trips. Sundarijal, from where the Helambu Circuit trek begins, happens to be located inside the national park area. One of the significant attractions of the journey is Ama-Yangri Peak. It is a small hill with a height of 3765 m. Trekkers tend to go for a day hike to the top of the hill, where there's a viewpoint. It is said to offer one of the best views in the entire Langtang region. From here, you get to enjoy the sights of not just the peaks in the Langtang region but also that of the Annapurna region like Manaslu and Annapurna itself. You will also spot Ganesh Himal, and peaks from the Rolwaling trek range.
Needless to say that the views of the surrounding green hills, covered in beautiful red and yellow flowers, would certainly add to your overall experience. Helambu trek as well gives you the opportunity to explore the lives of a few indigenous groups of people in Nepal. These include the Tamangs, as mentioned above, and also Gurungs, Rais, Limbus, and so on. Though the villages, and moreover the entire region, are mostly populated by Tamangs, you will surely get a whiff of these other cultures as well.
If you're not quite comfortable living in homestays, well, you can always live in the numerous lodges that offer food and accommodation services. This way you will get to learn about the cultures only through interaction, but that is also decent enough. Generally, the friendly guides who accompany you during the trek know the local language, and they would be more than happy to help you as a translator. This is one of the best aspects of trekking in Nepal, or the Langtang region specifically. You should definitely try this trekking adventure. 
5. Panch Pokhari Trek 
Panch Pokhari Trek is a short journey that features five of the most beautiful lakes in the Langtang region. The five lakes are located in Nuwakot, Rasuwa and Sindhupalchowk districts of Nepal, and so, during your trek, you will be covering all of these. Panch Pokhari stands for 5 lakes, and these water bodies are known not just for their natural beauties but also for the religious significance, like every year during the month of August, pilgrims from around the country visit these lakes, and pay homage to the Hindu god Lord Shiva.
During this month, the festival known as Janai Purnima is celebrated, and on this day, a fair is organized around the lakes. The place is pious especially for the Hindu pilgrims, and since they come in a large number to visit this place, numerous small huts are built so that they're able to take rest. Panch Pokhari trek is a 16 days long journey, and during this time, the trekkers visit places such as Pauwa Bas, Hile Bhanjyang, Kami Kharka, and so on. The trek begins in Chautara and ends at Melamchi.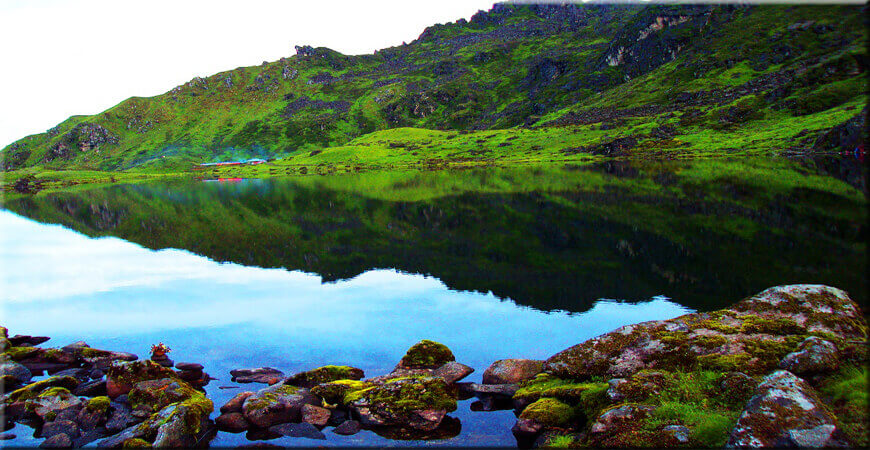 Both of these places are only a couple of hours of drive away from Kathmandu. There is a variation of this itinerary, where the trek is only 6 days long. When you go on that journey, you tend to cover places such as Nasimpati. The trek begins and ends at Bhotang. Needless to say that the longer version allows you to explore the area in detail. The highest altitude that you cover during the journey is 4100 m. When you consider the altitude covered, the duration of the journey, the route, and other features, you conclude that the trip can be marked medium on the difficulty level. This means that whether you're a professional trekker or a first-timer, you can definitely go for this trek.
The fact that it's not that challenging allows the people of all age groups and various fitness levels to walk on the route and reach Panch Pokhari. It is for a reason that the trek is one of the most popular pilgrim tours in the country. On the journey, you will get to enjoy the views of numerous mountains of the Langtang region. Some of them are Dorje Lakpa, Purbi Chyachu, Madiya, and so on. You can enjoy their views from the numerous viewpoints that are scattered around the route, and also from the villages that you'll cover during the trek. Panch Pokhari trek can prove to be an amazing trip for you, especially if you're a first-timer and are looking to explore the trekking scenario of Nepal.
Langtang Helicopter Tour
One of the best ways to experience the goodness of the Langtang region is to go on the Langtang Helicopter Tour. Langtang Helicopter tour can be considered as a faster and effortless alternative to Langtang trek. The tour option allows you to enjoy the best mountain views not just from the air, but also from the ground level. As a matter of fact, one of the main reasons why people prefer going for helicopter tours is to enjoy mountain panoramic views, and this one is no exception. Within a matter of hours, you can achieve what it takes days to do the same.
Quite like any other heli tour, Langtang Heli Tour also spans for a duration of 5 to 6 hours depending on the numerous destinations that the tour is meant to cover. You can tweak this duration to go up to 7 or 8 hours or reduce it. Needless to say that the more the hours, the more the cost. There are two ways to go on a heli tour in this region. The first one is that you go through a travel agency. All you need to do in this case is to pay them the tour cost, and they will take care of the rest of the arrangements. The other way is to book your own helicopter.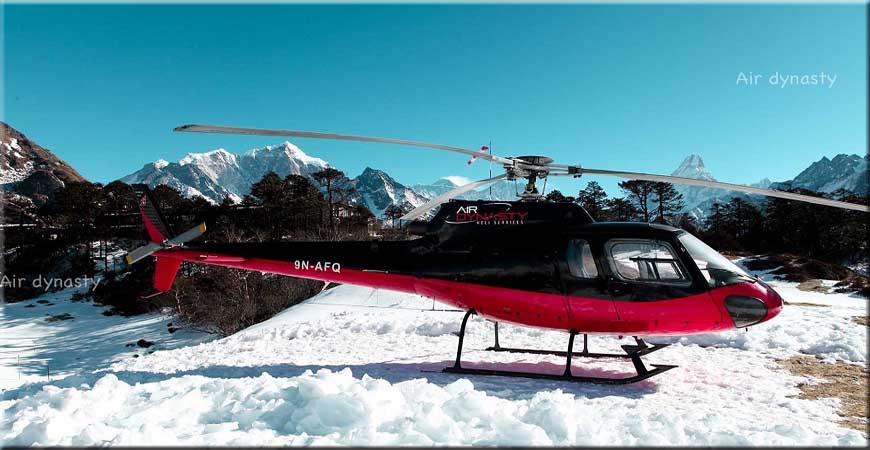 Provided that you know the region very well, booking your own helicopter seems like a cheaper option. Once you pay the rental fees, you can invite up to five more people to join you on the tour. During the Langtang Heli tour, you get to visit the major attractions of the region like Gosaikunda Lakes, Kanjin Gompa, Langtang Village, and so on. The helicopter doesn't just fly in the air; it also stops at all these places, so that you can get off your seats and stroll around the area. This way you get to enjoy mountain panoramic views from the land area as well.
A lot of people consider Langtang trek to be a better alternative than the Langtang helicopter tour because, during the trek, you can explore the region in a more detailed manner. You're able to visit places and interact with the locals. On top of everything, there is nothing that beats the experience of walking through the forests and along the hill. However, all these features of the trek become irrelevant if you're not able to walk for such distances. And so, for people like that, a helicopter tour is an opportunity to explore one of the most beautiful trekking regions in Nepal.
Since the helicopter that you're traveling in stops at numerous locations, you do get a brief amount of time to spend with the locals and enjoy the said places. The helicopter allows you to cover the entire region in one go, which might take days for you to cover on a trek. Needless to say that it's not everyone's cup of tea to trek for such a long period. Your help tour ends with a sumptuous meal in one of the luxurious lodges in the Langtang region. On average, the Langtang Helicopter tour might cost between $400 and $600 per person.
High Altitude Lakes
High Altitude lakes are one of the major attributes of the Langtang region. During Langtang trek, you will come across numerous points, where you'll discover water bodies and mainly lakes. These high altitude lakes are fascinating, and one of the most important things about them is that most of them are valuable not just from the angle of natural beauty but also religious significance. Geographically, speaking, the reason why there are so many high altitude lakes in the region is that Langtang is full of glaciers. These glaciers tend to melt and form lakes.
Now, depending on the lake, there are certain mythological tales that explain the formation of these lakes. You could believe any of these details; it's entirely up to you. A lot of times visitors come to the Langtang region just to take a glimpse of these high altitude lakes. Now, these water bodies are located in tough to reach places, and so, the most popular means to reach these places are by walking. However, you could also take helicopter rides to these locations. It is a great facility for the pilgrims who want to explore these lakes but are somehow unable.
1. Gosaikunda Lake
Gosaikunda Lake is probably the most significant lake in the Langtang region if not the entire country. It is one of the religiously significant lakes of Nepal, and the pilgrims tend to visit the lake especially during the month of August. One of the most unusual features of the lake is that it remains frozen for 6 months, during the winter season, and for the next 6 months, it transforms into its original state. The main reason behind this is the weather, and probably the Gosaikunda Lake altitude. Gosaikunda lake is situated at an elevation of 4380 m.
Now, Gosaikunda Lake is actually a part of a complex of lakes or lakes system, which is also called Gosaikunda. Altogether, there are 108 lakes in this entire complex. You can reach the Gosaikunda lakes complex either by trekking or on a helicopter. Provided that you choose to be here by trekking, it would be required for you to cross Laurebina La, which is one of the high altitude mountain passes in Nepal. Religiously speaking, Gosaikunda lake is considered as the abode of Hindu deities Shiva and Parvati. Pilgrims come here to pay their homage to the deities.
2. Parvatikunda Lake
Parvatikunda is among the most beautiful and religiously significant lakes in the Langtang region of Nepal. It is situated close to Gatlang village in the Rasuwa district of Nepal, at an elevation of 2600 m. Parvatikunda is a lake that is important not just from the perspective of tourism, but also biodiversity. It is a waterbody that has helped the surrounding area remain green and prosperous. Not just the animals and birds, but also the people living in the area depend on this lake for water. The lake is also considered a religiously significant one.
And so, it draws hundreds of visitors every year. The locals believe that this lake has existed for over 1000 years. Around the lake, different species of plants and animals live. 25 species of flora have been recorded around the lake. Also, 37 different kinds of birds and six kinds of mammals have been spotted around the lake. The area is also the home of numerous small insects and water-based creatures like fishes, and so on. Parvatikunda is definitely an off-the-beat tourist destination. If you like secluded places that are naturally beautiful, this one should be on the top of your list.
3. Bhairavkunda Lake
Bhairavkunda Lake is yet another naturally and religiously significant lake situated in the Langtang Region. The word Bhairavkunda is made up of two words – Bhairav which means a form of Hindu deity Lord Shiva, and Kunda which means lake. The lake is considered as a symbol of the deity. A lot of people also believe that the deity resides around the lake. It is for the same reason that the locals and even the pilgrims from around the country come to this region to visit this lake and pay homage to Lord Shiva.
Needless to say that the lake is also a natural spectacle, with clear blue waters, surrounded by lush green vegetation and rich wildlife. To reach the Bhairavkunda Lake, you need to walk on a specific trekking route, also known as the Bhairavkunda Lake Trek route. Altogether, it's a 13 days long journey, and during this time, you cover places such as Larcha, Pati, Khani Gaun, Sherpa gaun, and so on. These villages are quite beautiful, as they are situated in the lap of the mountains. During the trek, you will also get a deep insight into the life of the indigenous people who've been living in the villages for years.
4. Dudhkunda Lake
Dudh Kunda literally means milky lake, probably because of the color of the water found in the lake. It is a pristine lake situated at an altitude of 4593 m, which makes it one of the high altitude lakes in Nepal. Dudh Kunda Lake is known not just for its natural beauty but also for the religious significance that it holds. It is important not just for the followers of Buddhism but also for Hinduism. It is, therefore, a popular worship site and a pilgrimage site for the followers of both religions. Quite like the previous lake, to reach this one as well you're required to follow a specific route.
Dudh Kunda lake trek is a journey that doesn't just allow you to enjoy numerous gifts of nature, but also the lifestyle of the Sherpas. Sherpas are a group of indigenous people who have been living in the hills of Nepal for decades. They are meant to be exceptional climbers, and so, a lot of them are involved in the climbing business as mountaineering guides. The trek spans for a duration of around 15 days, and during this time, you get to explore places like Saharsbeni, Phaplu, Taktor, and so on. It's a camp trek, and so you'll be camping around the lake area.
Langtang Weather
Quite like other fun and adventure-based activities, Langtang trek also has an ideal season. There is actually a perfect time to visit this part of the world. The best time to go for Langtang trek, quite like the best time to trek in Nepal, is between the months of September and November. During this time of the year, there are almost no clouds in the sky, which allows you to enjoy the most amazing views of the mountains in the region. Also, during this time, the weather is perfect, neither too hot nor too cold, ideal for taking a stroll around the hills.
Now, there is a downside to trekking during this time of the year. Since this is the peak season, the majority of trekkers happen to come to Nepal to trek in the hills during this time itself. As a result, every place that you go to will have trekkers in them, in the hotels, on the route, around major attractions, and so on. Now, trekking is an activity that one prefers also because it is said to offer them peace of mind. If your purpose behind going for the trek is the same, well, it is recommended that you don't do it during this time of the year. You'll be quite disappointed.
The second best time to trek in Nepal, or go for the Langtang trek for that matter, is between the months of March and May. The weather during this time of the year is quite identical to that of the earlier season. It's neither too hot nor too cold. Absolutely ideal to trek along the hills in Nepal. Also, it's springtime, so the numerous forests that you will get to cross during the journey are at their best, with colorful flowers like rhododendron and magnolia blooming on the trees. It is an absolute pleasure to walk on the hills of Nepal during this time of the year.
The downside to this season is the fact that the skies are mostly cloudy, which prevents you from enjoying the distant mountain views. Needless to say that one of the main reasons why trekkers go for the trek are the mountain views. If you take that away from the equation, there is only a little left. So, it's a bit disappointing from that angle. Now, because of this reason, the number of trekkers visiting Nepal during this time of the year reduces up to a great extent, which allows you to enjoy a certain amount of peace and tranquillity on the trekking routes at this time.
So, if you're someone whose main purpose of going for a trek is to enjoy the peaceful nature, this time can prove to be the ideal time for you. This time of the year is also considered ideal for another yet significant activity, which is Nepal climbing. Mountain climbers get only a small window of around two months during which they're meant to reach the top of a given peak and return to the base camp. Now, it is between the months of March and May that this window opens and closes. Langtang region is famous not just for trekking but also for climbing activities.
The trekkers tend to go for Langtang trek during other times of the year as well. It takes around 13 days for you to finish the journey, and this duration could be at any time of the year. However, you need to remember a general rule of thumb and that is to not trek during extreme cold and when it's either raining or snowing. The hills in Nepal have the tendency to get quite dangerous around these weather conditions. The cold is unforgiving here, and it is for the same reason that the locals living in high altitude places descend to lower elevation during the winter season.
Trekking during winters also increases your chances of catching diseases like cough, cold and fever, and there is nothing that makes your trek worse than having to do it in a condition like that. It's also quite risky to trek in winters as the paths are filled with snow, making it hard for the trekkers to walk, and increasing their chances of getting lost from the track. There have been cases where the trekkers have either died or have reached the brink of their death because of being stubborn and trying to trek during the cold seasons, despite the constant warning signals.
Now, it is something that has been done before, but keep in mind that the weather conditions here are unstable, and so, depending on your luck, you might get stuck for days. Another worse time to trek is when it's raining. The rain deteriorates the condition of the path, making it muddy and slippery. Things get tricky especially when you try to walk on slopes; nothing can be more dangerous. The fact of the matter is that you can trek in the hills of Nepal at any point of the year, but make sure that you keep a close eye on the weather conditions throughout the trip.
Altitude Sickness
Altitude Sickness is one of the most serious problems that you could come across during your trek in the Langtang region or any other high altitude place in Nepal. As per the theory, altitude sickness hits you when you cross the elevation of 3000 m or at least the chances of you suffering from this condition increases when you cross this point. The density of oxygen in the air is low at this level, and so, your body struggles to maintain the level of oxygen in your body that it is used to having. It is during this struggling phase that you might experience vomiting sensation, headache, fever, and so on. These conditions are the results of your body trying to adapt to the surrounding environment. If it's unable to do so, there might be serious problems.
When your body is unable to deal with altitude sickness, water starts getting collected in your lungs which makes it impossible for the person to breathe. In such a situation, the only option is to descend to a lower altitude. However, if the person is unable to walk, a helicopter is called in for the rescue. The helicopter takes him to the nearest hospital. Luckily, in most cases, just by resting for a couple of hours, the situation gets normal. Altitude Sickness is not serious enough to kill someone, but it can definitely spike the pre-existing medical conditions like the ones related to the heart, lungs, and blood.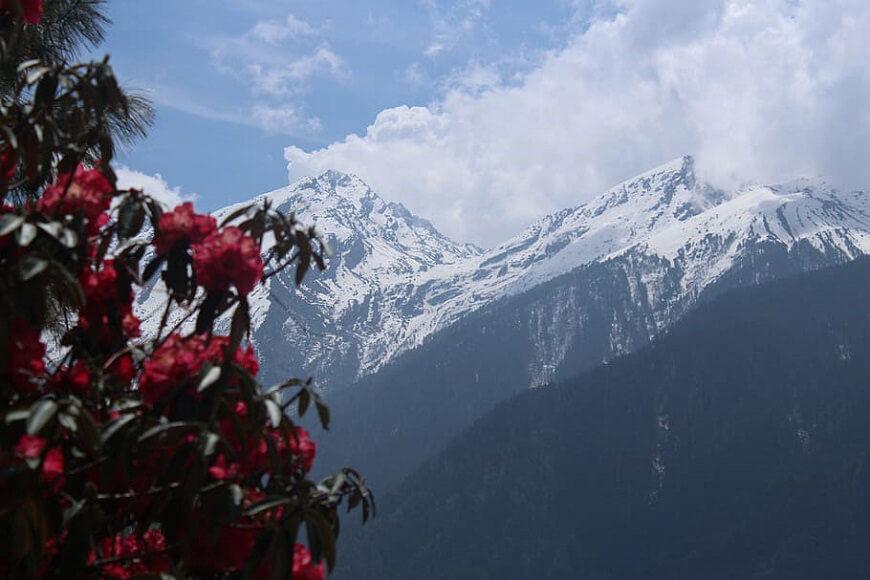 It is therefore recommended that the tourists must have their health checked before signing up for a trip, mainly a trekking trip, in such high altitude places. Generally, the trekking companies tend to include a couple of days in the itinerary so that the trekker can have a little bit of rest. This allows his body to acclimatize to the surrounding. Mild conditions can be controlled by taking a simple pill, or by consuming garlic soup, or other homely remedies. The thing about altitude sickness is that it impacts different people differently.
Some are not affected by it at all, whereas others might feel the need to take a nap the whole day. One of the most interesting things to remember is that the symptoms of altitude sickness are common, but still, once the trekker starts having them, it's important for them to inform the guide. If kept hidden, these conditions might take an ugly turn, and ruin the trekker's trip. Now, if you're going for the basic Langtang trek, you don't have to worry as much about altitude sickness, as the highest elevation place that you cover is Kyanjin Gompa.
It is at an altitude of 3870 m. It is for the same reason that no days are generally assigned for acclimatization during this trip. However, if you go for a more complex version of the trip by including places like Kyanjin Ri, Tserko Ri, Ganja La, and so on during the journey, well, you might need to reconsider the itinerary and include a couple of days for acclimatization. These places take you at an elevation above 5000 m, and it is an established fact that the higher you go, the higher the chances of your suffering from altitude sickness gets. So make sure to take the precautions.
Langtang Trek Itinerary
Before going for any trek, it's absolutely crucial to know the itinerary. Knowing the itinerary gives you an overall concept of the trek, with information such as how many days you'll be walking on the trip, the number of days spent for acclimatization, the challenges that you'd come across on the route, and the attractions that will make you feel wonderful. Langtang trek is not different. Before you sign up for the journey, it's absolutely crucial that you get your hands on the Langtang trek itinerary.
You could also share it with your friends and family at home so that they have a good concept about where you're going to be on a certain day. Luckily, the hills of Nepal have a good cellular network, and so, it will be possible for you to contact them from any place. Now, one of the best things about the Langtang trek itinerary is that it is modifiable up to a great extent. The most basic Langtang trek is also known as Langtang Valley trek, and Langtang valley trek lasts for a duration of 13 days altogether.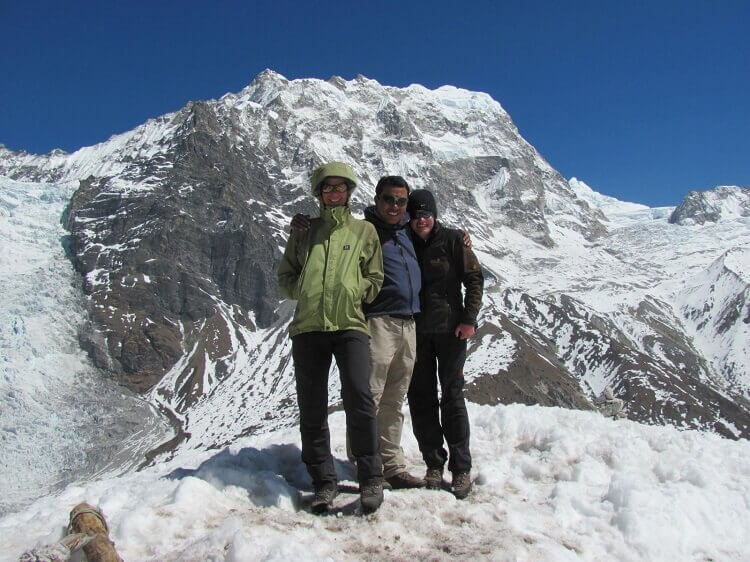 During this time, you get to visit places such as Lama Hotel, Kyanjin Gompa, Syabrubesi, Langtang Village, Dhunche, and so on. Since you don't cover too many high altitude places on the Langtang valley trek Itinerary, no days are assigned for acclimatization. Also, the 13 days duration also consists of days that you spend in Kathmandu and the ones that you spend traveling from there to the Langtang region and back.
Now, provided that you want to make this trekking journey more exciting and adventurous, you could add attractions such as Ganja La, which is one of the highest altitudes passes in Nepal, and Kyanjin Ri, a mini-mountain that offers probably the most amazing views of peaks in the Langtang region. Generally, trekkers add an additional day to their itinerary to hike to the top of this mountain. You can even double the size of your Langtang trek itinerary, which will allow you to explore the astounding Gosaikunda Lake and numerous other significant settlement areas.
Langtang Valley Trek Cost
Quite like the general cost of trekking in Nepal, Langtang Valley trek cost depends on a number of factors. These include the length of the itinerary, the level of luxury offered during the trip, and so on. However, Langtang Valley trek cost largely depends on your travel service provider. If you're taking services from an international agency, you can expect your overall cost to go quite high, unlike the local agencies that offer you a similar package at an affordable rate. It is very important that you carefully research the price of different packages before choosing the one.
Generally, it is recommended that you pick a local travel agent rather than an international one mainly because it is cheaper, and also because there isn't much difference in the service quality. This is something that a lot of trekkers have realized over the years after taking services from both kinds of companies. Also, by hiring the locals, you will definitely contribute to the economy of the country. On average, Langtang Trek Cost can range between $1200 and $1700 per person. Remember that if you research enough, you'd not have to compromise with a budget.
Langtang Trek Solo
The idea of trekking solo in Nepal currently seems like quite a challenging one for a simple reason that the Government of Nepal has restricted all the foreign tourists from trekking on their own considering their safety. This means that you need to be accompanied by at least a trekking guide, if not a whole team while trekking in Nepal. And Langtang trek is not an exception. Langtang trek solo is an activity that many individuals have tried in the past and have emerged successful. So, it's definitely a possibility to trek on this route on your own.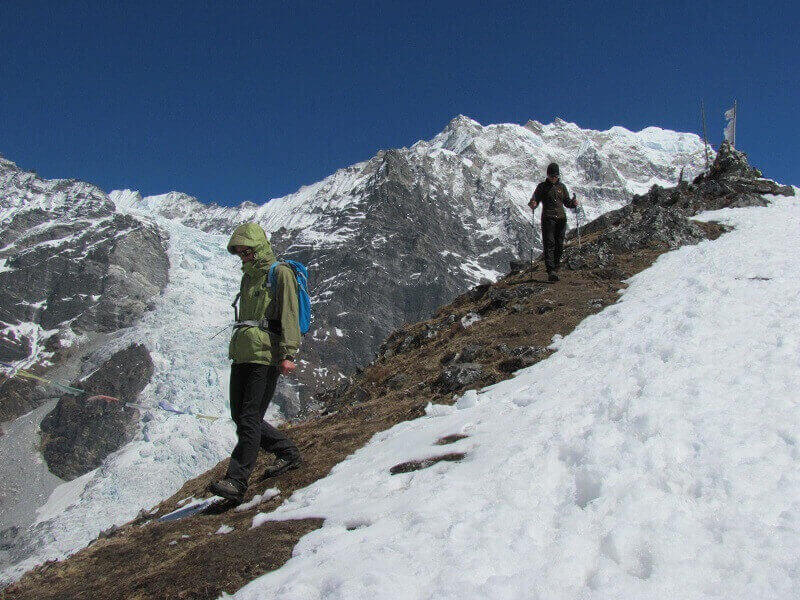 It's just that going on the Langtang trek solo is a lot of trouble overall. You will have to take care of all the arrangements on your own, from acquiring passes to managing food and accommodation, and so on. And most importantly, you will have to face the language barrier, which can get quite irritating. Now, if you're used to handling all these challenges on your own, you can surely apply for a pass. Though Langtang trek solo is restricted by the government, this is always a possibility for special consideration. Generally, it is recommended that the tourists hire a local travel agent, as it makes their entire journey in Nepal quite effortless.
Langtang Trek Map
If you somehow land up getting permission to trek on your own, it will be absolutely crucial for you to carry a copy of the Langtang trek map. The map will give you all the information about the trekking route and trekking itinerary that you need to have before going for the trip. By using the map, you will not just be able to walk on the regular route, but also go for side treks on your own. The Langtang trek map will allow you to discover all the hidden gems of the region. Even when you go for a trek with a trekking agency, it is advised that you carry a copy of the map.
A lot of tourists tend to get their hands on the route map even before booking a trip. A map helps you during the research process; it helps you decide whether this journey is meant for you or not. During the trip, it makes you more independent allowing you to go on side trips on your own. Also, it eliminates all the chances of you getting lost on the route, and even if you do, you can easily find your way back to the group. Always make sure to carry a map during a trek.
Langtang Trek With A Guide
One of the things that you can do to enrich your trekking experience is having a professional trekking guide accompany you during your trekking trip. With a guide helping you during the journey, your entire trek is going to be surprisingly simple. The person isn't just someone who's offering you his services; on a trek, he will prove to be your friend who will take care of all your needs. If you're someone who likes knowing about the local people, the guide will help you communicate with them, and understand the local cultures, traditions, and religious influences.
A lot of times, the trekkers get sick, or at times, they tend to get too tired because of the continuous walks. It is at times like these that guides prove to be the most helpful people. They will give you all the tips that you could follow to get normal. Also, they motivate you to continue on the journey, and you're bound to be amazed by how convincing they sound. You should definitely be accompanied by a guide during your trek in the Langtang region.
Climbing Equipment 
When you go for trekking in any part of the world, and not just here, what you need to pay special focus on are the things that you'd need to carry during the journey. Though the trekking partner that you've hired to offer you trekking related services will take care of most of your needs, you might need to stay prepared by carrying certain items on your own. This implies especially in a case where you're used to consuming certain products, and also when you have a brand preference. The things that you need to carry in a trek can be divided into categories.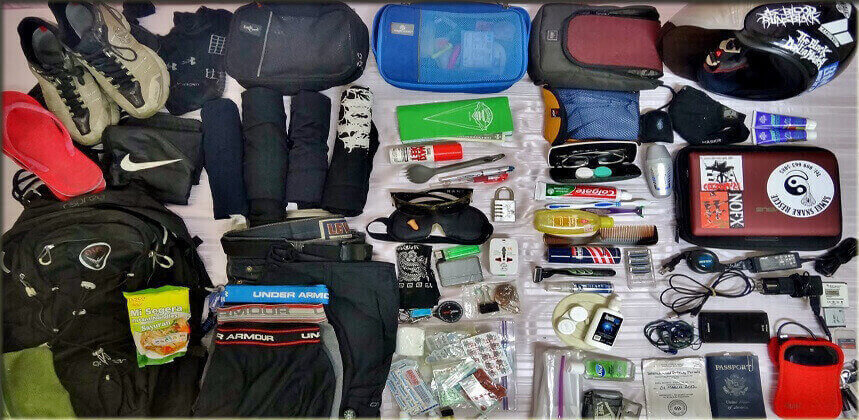 Before randomly picking things up to take on the trip, make sure to make a packing list. This will help you organize all the items, and also ensure that you don't forget something valuable. Generally, you could create sections like Clothing, Electronics, Documents, Sanitary Items, Medicines and Cosmetics, Food and Beverage, and Trekking gear or equipment. You might really need to sit and decide what to put in this list, and what to avoid. Remember that you'd not want your luggage to be too heavy or large in number. Try your best to keep the pack list short.
1. Clothing
While making a list of clothes to carry during the trip, you need to put quite a bit of thought. Remember that one point during the trip, you'll be relaxing inside your hotel room, and at the other, you'd be facing the scorching sun on the route. So, you'll have to maintain a variation in your packing list in a way that you have the right clothes for the right situation. Consider carrying the following set of clothing during your trekking trip.
Multiple pairs of thin and thick socks
Inner Wears
T-Shirts and Shirts
Pants and Trousers
Sandals and Shoes
Jackets and Sweaters
Turtle Necks
2. Trekking Gear
Trekking equipment or trekking gear plays a vital role in making your trekking journey simpler. Now, you could either bring all the equipment from home, or you could buy them here. Needless to say that bringing them on your own is going to cause you a lot of difficulties during the trip. Also, if you tend to buy them here, you may not be offered the same quality. Plus, the price will be quite high. Another option that you have is trekking equipment rental. There are many companies that offer this service. Make sure to include the following items in your gear list.
Trekking Poles
Trekking Bag
Trekking Shoes
Trekking Pants
Protection Hat
Sunglasses
Flashlight
3. Food and Beverage
The trekking company that you hire to offer you the travel-related services during your trekking trip will also offer you all the food-related services. However, under that, you might only get three meals a day. Now, if you're someone who likes munching between meals, and is used to a certain kind of snack or drink, it is recommended that you get your hands on a few packs. You could choose to bring them all the way from home, or you could buy them locally. Keep in mind that you may not get all those food items here that you easily find at home. Consider carrying these essential food items on your trekking trip.
Protein Bars
Water
Juice
Energy Drinks
Crisps and Cookies
Canned Food
4. Electronic Items
These days, a vacation isn't considered a vacation unless you capture the precious moments. It's a trend these days to use electronic items to record events. Now, you need to make sure that you're carrying all these electronic items in a way that they don't attract an evil eye. Store them in a way that they won't get lost, and remain safe and easily accessible to you at all times. When you consider putting them in your packing list, you ensure that you don't miss out on them. Have these items as a part of your list.
Camera
Camera Stand
Microphones
Chargers
Extra Batteries
Phone
Laptop or Tablet
5. Sanitary Items
Quite like few other items in this category, you would want to make a list of sanitary items and cosmetics and carry them on the trip if you're used to certain products and brands that you may not find here. You will be offered some of these items in the hotels and lodges where you'll be spending your night, but a lot of tourists prefer to carry their own sanitary items and cosmetics.
You should definitely include these items on your list.
Toothbrush
Tooth Paste
Soap and Shampoo
Deodorant
Sanitary Pad
Sunscreen
Talcum Powder
6. Medicines and First Aid
This is one of the basic items that you need to include in your packing list. Needless to remind you that if you're on certain medication, you should make sure to carry enough of it for the entire journey. Also, it's a good idea to carry your own first aid kit so that you don't have to depend on anyone if you have a small cut or a slight fever. Try and carry these items during your trek.
Bandage
Packs of Cotton
Handyplast
Antiseptic Lotion
Water Purification Tablets
Pills for gastrointestinal problems, fever, cough and cold, headache
Prescribed Medicines
If you're someone, who's already covered some of the most popular trekking routes in Nepal, and are looking for a new region to explore, well, Langtang trek can prove to be the right option for you. Of course, this doesn't mean that you can't go for Langtang trek if you're trekking in Nepal for the first time. With so many natural and cultural spectacles that the journey has to offer, you will definitely be spellbound during the entire experience. The trek is the perfect amalgamation of fun and adventure. There is a certain kick to it that you will surely love.
One of the most important things that you need to consider before going for Langtang trek is that it's not meant for everyone. There are certain variations to the journey. You have options to include and exclude certain attractions from the trek, which impacts its difficulty level up to a great extent. However, even if you choose to go for the most basic of Langtang trek, you have to take into consideration features such as altitude covered and other difficulties. All in all, the journey is not recommended to someone who is trekking for the first time in their lives.
Now, provided that you've trekked before, and covered a few high altitude places during your trip, you can comfortably go for this one. The people who are the experts in the field can take their Langtang trek to a whole new level by going for the full Langtang Circuit, which would include places such as Kyanjin Ri, Gosaikunda, Ganja La, and of course, the other attractions featured in the basic Langtang trek. If you're a trekking enthusiast and have still not tried this trekking trip, well, you should, as you're missing out on a lot of fun and adventure.
Himalayan Trails Trekking is known for offering the most exciting travel and tour packages in Nepal. They are the experts when it comes to activities such as trekking and expedition. But on top of these two, they also offer luxury tour options with activities such as food and cultural tour, jungle safari, helicopter ride, adventure sports, and so many others. The itineraries at Himalayan Trails Trekking include the most popular and off-the-beat travel destinations in countries like Nepal, Bhutan, and Tibet.
One of the most significant attributes of this company is their treatment towards their clients. They believe in customer satisfaction, and in order to ensure it, they even allow the tourists to suggest and make changes to the itinerary developed by the company. Of course, the practicality of the resulting itinerary is monitored. They also offer all kinds of support services and will give their clients all the information that they need, whether it's about the company, the country, the trip they're going for, and so on. During the journey, the trekkers are accompanied by a friendly guide, who'd take care of you, and give you all the information that you'd like to have.
The goal of Himalayan Trails trekking is to help you have a memorable experience and make you want to come back time and again to this amazing country. So, if you're someone who's looking for an ideal holiday destination for your upcoming vacation, go on and choose any of the places mentioned here. You could try these activities during your visit to these places and have an adventurous yet fun-filled time. With Himalayan Trails Trekking by your side, you can rest assured about having the most amazing time during your trip. You'd definitely want to come back and have them at your side.